When Kendal Potesta and Scott Pace stopped to eat at a Tampa-area Chicken Salad Chick several years ago, they didn't know they'd be discovering their next business venture. Potesta was pregnant with their first child, and they saw the restaurant driving home from a doctor's appointment.
But the married couple became big fans of Chicken Salad Chick — the country's only fast-casual chicken salad restaurant concept — and started eating there regularly. They had been looking for a business they could go into together and thought this could be a winner. The only problem? There were no franchise territories available in Florida.
"They're more expensive, tough to get, and you have to go in and have to fight for them. But we won't even look at something if we think it's a B location. It has to be an A location.' Scott Pace
Several months later they learned the Southwest Florida territory was becoming available, and they went for it. Now they have plans for six locations. The first one, in Fort Myers Village Walk, opened a week before Hurricane Ian. Two additional locations are under construction, in Estero and Port Charlotte, targeted for opening at the end of 2022 or beginning of 2023. Cape Coral and North Naples are future possibilities.
Pace, 51, and Potesta, 36, bring years of valuable experience to their new franchising career. Pace worked for a Wall Street consulting firm, while Potesta owned her own consulting firm, advising clients on operations, HR, and financial issues. They have experience in the restaurant and grocery spaces and a strong grasp of the financial side of running a business. (Each location requires at least a $1 million investment.)
They also feel good about aligning themselves with a winning brand. Founded in Alabama in 2008, Chicken Salad Chick now has more than 220 locations in 17 states. Serving more than a dozen original flavors of Southern-style chicken salad, the brand has been named one of Fast Casual.com's top Movers and Shakers from 2018 to 2022; QSR's Best Franchise Deals in 2019 and 2020; and Franchise Business Review's Top Food Franchises in 2020.
"There is just such a cult following," says Pace. Case in point: The week the Fort Myers location opened, it was the No. 1 restaurant in sales volume in the entire Chicken Salad Chick system.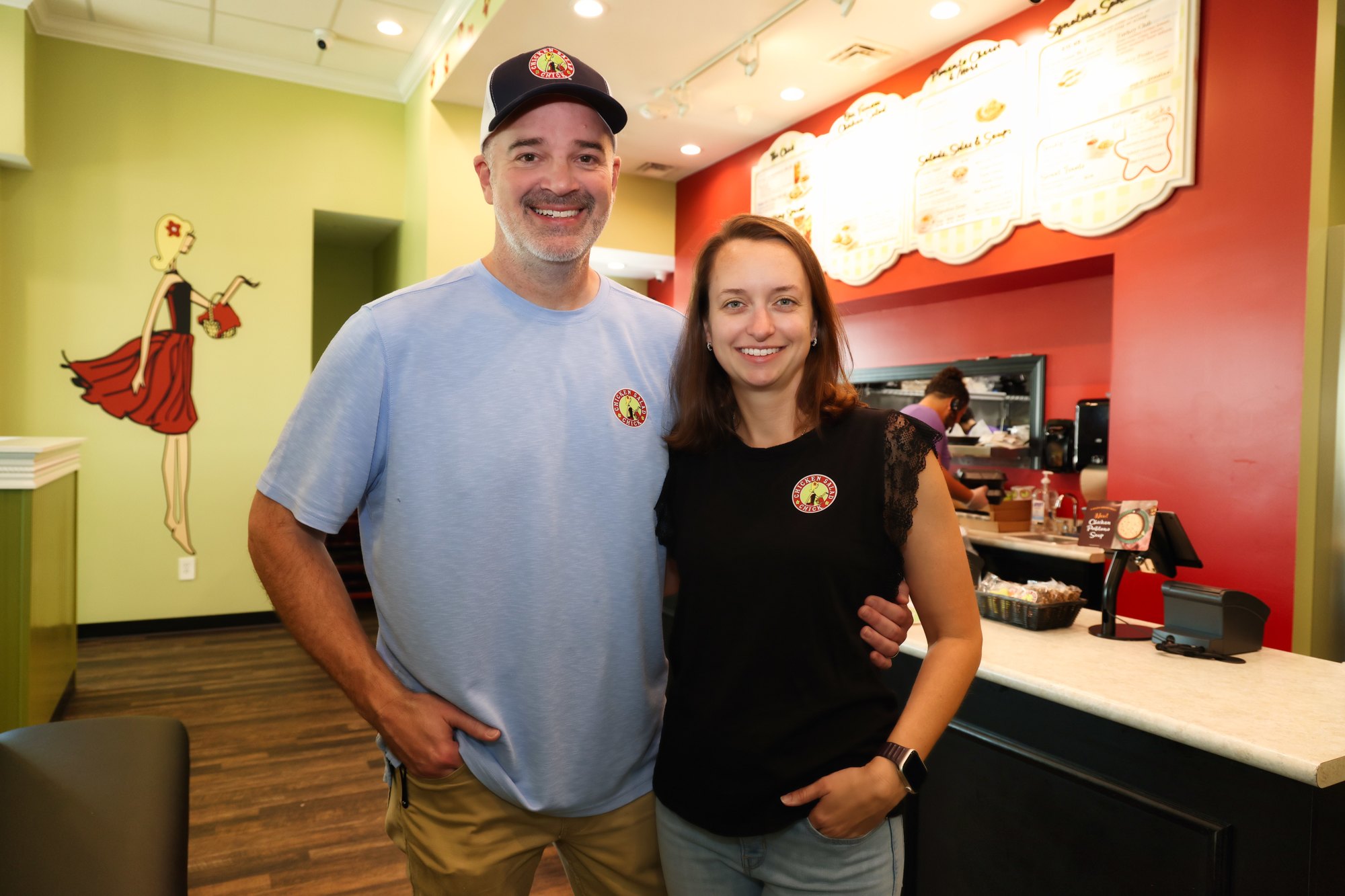 But there are still a lot of people in Southwest Florida who haven't heard of Chicken Salad Chick, which is one hurdle the couple faces, especially when it comes to finding real estate for their area locations. "When you have a newer concept, you have forces working against you that you didn't expect," says Pace. "Some landlords are not familiar with the concept, and the last thing they want to do is get involved in a 10-year lease with extensions with a group they don't know anything about. It's not like a McDonald's; it hasn't been around for decades and decades."
The couple worked with Jill Brunori at Trinity Commercial Group to secure the kinds of properties needed for success. "On this type of concept, location is vital," says Pace. "You do not want to do a concept like this in a strip center that could possibly get lost. You have to fight for good real estate."
They look for those "unicorns" with high visibility, easy access, and room for a drive-through. "They're more expensive, tough to get, and you have to go in and have to fight for them," says Pace. "But we won't even look at something if we think it's a B location. It has to be an A location."
With years of experience running teams, Pace and Potesta also know the important role their staff play. "The brand is based on hospitality: From the moment they walk through the door to the moment they leave, we take care of our people who come in to eat with us," says Pace. "But regardless of all your work to bring people in the door, if you don't have the staff to take care of them the way you want to take care of them, it's not going to work."
Each Chicken Salad Chick location requires 50 to 60 employees. Pace says they didn't run into a lot of trouble staffing up their first Fort Myers restaurant, despite the tight labor market. They offer benefits like a 401(k) with a 3% match, and the restaurants are closed on Sundays.
"We had to create something that would entice people to come work for us," says Pace. "We made the decision to do everything we can to enrich the lives of the team. Corporate doesn't drive anything when it comes to benefits; everything we do is what Kendal and I want to do."
Pace and Potesta continued to pay their Fort Myers employees when the restaurant was closed for a bit due to Ian (the couple luckily didn't have to contend with any major damage), and that dedication to their staff will be a driving force going forward.
"I know we're in the restaurant business, but for me personally, I think I've changed that and I'm in the people development business now," says Pace. "I get up every single day and look at their [his employees'] faces knowing that every decision I make impacts their life in one way or another. So everything we do is based on their well-being for the company and for them."