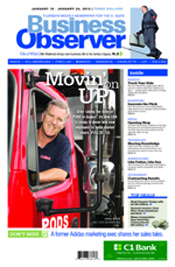 CURRENTLY, WE ARE UPDATING OUR SUBSCRIBER PORTAL
We apologize for any inconvenience.

To subscribe, renew or manage your account please email our Customer Service Team at [email protected] or call 877-231-8834.
The Business Observer is unlike any other business information medium in Florida.
Its content is geared specifically for Southwest Florida's business leaders. With comprehensive, authoritative coverage of Polk, Pasco, Hillsborough, Pinellas, Manatee, Sarasota, Charlotte, Lee and Collier counties, the Business Observer is the only weekly business newspaper that provides business leaders, entrepreneurs, CEOs and investors with a regional perspective. The Business Observer is also the leading publisher of public notices on the Gulf Coast of Florida.
WEEKLY EDITORIAL FEATURES
COFFEE TALK
The inside scoop on the latest news about people, companies and issues.
IN FOCUS
Short reports and features highlighting companies and businesses doing the unusual.
GOVERNMENT WATCH
Snapshots of the latest municipal, county and state government policy decisions and how they affect the business environment, taxation and development.
ECONOMY
Regular reports and analysis of the Gulf Coast economy, local economic snapshots, demographics and trends.
STRATEGIES
In-depth reporting that explores the strategies—and the lessons to be learned—of the region's emerging and leading companies.
CEO INSIGHT
Q&As to learn what's important and what's on the minds of Gulf Coast business leaders..
POWER LUNCH
This "Out of the Office" column features occasional reviews of restaurants recommended by executives in cities on the Gulf Coast, from Tampa to Naples.
TOP DEALS
Regional roundup of each week's top commercial real estate transactions—who's buying, who's selling... and for what price.
REVIEW & COMMENT
Publisher Matt Walsh's popular free-market commentaries on business and public policy decisions affecting the marketplace.
---
Take a look inside
Flip through an issue of the Business Observer.