Executive: Stan Liberatore, 36, founder and CEO of Vsummits, a Tampa-based digital event management company, and president of IT services firm No Limit Technology Inc. Liberatore has also worked in industries such as staffing, finance and mortgage loan management, in addition to serving as board chair at Save the Kids Foundation, a nonprofit that raises awareness and funds for the fight against pediatric cancer.
Diversion: UFC-style cage fighting. Liberatore grew up in Nebraska, where, as a high school wrestler, he was a two-time state finalist and national All-American. He went on to wrestle at the University of Nebraska, a NCAA Division I program, until an injury sidelined him. For the past 10 years or so, he says, he mostly concentrated on his career and family, while continuing to work out for fitness.
'You're not fighting for points. You're fighting to either knock the guy out or choke them out.' Stan Liberatore
"But when COVID-19 hit," he says, "Things were really up in the air. Everybody was working remote, there was lockdown and all that. I wasn't working out quite as much and my wife made a comment about my 'love handles."
That was a wake-up call for Liberatore.
Back in action: Liberatore joined a kickboxing gym in Bradenton called EMK Final Round and began to add striking moves — kicks and punches — to his wrestling repertoire. "I always had a good 'ground game,'" he says. The facility is owned and operated by Eric Marshall, a former world champion kickboxer, who saw fighting potential in his new client. And the more Liberatore worked out at the gym, the more he desired to compete. "My whole life has been all about competition, so I can't just work out to look good. A lot of guys in my age group, they work out to get beefy; I did that for a while, but I wanted more."
Training day: To prepare for his first fight, Liberatore adopted a near fanatical training regimen. With so much time lost to injury and activity, he knew he would have to outwork his opponents if he had any chance to hold his own in "the octagon," as the eight-sided mixed martial arts arenas are called. He trains three to four times per week at Marshall's gym while still managing to run two companies and help his wife, who also works full time, shuttle their son back and forth to school and karate class. On days he doesn't go to the gym, he does cardio and works out with free weights and a punching bag in his garage.
"If you train hard enough and work hard enough while your competition isn't," he says, "you're gonna win."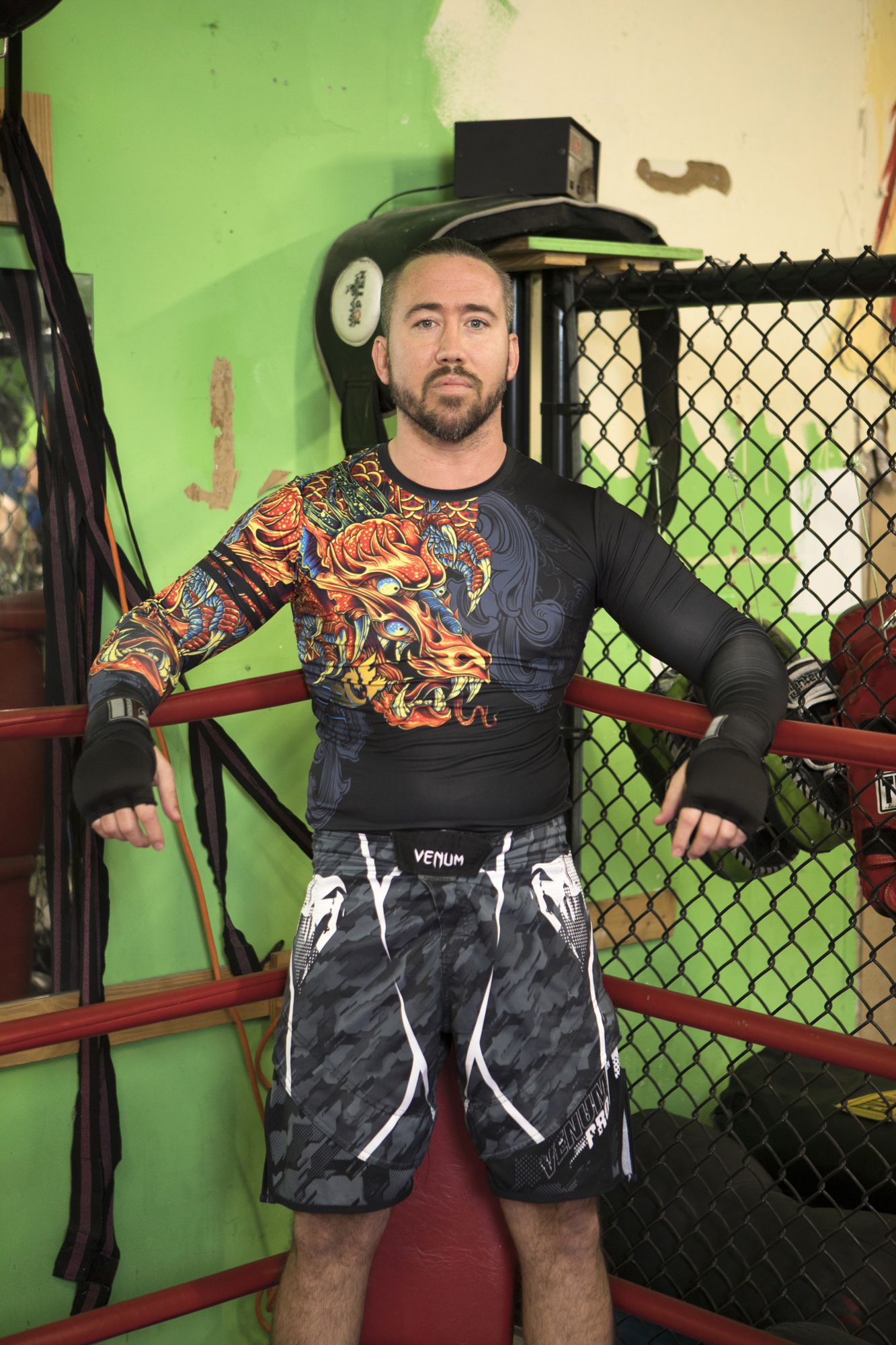 Get in the ring: Liberatore's first official fight was in March, at EMK Final Round. He says he didn't feel overwhelmed and was doing OK until his opponent, who has since turned pro (Liberatore and other EMK Final Round fighters don't get paid), caught him in a submission hold known as the guillotine. It's a common move in wrestling and Jiu-Jitsu, and Liberatore was aware of how to get out of it, but "I just didn't execute fast enough," he says, "and he choked me out. Leading up to that, I got a couple of takedowns, but [MMA] is about more than just taking someone down. You're not fighting for points. You're fighting to either knock the guy out or choke them out."
Hail to the victor: Liberatore scored a win in his next fight, in October. He says he learned a lot from his loss and, with the support and encouragement of Marshall and other fighters at the gym, got up the nerve to try again. The fight went the maximum three rounds, and the judges awarded Liberatore a unanimous victory. The elation he felt was incomparable.
"I don't even think that if I signed a $10 million deal, that I would get the same feeling," Liberatore says. "I can't even explain it. You put in the work, and you'll get your hand raised. Then everybody in the crowd sees you and the spotlight is on you. It's very spiritual."
Stamp of disapproval: Liberatore's next fight is likely to come in February. He might need to spend some time between now and then rallying his family to back his new hobby. "My wife, she says she doesn't support it," he says with a laugh, "but she shows up and witnesses the glory of me getting my hand raised. She likes that part."