Executive: Connie Lyke-Brown started off her career as a teacher and cross country track coach in New York. When she and her husband moved to Sarasota in 1981, she couldn't find a good teaching job without taking a major pay cut. At that time, a friend of hers was enjoying a career in real estate. So Lyke-Brown went back to school. She started her real estate career as a manager. In 1999, she became a real estate agent at Michael Saunders & Co., where she remains today. 
Diversion: A resident of the Meadows in Sarasota, Lyke-Brown, 78, recently set the female record for consecutively competing in the annual New York City Marathon. The 2021 Big Apple marathon, held Nov. 7, was No. 42 for Lyke-Brown. The atmosphere was a little different this year, she says, given spectators had been "cooped up" for two years during the pandemic, especially after the marathon was cancelled in 2020. 
"The crowds were so noisy this year," she says. 
Even the weather was on point, she notes, with a clear sky and the sun out in full force. 
Lean in: When Lyke-Brown was a cross country coach for junior high school and high school teams in New York, she remembers one of the students' fathers was a distance runner. At that time, she says it was an oddity. "That was before it became popular," she says.
"If I can do this, I can do anything." —Connie Lyke-Brown
With 80 students in the program, Lyke-Brown was open to any kind of help she could get. The father would bring books for her to read. As he was part of a distance running group, he asked her to be a spectator at the marathon in 1977.  
"I was so excited," she says. "I had never seen anything like it." 
She vowed to participate in the 1978 New York City Marathon. 
The first race: When Lyke-Brown finished the first race in 1978, she remembers thinking, "Wow, if I can do this, I can do anything." 
That same year, her mother died. But that didn't stop her. Even the move to Sarasota wouldn't stop her from returning to the NYC Marathon year after year. "There was no question that I would go back," Lyke-Brown says.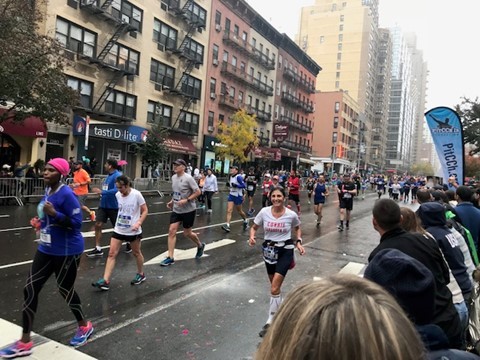 Time check: Lyke-Brown completed her first New York City Marathon with a time of 4:04.16. Her fastest race came in 1982, when she crossed the finish line at 3:37.54. She finished the 2021 race in 6:39.53 — faster than New Yorker Dave Obelkevich, who holds the overall record for consecutive New York City Marathons at 44. Obelkevich, who ran the marathon in 2:50.18 in 1979, ran the 2021 version in 7:29.39.  Lyke-Brown has finished as high as third in her age group at the New York City Marathon, and she came in No. 7 at the 2021 event out of 27 women in the 75-79 age group. 
Stick to the plan: When it comes to preparing for a marathon, Lyke-Brown is all business. 
While she keeps up with running throughout the year, Lyke-Brown dedicates four months to training specifically for the marathon. Longer runs are saved for Saturdays. She keeps six- and eight-mile runs for Tuesdays and Thursdays. And the training includes six runs of at least 18 miles. "I find those six runs are important so you don't crash during the (actual NYC marathon) run," she says. 
The practice helps prevent the 'wall' anyone who has run before inevitably hits. 
She remembers cheating one year with the longer runs toward the end of the training plan, only making it to 14 miles. "It was torture. Everything hurt," she says. "I never did that again. Never cheat on those long runs!" 
The best parts: When participating in these events, Lyke-Brown says it's really wonderful to see the spectators. "I know how they feel because I remember how excited I was," she says. 
But she really gets excited about the Achilles Track Club — the New York Road Runners. The club is dedicated to supporting athletes with disabilities. Lyke-Brown says it's incredible hearing about the challenges they overcome. The team participates in the New York Marathon. 
"On the course you get to see them and encourage them," she says. "It makes you so grateful."
Perhaps one of the most important aspects running has brought to Lyke-Brown is her husband. A friend of a friend, she met him on the track. And even though he prefers short-distance runs, he has run six marathons with her. 
Strong body, strong mind: Lyke-Brown has been incredibly lucky to not run into any injuries during the four months of training through the actual marathon event over all the years. She was diagnosed with cancer during an offseason one year — but her doctor allowed her to wait to start radiation until after the marathon. "I've been healthy," she says. "I'm grateful for that." 
As a 78-year-old, she thinks back to her first marathon she ran, at age 34. "At that point, you think 'what's old?' she says. "Now that I'm here, I feel healthy and strong." 
She's run over 120 marathons in her career. As long as her body can handle what she's doing, she says, and as long as she's still feeling great at the end, she'll continue. 
The 2023 New York City Marathon will be a significant milestone for Lyke-Brown. Not only is it scheduled for her birthday, Nov. 5, but it's also her 80th birthday, which means she'll officially be the youngest in that age group.  
"Maybe I'll be the third in my age group," Lyke-Brown says. "Who knows?"