Outback is going back to the Outback.
Tampa-based Bloomin' Brands, parent company of the well-known restaurant chain, has unveiled a significant renovation plan for Outback, its flagship brand, with 773 locations nationwide and some 160 abroad. The plan includes three separate themes based on Australian cities, in keeping with the down under vibe for Outback, founded in 1988. "You are constantly looking at ways to stay current," says Jennifer Striepling, vice president of design and construction at Bloomin' Brands, who is overseeing the renovation initiative.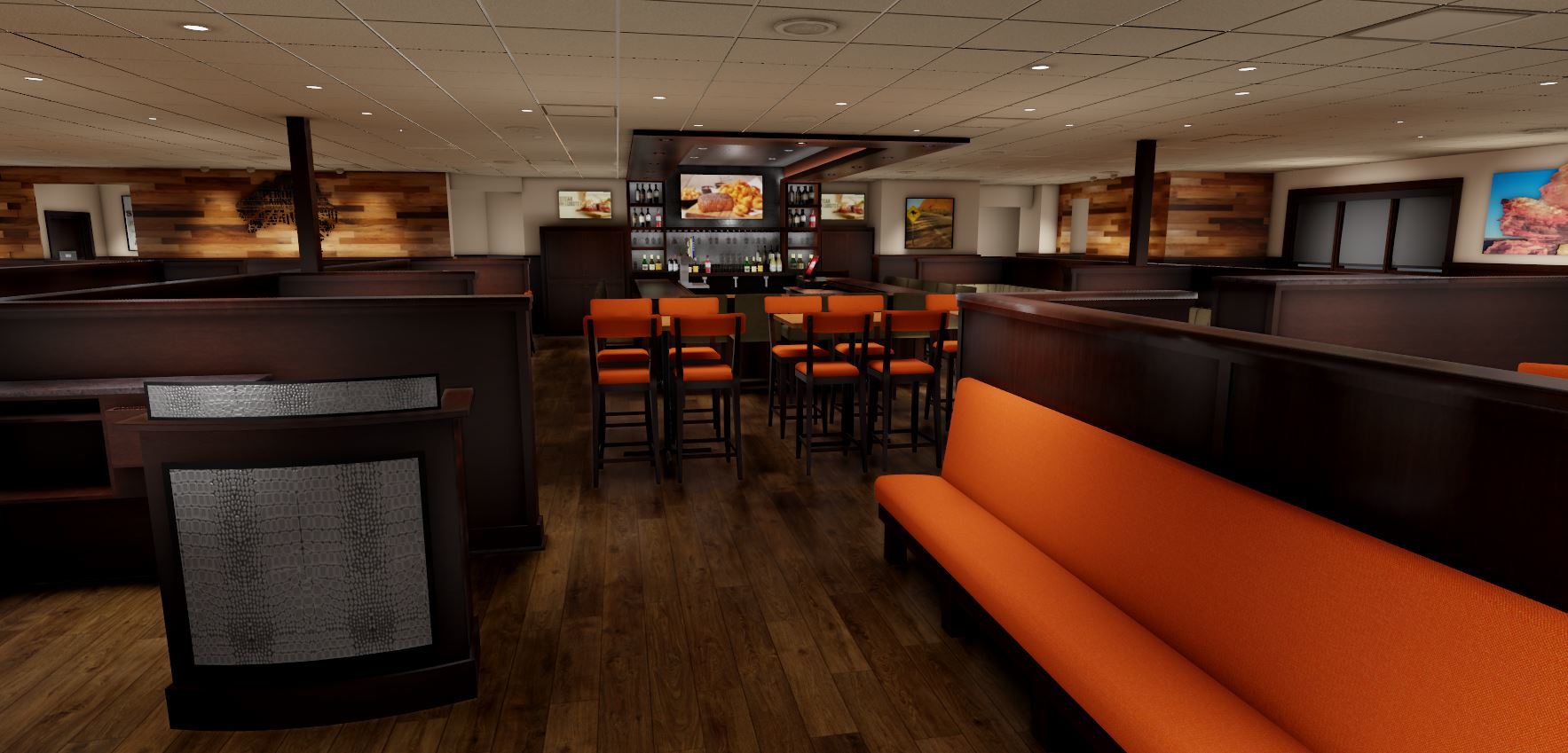 The changes to the insides of the restaurants, combined with other steps, on a larger scale, represent Bloomin' Brands' efforts to remain relevant in the rapidly changing, $175 billion mid-priced casual dining sector. One part of the effort is to snag more market share among a popular target demographic, millennials, while another part is to capitalize on a mushrooming trend: delivery.
The effort is well-timed, too, because while Outback is the chain's largest and most consistent brand performer, some large investors of the publicly traded company have been edgy. Activist investors, in two separate letters last year, called on Bloomin' to divest its secondary — and underperforming — brands: Fleming's Prime Steakhouse, Bonefish Grill and Carrabba's Italian Grill.
Bloomin' remained steadfast in keeping the company intact, and there's some evidence that strategy is paying off, despite a dip in overall revenue year-over-year. For example, on the remodeling strategy, then-Bloomin' CEO Liz Smith, in a 2018 second quarter earnings call, says the revamped locations led to "sales lift well in excess of 30%." Also, same-store sales at U.S. Outbacks rose 4% in 2018, a strong performance in a sluggish sector. Smith, after a decade as a CEO, was named executive chairwoman in early March, while CFO David Deno was promoted to CFO. 
Then there's delivery, which goosed sales across the business. That segment grew 18% companywide in the fourth quarter, executives reported on a separate call. Even better, the company projects the delivery category will eventually reach 25% of all sales. (One downside to delivery is thinner margins – no alcohol.)
'We've got a really great team invested to get this design going forward. It's a big accomplishment.' Jennifer Striepling, Bloomin' Brands
"We believe off-premise represents a structural tailwind for the category," says Smith, in part, in the Feb. 13 earnings call. "Given this potential, we have built the infrastructure, technology and capabilities to support these elevated sales volumes."
That largely goes back to Striepling and the Outback renovations, which went through a test run in 2017 and was rolled out for real last year, with about 30 locations. Company officials expect to renovate about 30-35 more this year, and grow that count exponentially in the next few years. Officials declined to comment on the cost of the renovation project.  
The design, in general, says Striepling, is a move toward going cooler without "too much Disney." All interior remodels include energy-efficient LED lighting; Cambria natural stone bars; espresso-stained millwork; and booths with snakeskin, dirt road tire tracks and rugged mountain terrain fabric.
The three Australian cities that represent the different renovation styles include:
• Adelaide, which features a warm color palette with a playful orange accent, wood-burned décor and embossed crocodile patterns;
• Perth, which uses cool tones with a pop of orange and etched iconic Australia décor images, including the Sydney Opera House; and
• Brisbane, which uses neutral colors reflective of Australia's infamous red dirt roads, in addition to Boxing Kangaroo décor.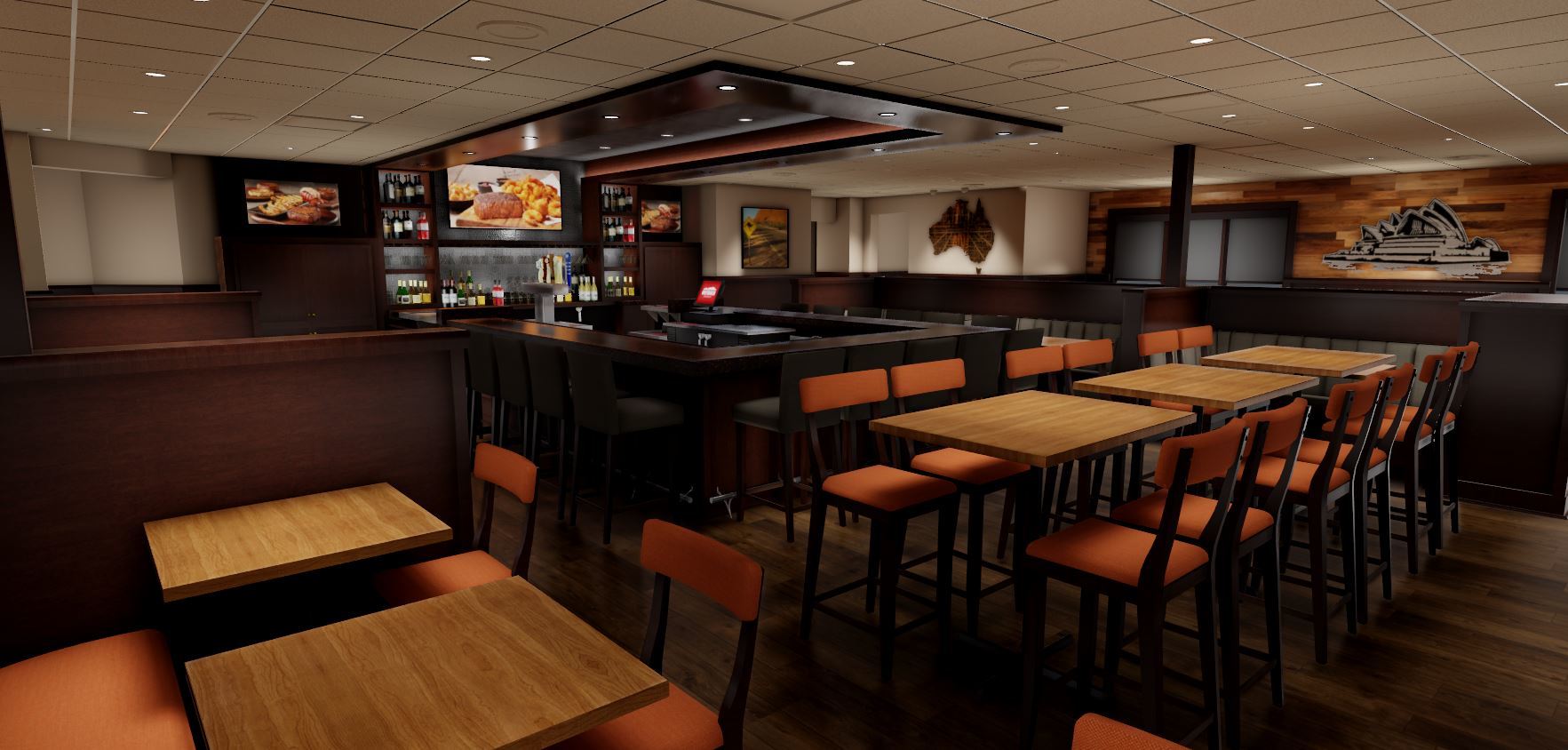 One key lesson learned in the process — the first renovations of Outback locations since at least 2012 — is the importance of remaining flexible and not being married to what used to work. For example, Outback used to be known for its dark heavy ceilings, which, Striepling says, "back in the day were a big positive for us." Now the trend is to go light and airy, Striepling says, "so you don't feel like it's 9 p.m. when you leave after lunch."
Another key to such a big undertaking is collaborating with other departments. For Striepling, that means operations, so the design is functional, but it also means chefs, menu people and even website and social media personnel.
The process, she says, included meetings in boardrooms that started at breakfast and ran through dinner, where ideas was dissected off white boards. "We've got a really great team invested to get this design going forward," says Striepling. "It's really a big accomplishment."