Harold Seltzer's Steakhouse chain has put its longstanding Port Richey restaurant up for sale just a few months after closing its Clearwater location. But the company's namesake says he — nor his restaurants — are going anywhere.
Harold Seltzer says his plans are not to shut down the two remaining locations, nor to walk away from the business he started in the early 1990s, but to, for the first time in his life, slow down. At least a little.
"Up until the Clearwater restaurant closed in July I had four restaurants in four different cities," he says. "And like I said, I work six plus days a week. And I'm just trying to manage my life a little bit better."
Harold Seltzer's is a chain with a long tradition in the area, tracing its roots back to the Sam Seltzer's Steakhouse chain.
The original chain took its name from the family patriarch, a Montreal butcher for more than 60 years. Seltzer's grandson, Harold went to law school and practiced law until he moved to Tampa in 1995. Once here, he opened the restaurant chain bearing his grandfather's name and helped grow it into a staple along the West Coast of Florida before selling his share of the business to his partners in 2004.
Today, Seltzer is the owner of two steakhouses that bear his name, one in St. Petersburg and the one Port Richey. He also owns the Floridian, a Cuban sandwich shop on Kennedy Boulevard in Tampa. At 66, the St. Petersburg resident still runs the three locations personally, spending a good chunk of his week in the restaurants and on the road.
He calls Fridays, the day he spends at the Floridian, "my hundred-mile day."
"I'm very hands on and if there's a plumbing blockage, or an air conditioner that breaks down, or whatever, I get called seven days a week," he says. "I don't have a district manager and director of operations as I did back in the day. So it's really consuming."  
It's important to note Seltzer is not complaining about the amount of work he puts in. Like most restaurant owners — and entrepreneurs — he knows long hours and grueling days come with the territory. He's making an effort to explain why, after nearly 30 years of running the restaurants, he's considering slowing down.
Meat market
Seltzer comes from a line of butchers, and the industry is where he got his start.
Sam, his grandfather, worked in Montreal as a butcher for decades. He ran the NDG Meat Market, which Harold Seltzer's father and uncle eventually took over, for 60 years. It was to Montreal what Katz's Deli was to New York, he says.
Harold Seltzer began working at the shop as an 8-year-old and stayed through his teens.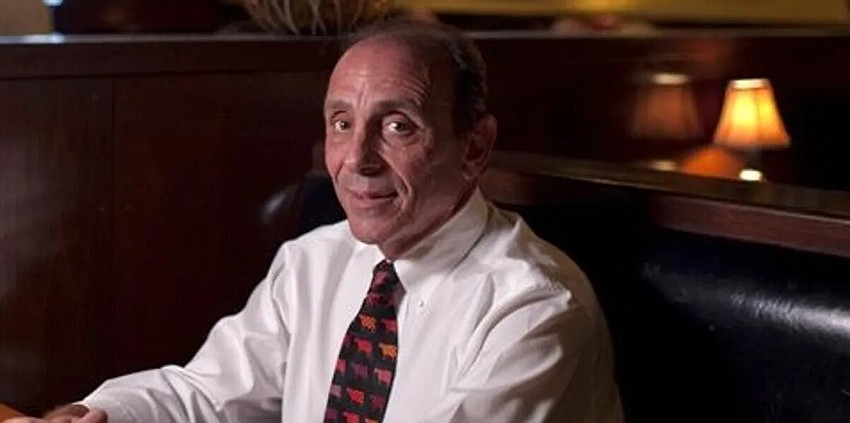 When he started, he earned less than a dollar an hour and worked half the day on Sundays. The shop in those days supplied burger patties to the A&W restaurant chain. One of his jobs was to work the patty machine. This was a conveyor that stamped out hamburger patties in piles of about 10. He would start at 6 a.m. and take those piles as they came out and box them up to be shipped.
People, he says, would stop what they were doing to watch "this little tiny kid working with an apron" on the machine.
By the time he got to high school, he would work at the shop during the summers — from the time school ended until it started again. He was saving to go to college.  
"I did deliveries and I basically learned every job," Seltzer says.
He remembers going to the slaughter houses with his father and uncle in the early mornings. In those days, you would buy sides of beef that hung on a kind of rail and they would go early to stamp what they wanted and get the best pieces.
Seltzer eventually put himself through undergraduate and law school by working at restaurants.
"I was there to learn the business and to make money," he says. "I had no intention of going into that business. Ever."
Yet, as often happens, things change.
Time to go
Seltzer was 38 and a partner at a well-known Montreal law firm. And he says he was "doing extremely well."
So well in fact, that when he told colleagues and friends he was leaving for Florida to start a restaurant the most common response was, "Are you out of your mind?"
He wasn't.
This was 1995 and he had young children. There were serious political issues in the country that year as voters were deciding whether Quebec would separate from Canada. 
Things were unstable, he says.
"I wanted to grow a business. And my family, we were very concerned about the political situation, and we kind of wanted to get out of the country because if Quebec separated from the rest of Canada it would have been a major mess," he says.
"I thought it was a great time to move in pursuit of a business opportunity," Seltzer adds. "Which is what I did."
They chose Tampa because of their familiarity with the area — Seltzer's in-laws owned a condominium in Sarasota and nonstop flights only flew from Montreal to Tampa in then. More importantly, it was good place to start a business, particularly a restaurant chain.
Seltzer says his research found that, at the time, Florida had more restaurants and steakhouses per capita than any other state. And he learned that it was place where companies that wanted to go national, started. (Think Outback Steakhouse.) That, he says, was because the number of transplants made it a solid testing ground for new products.
The theory was, if it worked here, it would work everywhere, he says.
Sam's signals 
Seltzer opened his first Sam Seltzer's Steakhouse that year in Tampa. It was on Dale Mabry Highway, just south of Hillsborough Avenue and less than a mile from the stadium.
They served over 500,000 customers that first year, he says. "That made my partners extremely excited, and I got the green light to go ahead and expand the restaurant."
Over the next seven years he opened six more Sam Seltzer's, including the Port Richey location in January 2002. He sold the business in 2004.
After he left, the company fell on hard times after opening several new locations. According to reports, at its peak the chain had 13 restaurants, mostly along the Gulf Coast.
The company wound up filing for bankruptcy in 2008 and shut down for good in May 2010.
A couple of months after the closure, Seltzer reached out to some of the property owners who'd leased to Sam Seltzer's, seeing if he could take a look.
He ended up buying the St. Pete and Port Richey locations, the last two that opened when he was running things.
"They closed in May," he says. "I purchased the contents of those two restaurants in July. I refurbished them and I hired back over 150 people that had lost their jobs in the middle of recession. And I changed the name from Sam's to Harold's."
He also took out a full page add in the then-St. Petersburg Times "to send the message that the original founder was back."
Time to rest?
Today, 13 years later, his message is different. But what he calls a slowdown may turn out to be just semantics.
The Clearwater restaurant which opened in 2020 closed July 1 after a new owner who bought the property canceled its lease.
And last month, he put the business and leasehold to the 10,360-square-foot Port Richey restaurant on the market for $800,000. The listing describes the property at 9409 U.S. Highway 19 as a "turnkey restaurant with full staff in place and gross rental rates far below market rates!"
The property has a lease in place until Jan. 31, 2026 with a five-year option.
Seltzer says he doesn't have to sell, then says what nearly every entrepreneur always says, "everything that I own is for sale." 
But the reality is, he will only move forward if the opportunity is right.
In an interview with the Business Observer, Seltzer says there are two potential buyers interested in the property. While it's too early to share details and discussions are ongoing, both buyers would keep the restaurant's name and he would stay on in some capacity.
He's speaking publicly about the restaurant being up for sale, and his own future, he says, to avoid any confusion. "It's extremely important to me that not only our clientele but that our staff gets the message that we are not closing and that their jobs are safe."