A small college in Bradenton is turning some of it focus to sparking innovation. 
The school, State College of Florida, recently renovated its former library into a space meant to inspire budding entrepreneurs and small businesses — a $4.4 million project. Even though the center just celebrated its grand opening at the end of September, the 40,000-square-foot space is already flowing with possibilities.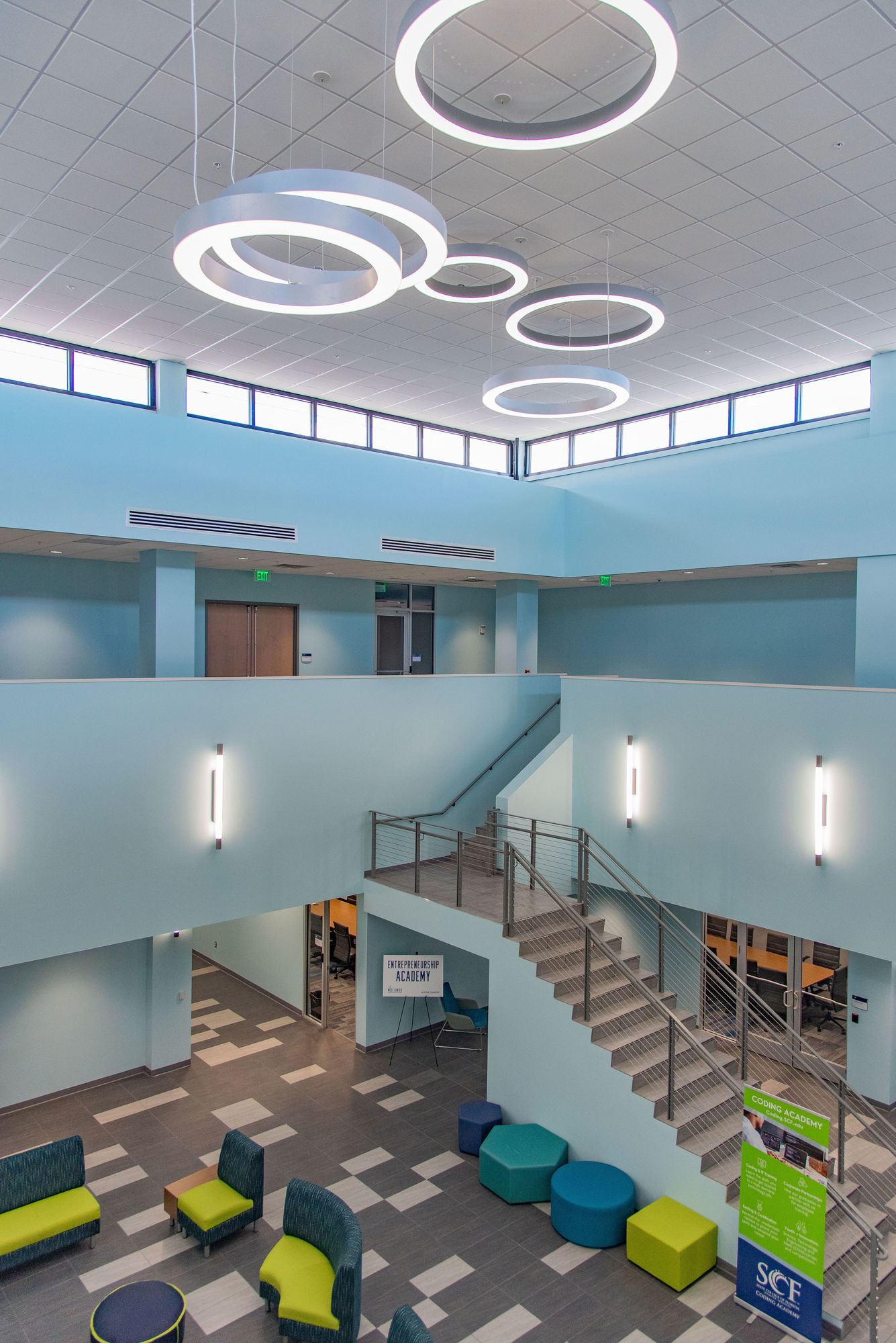 SCF student Anthony Romero is one of those examples.
"What I love about Anthony is that he always has new ideas," says Kim Richmond, director of the space, dubbed the 26 West Center. Romero, an entrepreneur and drone operator, recently started a video series interviewing fellow entrepreneurs. For the interview with Richmond, he made use of 26 West's creative studio. "We love that our students are leveraging our resources."
While students like Romero know of and are already using the center and its resources, getting the community involved, has, so far, been a primary challenge at 26 West, which is named after SCF's address: 5840 26th St. W. "The center's greatest challenge is our greatest opportunity," Richmond writes in an email, "which is to continue (to) make our community aware of the services and programs offered at the 26 West Center."
The original grant for 26 West was written in 2018, in partnership with economic development corporations and chambers of commerce in both Sarasota and Manatee counties. Funds for the more than $8 million project included a $3.6 million grant from the Florida Department of Economic Opportunity and Enterprise Florida, to go toward renovating the space. According to the center's website, the funding comes from the Florida Job Growth Grant Fund, a program designed to promote public infrastructure and workforce training in the state. SCF and the State College of Florida Foundation provided additional funding. 
Suite deal 
Through the front doors of 26 West, the space flows into an open area referred to as the Launchpad. The space is set up to inspire entrepreneurs to come up with their brands or business concepts. It also houses the Student Entrepreneurship Club meetings.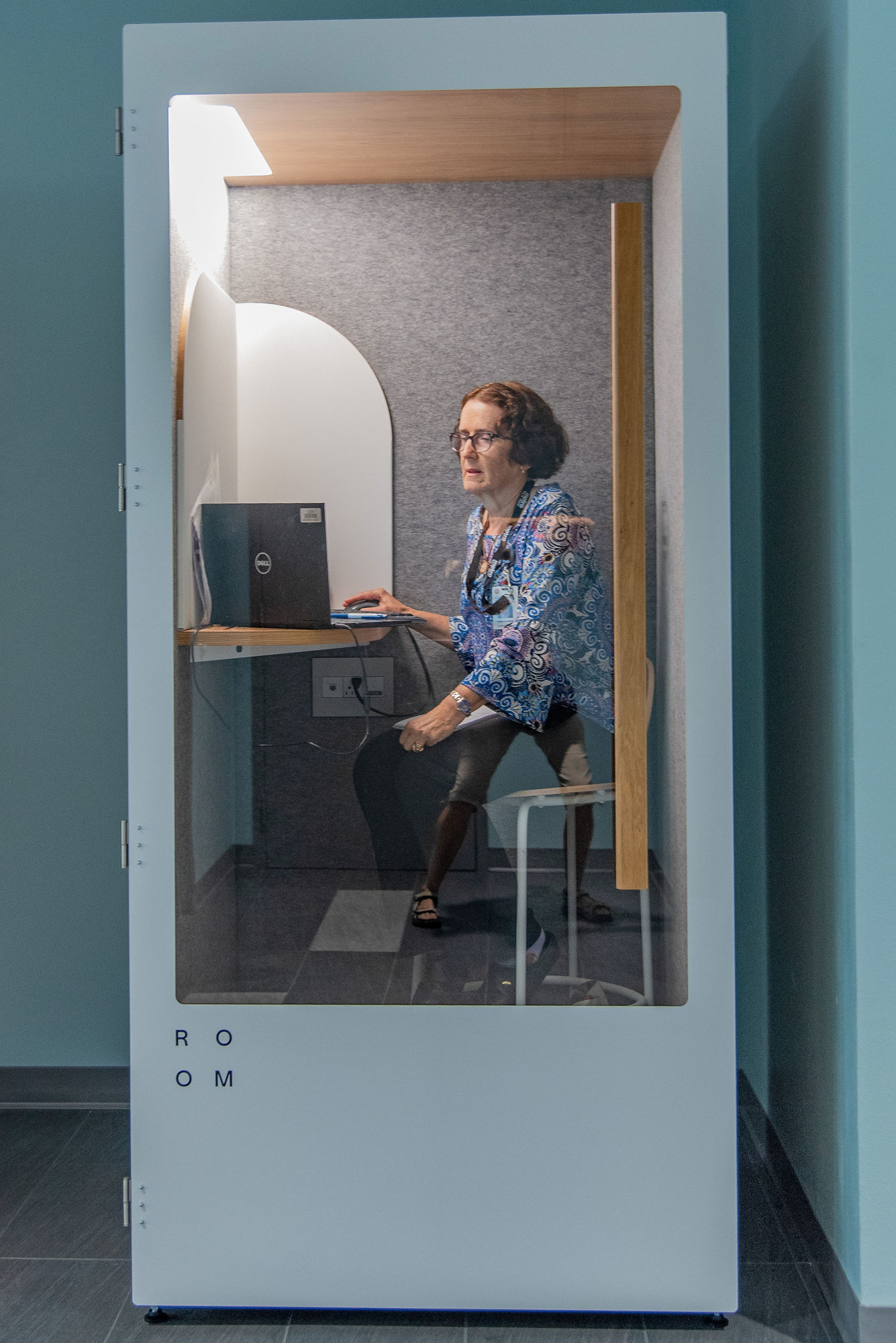 Just off the main area, the center has two soundproof privacy booths for anyone, students and community members, who want a little more privacy than an open area can offer. "They're almost always busy," Richmond says.  
26 West, in total, hosts seven business services: 
Business Growth Lab and Incubator
Student Incubator
Entrepreneurship Academy
Personal Branding Lab
Digital Collective
Coding Academy
Creative Suite
The Business Growth Lab and Incubator features rentable space for businesses and entrepreneurs provided on a monthly basis. The fee also includes access to mentorship and programming. "There's been a lot of trends in people we've talked to where long-term leases are not necessarily what they need," says Richmond. 
While she declines to get into the specifics, Richmond did say they're in the process of signing the first tenant. The spaces include fiber-optic high speed internet, mail service, locked storage and free parking on the college campus, which Richmond quips is the eighth wonder of the world.  
The office space starts at $500 depending on the size and location. But for those who just need a space to work or access to a desk, there's a community space rented out at $100 per month and a Founder Desk option that's $300 a month. "We want everything here to be accessible," says Richmond. "
She notes that in a typical sense small businesses or entrepreneurs are starting off with very little. So it's hard for them to get their footing when prices for offices are too high. "We want people who have those ideas that will create jobs and fuel the economy to be able to come to a place and not only have space but have (access to) mentoring and the ability to grow," says Richmond. 
That especially goes for students at the Student Entrepreneurship club — an area for students to work, collaborate and launch their own business. "We're creating this culture of innovation from the start," says Richmond. "What we love about entrepreneurship is that whether you're a geology major or a business major, you can be an entrepreneur." 
The Personal Branding lab, meanwhile, scheduled to launch in the spring, will provide a place for students and community members to meet with a career sherpa, resume architect, mock interview mentor, portfolio planner and salary negotiating coach. Richmond says they're in the process of finding staff members for the lab. 
The student digital marketing agency, Digital Collective, also will be up and going in the spring. The agency will give students the opportunity to receive internship credit, take advantage of freelance opportunities and provide on-the-job experience. Small businesses and nonprofits will be able to use the agency's marketing services for a fee. "We see this as job creation," says Richmond, "because, ultimately, we're creating jobs to sustain this agency and supporting small businesses."
Big impact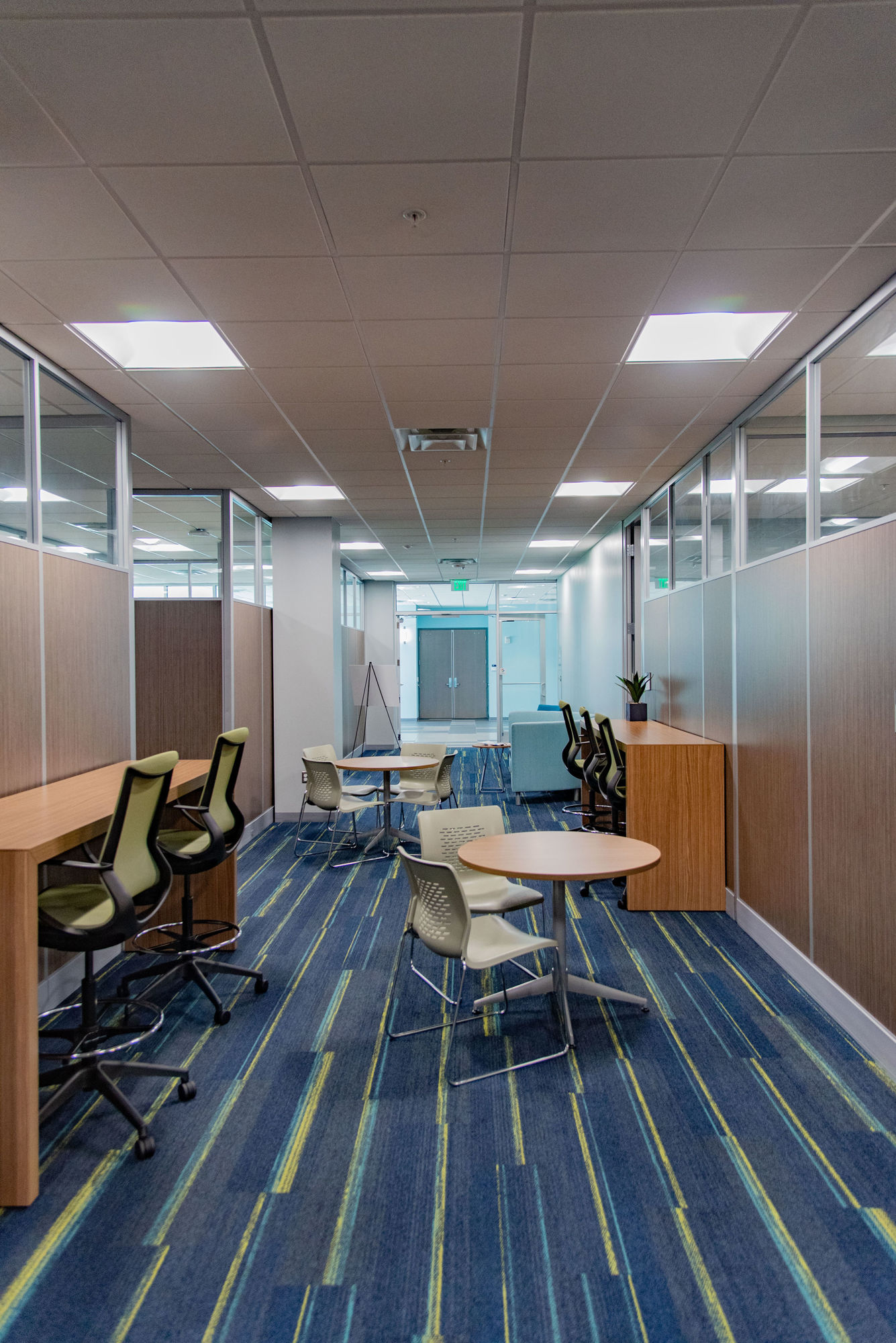 One of the cooler parts of the center, the Coding Academy, isn't just all fun and games — even though 26 West has two $9,500 Nao humanoid robots. It's also a place for learning. The academy, available to almost anyone, whether you're a student or someone looking to change careers, provides training for jobs in software development, digital marketing, cloud computing and cybersecurity. 
Desh Bagley, hired 10 months ago as the director of the coding side, has worked with local businesses to find out what hiring managers are looking for in new hires. "Our local industry partners were telling us that they wanted their new talent to have actual skills," Bagley says. "They knew we were producing great students with great knowledge. But they wanted students to have more hands-on experience. To be able to come onto the job day one and be impactful with what they know."
That's where working with the robots, drones and VR goggles come into play. The academy offers three types of drones and students have access to 20 Dell laptops and 20 MacBook Pros. Bagley promises students can become a software developer through the academy in six months or less. 
While many may come to ogle over Jane, one of the robots, it's the entrepreneurial spirit Bagley gets the most excited about here. 
Bagley remembers speaking with Romero about his drone he uses to capture footage recreationally. When she saw the footage, she encouraged him to put together a website. "The next day he came in with a website," she says of the entrepreneurial spirit that comes from the center. 
There's even a creative full video studio, with additional space for a possible editing booth and podcast studio. Students and community members can use it to record anything from live TV to commercials. But really, the center's success revolves around supporting small businesses and entrepreneurs by providing a place to find and nurture aha moments. "I think we all realize when you're just in your office it doesn't always inspire inspiration," says Richmond. "It's those meetings where you get together and bounce ideas."