If Ben Mallah ever decided to seek public office, he could easily get away with borrowing the late Sen. John McCain's "Straight Talk Express" campaign slogan. In good times and bad, the Clearwater-based commercial real estate mogul doesn't hold back anything and will always tell you what's on his mind. Just queue up one of the many videos on his popular YouTube channel, in which, the chain-smoking, profane Mallah dispenses hard-earned financial wisdom along with a healthy dose of braggadocio.
Complaining about the "haircut" he took during the coronavirus pandemic, Mallah, 55, says, "COVID put me back five years," adding he was losing about $1 million per month on his hotel properties in Fort Lauderdale, Orlando and Tampa during the height of the crisis. "Things have gotten a little better but they're still not great."
So un-great, in fact, he's put four hotels on the market and seems resigned to taking a loss on the sales: One of them, the 303-room Four Points by Sheraton on International Drive in Orlando, recently sold for $31 million, about $7 million less than it appraised for prior to the pandemic.
"I gave it away," he says with a sigh. "A major part of our wealth is gone, but that's just part of life."
And yet, Mallah, in February, bought a small building at John's Pass in Madeira Beach he converted into hotel space. He also has plans to build another hotel on an empty lot right across the street. Clearly, Mallah — whose son, the 37-year-old Ben Mallah Jr., is spearheading the John's Pass projects — is someone who's not afraid to take come chances, even when things look bleak.
His strategy? Treat economic crisis like a war, and thus be prepared to do triage, but also use adverse conditions as an opportunity to take stock and, in the process, shore up what's working and punt on what's not.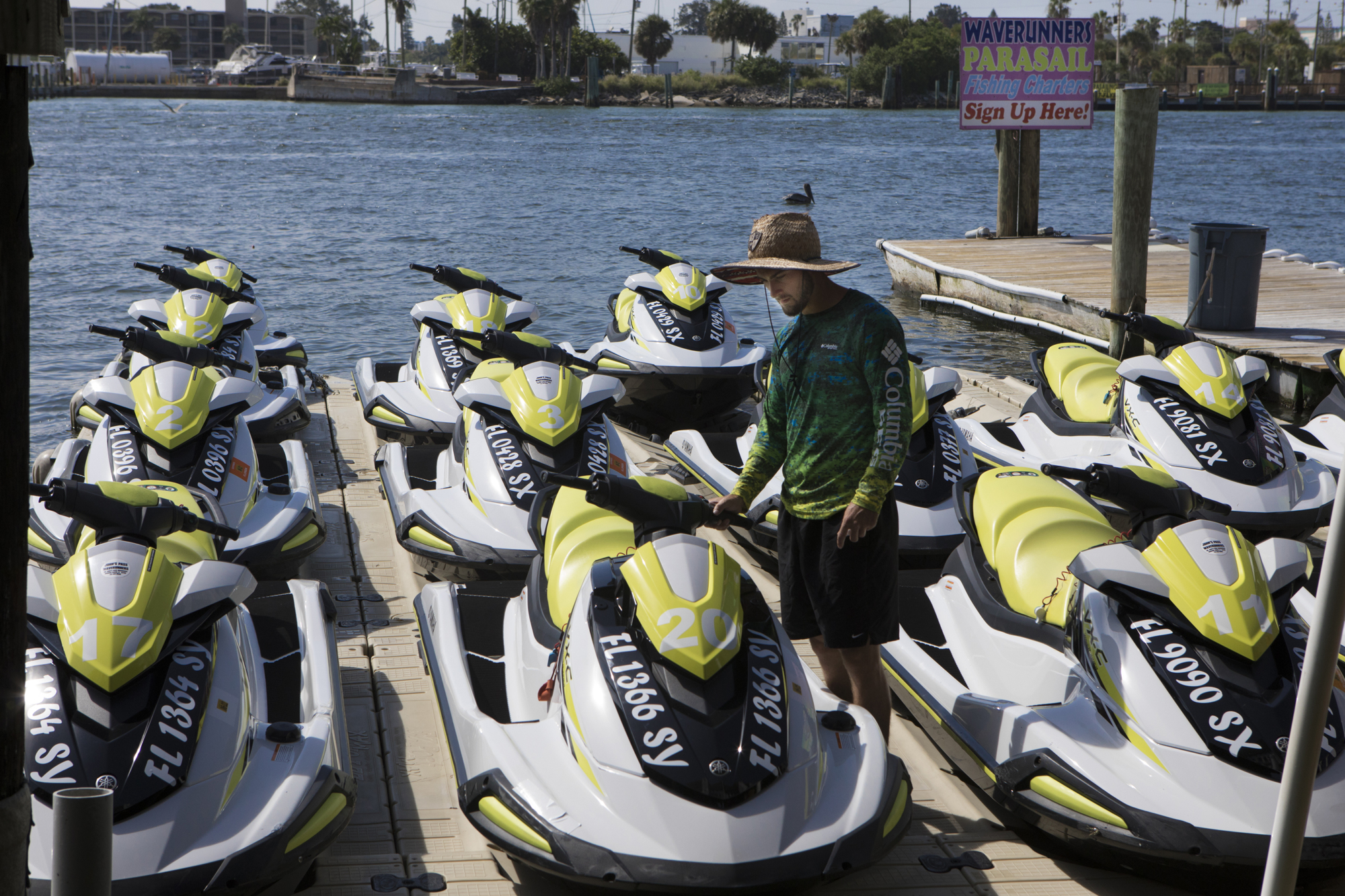 BACK TO BASICS
That seems to be the thinking behind Mallah Sr.'s investment in the Marina at John's Pass, a venerable Pinellas County waterfront retail and entertainment complex popular with tourists, particularly families with kids. He acquired the 138,715-square-foot property — which features Hooters and Bubba Grump Shrimp Co. restaurants, as well as a highly profitable parking garage and Hubbard's Marina, a charter fishing operation — in 2019 for $17.2 million. He's spent the past couple of years fixing it up and converting some unused retail space into a handful of hotel rooms that connect to the boardwalk amenities via a pedestrian bridge.
"There was definitely a demand for a small amount of hotel space [at John's Pass], and we're doing very well with the 10 units that we created from our retail that we couldn't rent," Mallah Sr. says, adding he probably overpaid for the Marina at John's Pass but it will help his 1031 exchange.
Mallah Jr. says the John's Pass property also made sense because of its proximity to the family's home, a $16.5 million mansion that used to belong to former Major League Baseball player Ryan Howard, in Belleair Shore.
"This is a slam dunk for us," he says. "I can be here daily. You can't do that with other assets when they're four, six hours away. I get to spend a lot of time here, and I enjoy it. I was going out on Hubbard's boats when we first moved to Florida; I've been eating at the Hooters and doing all these activities for the 15 years that I've lived here."
The kitschy boardwalk diversions of John's Pass haven't changed much in that time, and Mallah Jr. says he and his father have no intention to reinvent the wheel. "We want to keep it clean and nice but also keep that old fisherman/pirate vibe," he says. "That's what I don't want to change. A lot of millennials like myself come in and they go, 'Oh, let's paint it all gray and put in rooftop bars.'"
"A major part of our wealth is gone, but that's just part of life." Ben Mallah, real estate investor
What the Mallahs are changing is Menna's Landing at John's Pass, a three-story, mixed-use condo building at 111 Boardwalk Place that abuts the empty lot they own. Mallah Sr. acquired the property, with residential units that are fully leased, in July for $3.75 million. He plans to terminate the residential leases, convert the condo units into extended-stay hotel suites and create some sort of link between Menna's Landing and the new hotel building. The project is in the planning stages, but Mallah Jr. says he "doesn't foresee any problems" with it, adding he and his father have engaged in prior discussions with local government about development plans for the site.
From a financial standpoint, converting the condos to hotel rooms should pay off handsomely. Mallah Jr. says the existing hotel rooms generate $20,000-$30,000 per month in gross revenue — far more than what fixed-lease residential units bring in. "It's all profit," he says. "That place was just sitting empty, and now it's generating income."
A major challenge? Staffing. Mallah Sr. says his companies employed around 800 people pre-pandemic. That number has since been halved.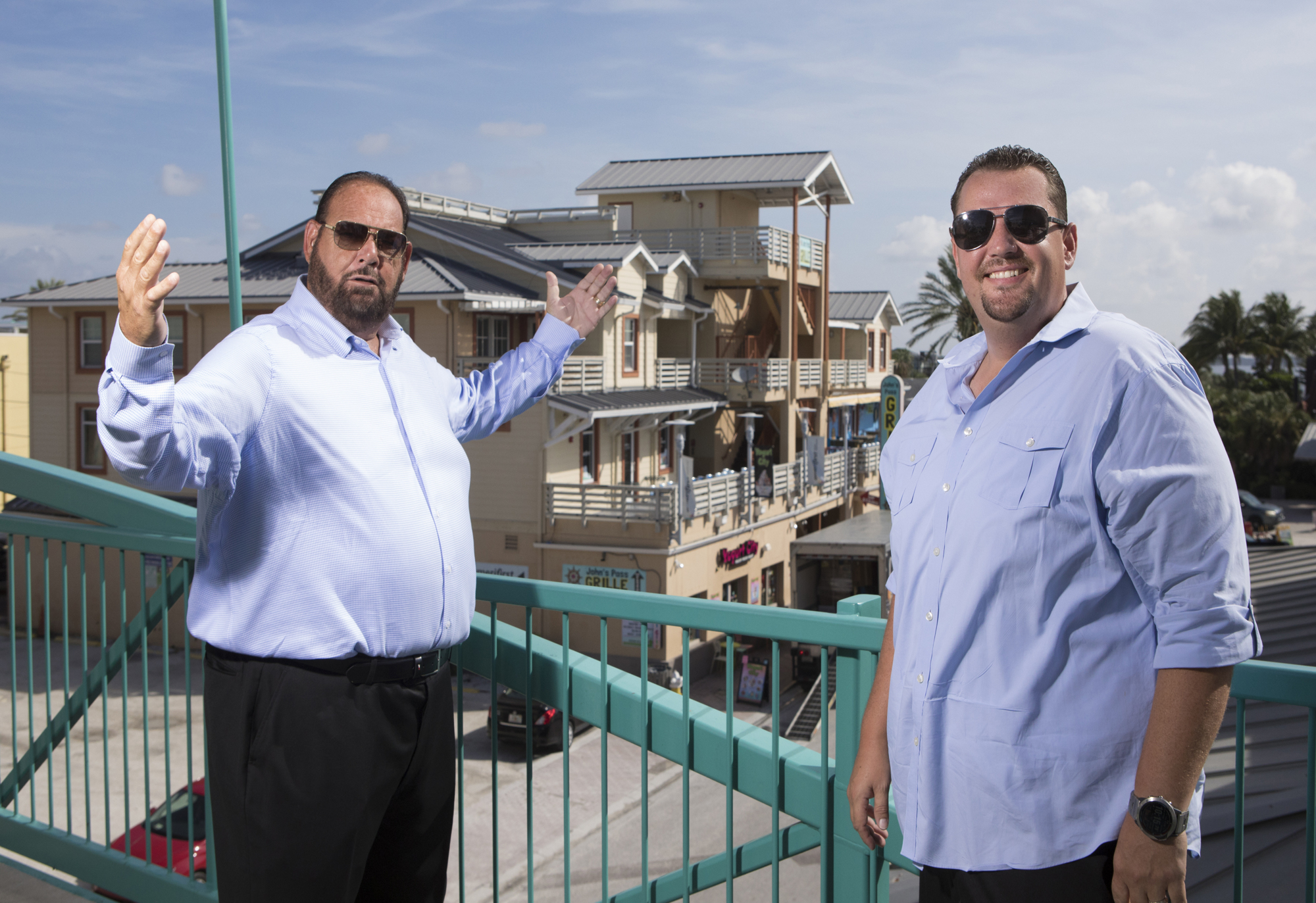 "We're short housekeepers; we can't find maintenance workers," he says. "We can't find nobody to work in the food and beverage departments. It's impossible right now."
Mallah Jr. has dealt with the labor shortage by doubling down on responsiveness. He employs cleaning and maintenance staff members who always remain on site instead of handling jobs at other properties. "They don't leave," he says. "They're constantly walking around … we run this like an apartment community."
DIVERSITY TRAINING
The Mallahs' investment strategy over the years has been chameleon-like, shifting from one asset class to another. Prior to their move into hotels, they specialized in multifamily.
With the hotel industry suffering, "now we're into retail," Mallah Jr. says. "The thing that saved us during the pandemic was our diversification. It could have been a lot worse."
In what now seems like a prescient move, Mallah Sr. began to buy up grocery stores and other retail outlets that sell basic essentials. "It's really the only place to go right now," he says. "Apartments cost too much money, so I'm looking for more necessity-type real estate with a decent cap rate. Every day, I'm looking for deals; I look through hundreds of deals, and I might have to start looking out of state."
Mallah Sr.'s YouTube channel is another way to generate revenue that helps offset losses. He says the income from his social media ventures is enough to cover his mortgage payment, which must be substantial.
"I'm not bragging, but I'm very successful on YouTube because I help people in real estate," he says. "And it's a little entertaining, too. We get millions of views per month."
The John's Pass hotel project will help the Mallahs diversify even more by giving them a taste of property development. Mallah Jr. insists he and his father aren't developers, but they've built a small amount of retail space in Orlando, and their fondness for the Gulf Coast beach lifestyle makes John's Pass an ideal spot to try their hand at it again.
"We're not going to come in and change the whole place," Mallah Jr. says. "We're just going to make it nice and make it fit what's already there, because that's what the tourists want. Tourism is booming because everybody sees Florida as an up-and-coming market. Everybody's coming back here."