Long before Richard Gonzmart was an iconic figure in the Tampa restaurant scene, he was a stud high school football running back in town. Gonzmart was on Jesuit High's 1968 state championship team. He considers longtime Tigers coach "Wild" Bill Minahan, a U.S. Marine, Korean War Veteran and an old-school, gruff, straight-out-of-central-casting high school coach, a third life mentor, behind his father and grandfather.
But like many star athletes, decades later, it's losses and misses that stand out, not just victories and touchdowns. Like the time, Gonzmart recalls, he took the handoff from the quarterback in a game, scattered away from tacklers and rumbled toward the end zone. Then: he fumbled the ball. No touchdown.
Sitting in his cluttered, memorabilia-filled Ybor City office on a recent morning, Gonzmart tells the dropped ball story as one many life lessons. "When you fumble the ball," he says, "you have to pick yourself up and the next time you have to hold on to it and run even harder."
Running hard personifies a smorgasbord of success for Gonzmart, 65.
His most famous gig: he's the fourth generation of his family to run Columbia, the oldest restaurant in Florida. In addition to the flagship Ybor City spot, which opened in 1905, there are six other Columbia Restaurant locations, from Sarasota to St. Augustine, and even one inside Tampa International Airport. Other concepts in the family include Cha Cha Coconuts, Ulele, Goody Goody and Café Con Leche Ybor City. The company has opened five restaurants and three new brands in the last three years, and is working on at least two more concepts. It has some 1,400 employees. 
A host of other titles also fit snugly into Gonzmart's life résumé, including: prostate cancer survivor; marathoner and triathlete; collector of dozens of eclectic, and electric, guitars, from a Bruce Springsteen model to a John Mayer; dedicated family historian; two-time runner with the bulls in Spain; philanthropist, particularly in college scholarships, cancer treatment and research and dogs and animal causes; and overcomer of several personal life obstacles, including being dyslexic and being diagnosed with ADD as an adult. Gonzmart's accolades also include more than 100 community and industry awards and induction into five business hall of fames.
Another big one, what he calls the biggest honor outside of his family: Pope Francis recognized Gonzmart with the highest recognition of the Catholic Church, the Pro Ecclesia et Pontifice. 
Patsy Sánchez, an official with USF, has known Gonzmart for some 20 years through a family scholarship program. Both Gonzmart and before him his mother, Adela Hernandez Gonzmart, have provided scholarship funds for hundreds of USF students. Gonzmart, says Sánchez, not only gives money but he's also a been-there, done-that life and career mentor. "Richard never says no," Sánchez says. "He's such a good role model for the students to follow. He's so genuine, and his family is always giving and giving."  
The core lesson Gonzmart has learned in a lifetime of the restaurant industry revolves around a key philosophy: never quit. That's gotten him through many down periods, including a financial crisis that nearly crippled the business. "With courage and faith," says Gonzmart, "any obstacle can be overcome."
Gonzmart, in a recent interview, recently talked about a variety of obstacles he's overcome in business, in addition to the lessons he learned from the experiences. The highlights include:
• Gonzmart's great-grandfather, Cuban immigrant Casimiro Hernandez, opened Saloon Columbia in 1905, serving workers of cigar factories in Ybor City. His son, Casimiro Hernandez Jr. — Gonzmart's grandfather — was the second generation. Gonzmart learned the significance of giving back from Hernandez Jr. Says Gonzmart: "My grandfather told me, you do good, good will come back to you.'"  
• The second generation Hernandez embraced a big-risk/big reward strategy, Like the time, during the Great Depression, when he paid $35,000 to retrofit Columbia's dining room with air conditioning — then unheard of, even in swampy Florida. Hernandez, recalls Richard Gonzmart, got a loan for the AC on a handshake with his banker. But even Hernandez had his doubts the cool move would add customers. "He told his wife," says Gonzmart, "if this doesn't work out, I will have to blow my brains out."
• Another key lesson from Hernandez? Be true to yourself. "My integrity is the most important thing in my life," Gonzmart says. "I learned that from my grandfather. No one can take that away from you."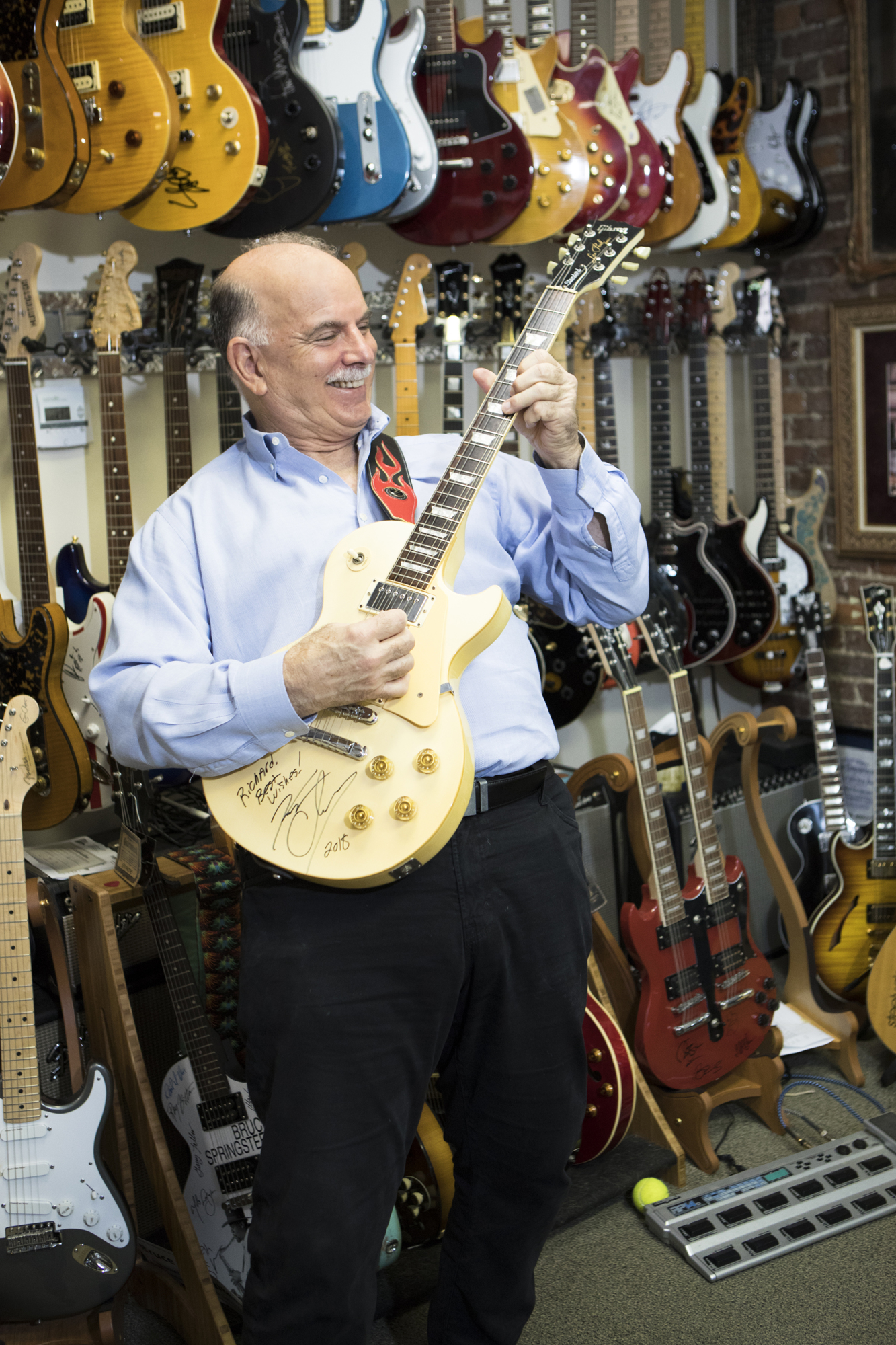 • The younger Hernandez and his wife, Carmen, had a daughter, Adela. Adela Hernandez married Cesar Gonzmart — who led the third generation of the restaurant company, and is Richard Gonzmart's father. Cesar Gonzmart set an example Richard Gonzmart would later come to follow: be bold in expanding, take calculated risks and most importantly, don't be afraid to fail. That's how and why the family opened its second location, with another Columbia restaurant in Sarasota, on St. Armands Circle, in 1959. "If you don't ask for it, if you don't go for it," says Gonzmart, "you'll never know."
• Cesar Gonzmart, who led the company from 1956-1979, also believed sustainable growth would only come through giving his risks the time to work. "Short-term to my dad was 10 years," says Richard Gonzmart. "In Spain, things are generational. They look past the right now."
'We were upside down. We were sunk. We were at the bottom of the sea.' Richard Gonzmart, Columbia
• Richard Gonzmart handled overall growth and operations, and his brother, Casey Gonzmart, focused on growing the Sarasota location, adding menu items and expanding. Like his brother, Casey Gonzmart learned taking risks was the only way to win. "We didn't always ask (Cesar) for permission," says Casey Gonzmart in the 2009 book The Columbia Restaurant: Celebrating a Century of History, Culture and Cuisine, by USF librarian Andrew Huse. "It was almost, you ask for forgiveness sometimes because we weren't doing that great everywhere. From your intuition and your heart, you knew it was worth it to roll the dice."
• Before Richard Gonzmart dove into the family business, he studied hotel and restaurant management at the Fritz Knoebel School of Hospitality Management at the University of Denver's Daniels College of Business. One key lesson he learned there either be passionate about your field or leave it. "Never count how many hours you work," Gonzmart says. A second lesson: it's OK to make mistakes, he says "as long as you learn from it." One more lesson is what Gonzmart calls BCG: beer clean glasses. While it's a metaphor for one item, cleanliness in every aspect of the company remains a key driver today.
• The company hit a crisis in 1995 under Richard Gonzmart's watch: it owed more than $1 million to a handful of vendors, in addition to an unpaid $278,000 Florida tax bill. The debt to one vendor, Gonzmart says, was $768,000. The issues stemmed mostly from a CFO who mismanaged accounts, but the responsibility fell to Gonzmart. "We were upside down," he says. "We were sunk. We were at the bottom of the sea."
• Gonzmart hired business turnaround specialists. Thinking like his father, he made a move to grow among the turmoil by opening a Columbia in Celebration, signing a deal with Disney World. After multiple banks rejected Gonzmart for loans, including institutions his family did business with for decades, Gonzmart finally found a financial lifeline in Gay Culverhouse, daughter of then-Tampa Bay Buccaneers owner Hugh Culverhouse. Gay Culverhouse, president of the Bucs from 1991 to 1994, loaned Gonzmart money to keep the business afloat.  
• Beyond taking risks and overcoming financial challenges, Gonzmart says his father and grandfather taught him that without quality service, and people to serve the customers, the business will be toast. The company, with that in mind, invests heavily in employee retention, with a 401 (k) match, health benefits and more. On training, Gonzmart practices a "no shortcuts rule." He says he knows, for example, when the mustard is on the bottom of a Cuban sandwich. (It's supposed to be on the top, for the best flavor profile.) From the bar to front door, everything should be done with a smile, he adds. Says Gonzmart: "You're only as good as your last meal."
• The fifth generation, which includes Gonzmart's daughter, Andrea Gonzmart Williams and his nephew, Casey Gonzmart Jr., is coming up on Gonzmart. The succession plan calls for Gonzmart to hand over operations to the next crew when he turns 72 — in seven years. In preparation, the company has begun to hold what Gonzmart terms 2025 meetings, where they go over the finer points of the succession.  
In the meantime, Gonzmart is working on a slew of projects, from a culinary school to a waterfront restaurant on Longboat Key — not far from the St. Armands Columbia. And being busy, to Gonzmart, is oxygen. "When will I slow down?" he asks. "When the Lord tells me to."