Burnt to a crisp really isn't a phrase you want to hear in any restaurant situation, but especially when it comes to a kitchen fire. 
Unfortunately, that's the situation The Island Cow restaurant on Sanibel Island finds itself in after an after-hours kitchen fire erupted Aug. 6. The restaurant, known, according to a statement, for its "American-style food and fun, offering over 300 menu items," has been closed since.
In a separate press release, the Florida State Fire Marshal Office states the cause of the fire was undetermined. "The Island Cow was so badly damaged it is unsafe to allow anyone inside," Larry Williams, fire marshal at Sanibel Fire and Rescue District, says in the release. "We are just grateful no one was injured during the fire, and we will keep it that (way) moving forward."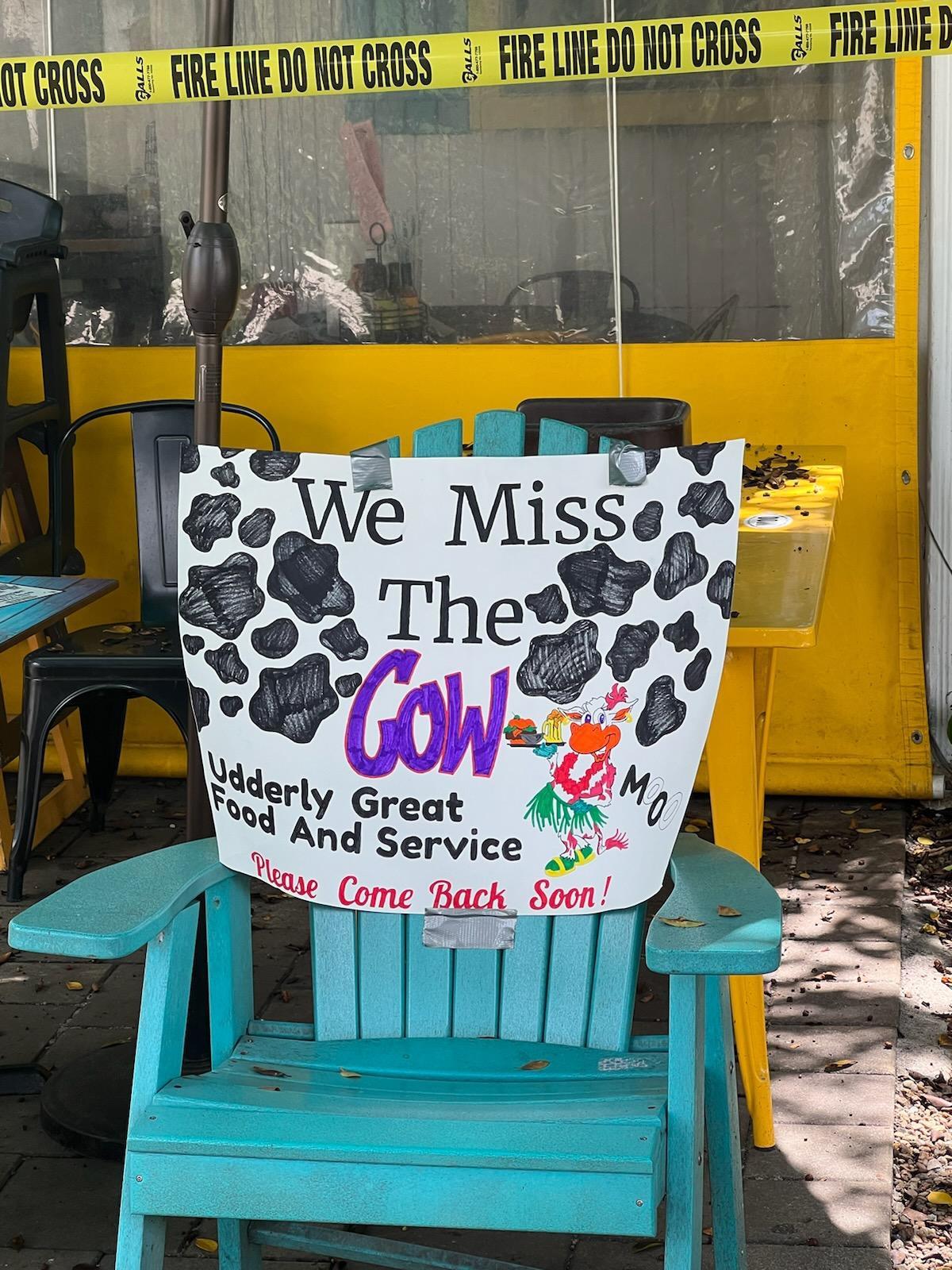 Moving forward, The Island Cow co-owners Brian and Elke Podlasek say they're planning to rebuild from the ground up due to the extent of the damage. "Our goal is to maintain The Island Cow vibe that locals and visitors have come to love while making some enhancements to our beloved island setting," Brian Podlasek writes in an email interview with the Business Observer. 
The owners have launched a fundraising campaign through the nonprofit Put It On Pete's Tab, with the goal of raising $250,000 to help their 50 employees. According to the press release, that goal, which includes a $10,000 match from the owners, would be enough to cover two months of wages while employees look for other options. The Podlaseks are expecting the rebuilding to take at least a year. 
According to the fundraising page, the restaurant has served over 6 million people in 20 years. During that time, it survived an oil spill, several hurricanes and the pandemic. 
The nonprofit gives 100% of donations to staff.
"We are so grateful to everyone who has reached out to share concerns and offer support. Many have asked what they can do," Elke Podlasek says in the release. "Over 50 staff, servers, hosts, managers, cooks and bartenders who are part of our Island Cow family are now facing unemployment until we rebuild. Some have worked for us since we first opened our doors and have known no other job since they were teenagers. They're the ones we need to support during this time of uncertainty."
The campaign, #HelptheHerd, is accepting checks at Put It On Pete's Tab Inc., P.O. Box 150911, Cape Coral, 33915; Venmo donations can be sent to @PutItOnPetesTab or Zelle to [email protected]. Funds can also be donated on the fundraising page. The tax-deductible donations will not be available to the owners or efforts to rebuild, only the employees. Through Aug. 15, the company had raised $19,972.11 from 129 donations. 
"While we are still working through construction logistics, we are already moving forward with efforts to begin the rebuild," Brian Podlasek writes. "This process may take us to the end of 2023 or longer. We are committed to reopening our doors as soon as possible so that we can begin serving our island community once again."