He could have taken a year off, heck, maybe even retired. Or he could have pursued any number of other job opportunities he was likely offered.
But Keith Overton, who led St. Pete Beach-based TradeWinds Island Resorts for 25 years — until the prominent property was sold in October for $81.4 million to Miami-based 1754 Properties Group — defied expectations by launching a new hospitality venture. The entity, Pioneering Resorts, focuses not on lavish, beachfront high-rises but on quaint, lakeside RV parks and cottages.
"Twenty-five years is a long time to stay in one place," Overton says. "But I was not ready to sit around and go slow."
Pioneering Resorts is a partnership with Ed Mayer, founder and owner/operator of Elite Resorts, a firm that has RV parks in Florida and Connecticut. The duo had expected to break ground on their first resort, located along the Anclote River near the Pinellas-Pasco county line, in June. But the timeline has been delayed by economic uncertainty caused by the COVID-19 pandemic. 
"From our perspective, we think the [pandemic] situation kind of helps us," Overton says. "Our offering is an outdoor offering and when travel can occur again, people who have been pent up will want that kind of offering. They'll still have [social distancing] on their mind and they might not want to go congregate in theme parks and busy places like that. But the real issue is that lenders are focused on trying to help save their small business clients, so the underwriting process is at a halt. So we're in wait-and-see mode until there's a little better clarity for the future. But we are still very bullish on these projects."
For Overton, 52, the launch of Pioneering Resorts represents a simpler, but in some ways, more daunting, challenge than what he faced at TradeWinds, which, at 31 acres, is one of the largest beachfront resorts on the Gulf Coast. At TradeWinds, Overton was able to piece the resort together over time via acquisitions of nearby properties and then join them to make one big tourist attraction.
With Pioneering Resorts, on the other hand, "We can build it with no barriers, no impediment," Overton says. "So if it doesn't work, it's because we were just dumb. … We've got every opportunity to build it from scratch. And that's the fun part about it. I've never had that opportunity before. In Florida, you don't get it very often."
INTO THE GREAT WIDE OPEN
Mayer had owned 65 acres across from Anclote River Park in Pasco County for seven years and planned to develop it as an RV resort before getting sidetracked with a similar project in Connecticut. He bought the Pasco land from Ryland Homes, in what he calls a series of "fortuitous" purchases totaling about $6 million. 
"Opportunities for that kind of land don't come up very often," Mayer says. "As someone once told me, 'Just buy land in Florida close to water. It may not be valuable today, but it will be more valuable tomorrow.'"
Mayer first met Overton about three years ago. They got to talking about where the tourism and hospitality industry was headed in Florida.
"He and I shared the same view that there's a big and growing impetus on outdoor recreation," Mayer says. "And he being a hotel guy and me being an RV guy, it was really a convergence of how he saw the world and how I saw the world."
'We've got every opportunity to build it from scratch. And that's the fun part about it. I've never had that opportunity before. In Florida, you don't get it very often.' Keith Overton, co-founder of Pioneering Resorts
With sea level rise a potential existential threat to Florida's coastal tourism industry, the duo's strategy of developing inland property makes long-term sense. But Overton says there's much more to their motivation. 
"RV demand, right now, is as high as it's ever been," he says. "And Pasco County is really underdeveloped with regard to hotel rooms."
In other words, Pioneering Resorts' Anclote River resort, which will offer 161 cottages and 183 RV lots, is aiming to be the best of both worlds. The cottages will be available for sale and can be put into a rental program, while the RV sites will be rental-only. The RV portion of the resort will also be aimed at short-term, transient travelers, not long-term residents, with a maximum stay of 30 days.
Overton expects the cottages to sell for $250,000 to $300,000 and generate an average daily rate of at least $200. Mayer says the pricing structure for the RV sites has yet to be determined, but he has no doubt it will be a strong revenue generator, given the resurgence of interest in RV-ing, which, he says, "is coming into its own."
Mayer adds, "For years, RV-ing was looked down upon. But now a lot of people, particularly millennials, are embracing it and saying: 'Listen, this is good. I can take my kids with me. I can take my dogs with me. I get outdoor entertainment.' There's a push back toward the outdoors, and RV-ing is relaxing in a complicated world."
The duo's confidence is indeed backed up by recent trends. Gulf Coast RV dealers say the average age of buyers has plummeted from 55 to 45 due to a surge of younger, first-time buyers. That shift, in turn, has prompted the construction of new RV parks and refurbishment of older ones, which need modern amenities, such as Wi-Fi, to attract younger travelers. 
Overton, well aware of the need to offer a modern, amenity-rich facility, says Pioneering Resorts' business model will allow it to continue to invest in the facility and keep it up to date. If all goes as planned, the company will receive steady cash flow from the cottage side of the business that will fund operations and upgrades.
"The RV industry, historically, has, in my opinion, not maintained the quality that it should," he says. "It's an upfront thing: Once you sell off all the lots, now you have no income stream to support all the amenities. And so the amenities just slowly go away, and you don't have the operating capital to continue to make improvements to keep it modernized."
FINAL FRONTIER?
Pioneering Resorts likely represents the last item that will appear on Overton's resume. Although he declines to specify how much money he's put into it and how much needs to come from investors, he says he's in it for the long haul.
"I think this will be the last thing I do," he says. "I feel like I've got 10 or 15 years left in me. I'd love to retire on the income, but who knows what the world will look like 10 years from now."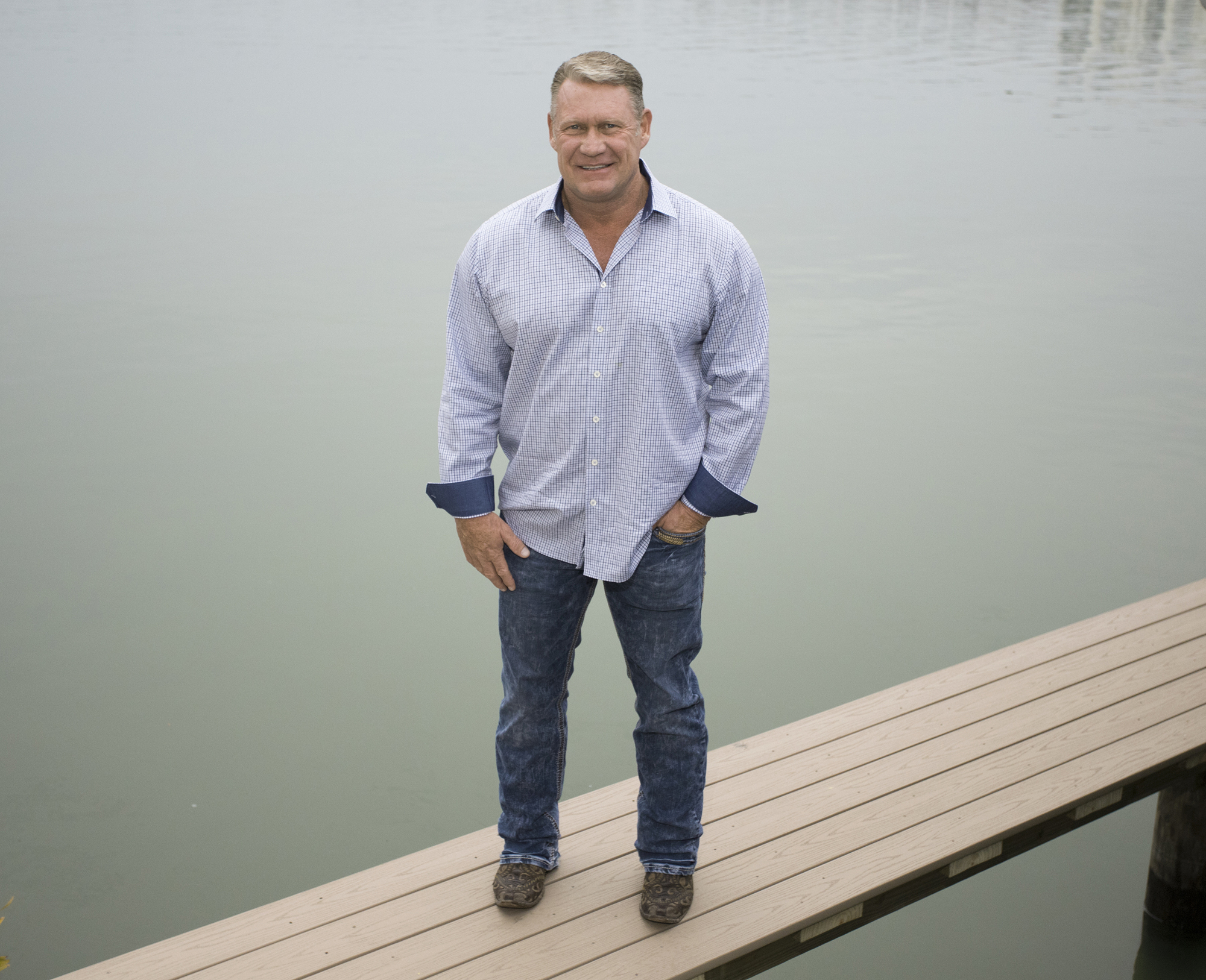 Before that, hurdles and challenges loom: financing, for starters. Overton seeks to raise about $15 million, initially, for the Anclote River resort, which he and Mayer expect will open sometime in 2021. They plan to go at a modest pace, by offering 20 cottages initially and then having them built on demand after that. The duo plans to raise funds from a private offering to their personal and professional networks. They have an investment broker on standby to reach out to institutional investors, if needed. 
The cottages are modular and will be manufactured off-site and then delivered to the resort. They're also built in a way that they can accommodate two families, which could help the resort remain a viable option in the event of an economic slowdown.
"There's three big beds in there that could accommodate lots of kids, two couples, three couples, maybe fishermen who want to come down and do some fishing, scalloping or whatever," he says. "We think it will provide great value."
Overton and Mayer expect the Pioneering Resorts business model to be easily replicable — if they can find the right pieces of land. With that goal in mind, they are in the early planning stages for a second resort, on a 177-acre property Mayer owns on Little Orange Lake near Hawthorne, a tiny community in Alachua County, about 15 miles southeast of the University of Florida.
"It fits the model," Overton says of the Little Orange Lake property. "We want to be on the water, on rivers, on lakes, and we want to be in an area that is not going to be overbuilt because it's got state lands, county lands."
Another obstacle is staffing. Overton, thanks to his decades of experience in tourism and hospitality, anticipates having to put in a lot of work when it comes to finding and keeping good employees. Making things harder? The labor pool in Pasco County is not as robust as its Tampa Bay neighbors.
But even going back to his TradeWinds days, hiring has been a thorn in Overton's side.
"Finding quality people, for several years now, has been our biggest challenge," he says. "And I don't think it's going to get any better. I think it's only going to get worse. I don't know with any great certainty what the employment market is like in that part of Pasco County. 
On the flip side, demographic trends could be an advantage in hiring. Pasco's population continues to grow apace as homebuyers get priced out of Hillsborough and Pinellas counties — and that translates into a burgeoning labor pool in the years to come. "East of I-75, Trinity and Land O'Lakes and all that area, it's booming with track homes and residential communities," he says. "And is that a source of employment for us? I don't know. Maybe it is. Maybe that's where we can go get our employees."
One final big-picture worry is macro-economic trends. Overton believes Pioneering Resorts' business model is diversified enough to survive an economic slowdown, but if President Trump is defeated in November, "all bets are off," he says.
"The world can change and the temperament of the stock market can turn on us and who knows what'll happen," he says. "That's always a concern, but you can't let it drive your decision completely because you can't control it."