The desire to diversify Florida's economic sectors — away from over-relying on real estate, development and tourism — is as old as a smokestack factory.
But that doesn't mean it isn't working, albeit incrementally. Supporters of the Sunshine State's manufacturing sector, for one, boast about several gains in that industry in recent years, detailed in a new report, From Grease & Grime to Technology & Talent. The report is from Florida TaxWatch, in conjunction with CareerSource Florida, the Associated Industries of Florida, the Florida Chamber Foundation and the Florida Manufacturing & Logistics Council. In addition to stats and suggested strategies to grow the sector, the report summarizes the findings of the second annual FloridaMakes 2019 Florida MakeMore Manufacturing Summit, held May 31 in Orlando.
Florida manufacturers produce a variety of goods, the report found. The list includes aerospace products, batteries, food and beverages, communications equipment, pharmaceuticals, medical devices, semiconductors, boats and more. Although there are manufacturers from Miami to the Panhandle, the bulk of the manufacturing jobs are in population centers: The top five counties for manufacturing employees are Miami-Dade, Orange, Pinellas, Hillsborough and Broward.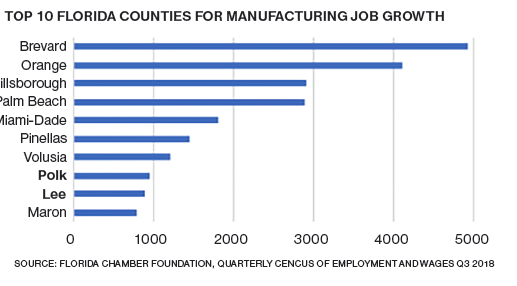 "With more than 20,000 manufacturing companies providing 381,000 high-wage jobs to Floridians across our state, it is clear that manufacturing is not only a driver of Florida's economy but critically essential to the continued economic growth and success of business throughout our state," says Robert Weissert, the executive vice president and counsel to the president and CEO of Florida TaxWatch, in a statement about the report.
Findings in the report include:
• Florida manufacturers account for 5.36% of the total output in the state, employing 4.23% of the workforce;
• Total manufacturing output was $51.86 billion in 2017;
• In June, there were 381,800 manufacturing jobs in Florida, seasonally adjusted, an increase of 10,500 jobs over the past year;
• Florida added 28,270 manufacturing jobs over the past three years, 2.8 times greater than the U.S rate, or 8.2% versus 2.9%. Only Idaho and Nevada have grown manufacturing jobs at a higher rate;
• In January, there were 30,000 vacant manufacturing jobs in Florida. At the same time, there were 15,000 unemployed Floridians whose last job was in manufacturing;
• In 2018, the average annual wage for a manufacturing job was $61,735;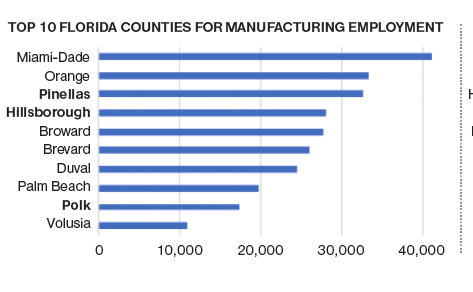 • Eight of 10 Florida manufacturers have 20 or fewer employees; and
• At $142,943 in gross revenue per employee, a 10.6% increase from 2014, Florida ranks No. 32 among the 50 states and Washington, D.C. in manufacturing productivity. That ranking is up from No. 38 a few years ago, yet lags the Southeast ($165,298) and the U.S. ($175,085) in productivity.