A cute little coffee shop adorned with strategically placed pumpkins and hanging greenery recently popped up across the street from the Palmetto Police Department in north Manatee County (there's bound to be a joke in there somewhere), and although the shop is a coffee roastery in nature doughnuts are on the menu (there it is). 
Josh and Abbey Schmitt, the husband-wife duo who run the shop, Banyan Coffee Co., have been looking for a brick and mortar location for a few years. They started roasting coffee beans in their garage in Oregon in 2013, sending coffee to family and friends. When they moved to Bradenton a year or two later, they sold bags of coffee at the Bradenton Farmers' Market. Eventually, they added a mobile coffee truck and local deliveries.
Now, they've successfully launched one of their longtime goals: a brick and mortar spot. The location, at 1110 10th St. W. in Palmetto, officially opened Sept. 24. While meeting a big goal, the opening, and the work the couple is doing behind the scenes, is also an entrepreneurial tale of patience, persistence and the power of partnerships. "We were nomads for three to four years until we found this place," Josh says.
"I don't believe in soft openings," he adds, noting day one was their busiest, filling 200 or more cups of coffee. "I just believe in opening."
The road to this point wasn't easy. Checking in with other cities and counties, not everyone warmed up to the idea of a coffee roaster. The Schmitts ran into other roadblocks as well, like having to lay down $20,000 for site plans and architecture drawings "just to get an answer if we can be here," Josh Schmitt says. 
But Palmetto city officials were more than open to the idea, even going as far as to guide the small business through the process of permitting, which ended up at just a fraction of $20,000, Schmitt says. 
The couple closed on the store in January, paying $230,000 for the place, which was previously a barber salon and before that, a church. Renovations, from doors and windows to walls to making the bathroom ADA compliant, cost nearly $100,000 Schmitt says — a bit over budget.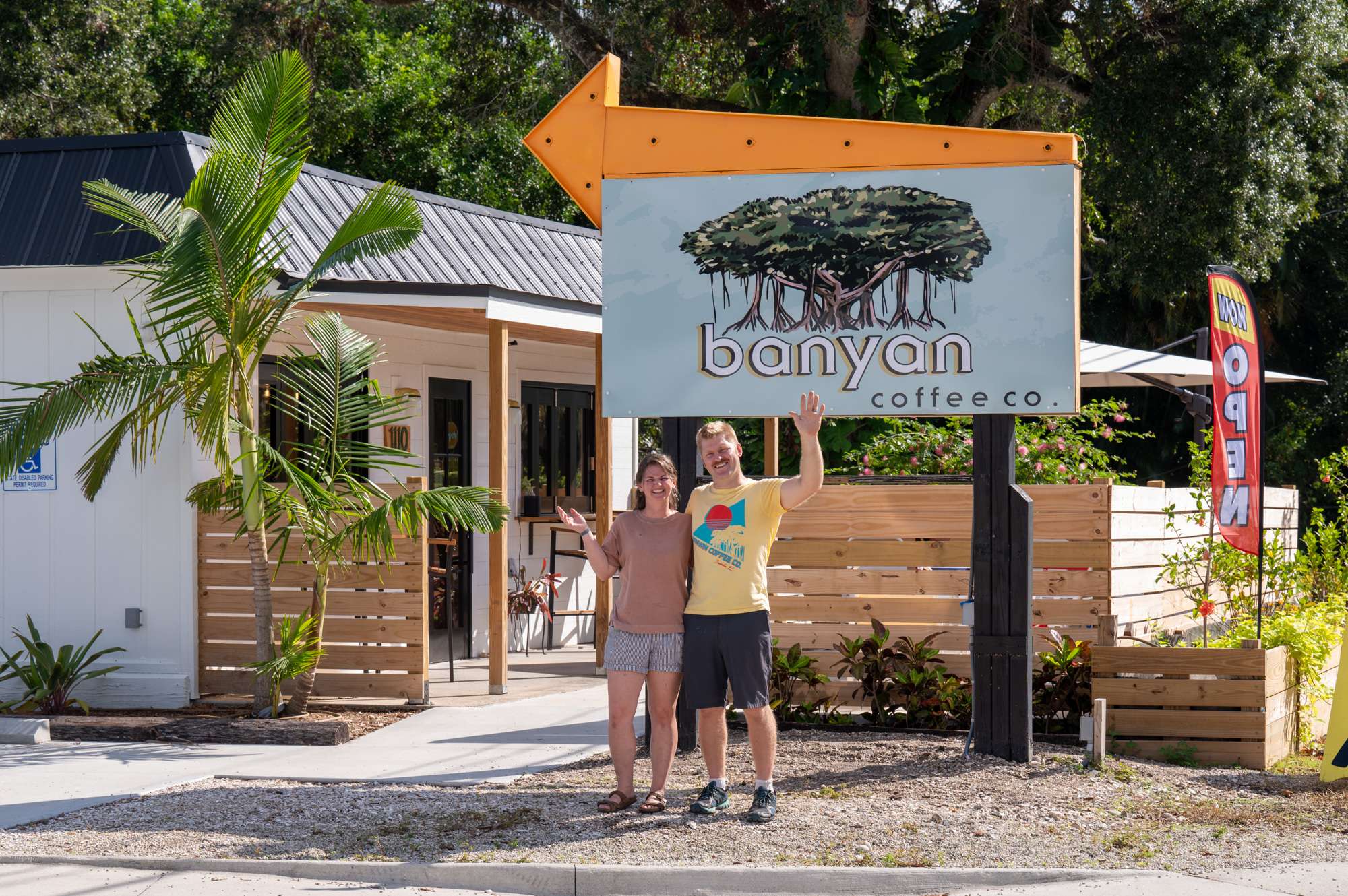 "We took a lot of things down to the stud," he says. The ceilings originally came in at about 7.5 feet, to cite one example. "It felt claustrophobic." Now, the ceilings extend 8 to 10 feet. 
The shop now features high tech machinery, including a nitro-infused cold brew machine Schmitt says is consistent; an espresso machine that grinds out shots by volume; and a grinder that works on weight instead of time. 
The way he looks at it is he wants the tools to be high quality, noting he spent close to $100,000 on coffee-related machinery. If you were a carpenter, "this is your hammer," he says. "You want it to be good." 
After parking on the side of the building, customers circle around to the current front door (they're still waiting on a door to come in), and enter through the patio, which is lined with chairs, tables and umbrellas and enclosed with a wooden fence. 
Despite the presence of coffee in the air, the smell new remains intact on a recent weekday morning. Two baristas, a married couple, wait patiently for customers to decide what to order, offering up help and answering questions as easily as if they were friends. Schmitt's pride and joy is the coffee roaster  in full view through a large window, offering guests a "behind the scenes" look. 
"This is showing the process of (making coffee)," he says. "That's the philosophy of the shop."
The shop is open Tuesday through Friday from 7 a.m. to 2 p.m. and Saturday, the busiest day of the week, from 8 a.m. to 2 p.m. Schmitt was expecting the customers to be early risers, but says they blow by in the mornings getting to work. Instead, his customers have been those who just dropped kids off at school. 
Customers can still find Banyan Coffee Co. at the Bradenton Farmers' Market and they still have the coffee truck, though mostly for pop-up events. The truck will stick around even as they grow, as Schmitt says it's become a mascot of sorts. Additionally, the coffee shop still delivers coffee locally when they can and are offering shipping. 
The current goal is to build a brand in fast-growing Palmetto, beyond the Bradenton-area fans. The Schmitt are also experimenting with partnerships. One in progress is with another coffee shop, Orange Blossom in Bradenton, which will carry Banyan Coffee Co. products. That partnership in particular includes four equal partners who all receive 25% of the share.  
Future plans include building more partnerships with other coffee shops or individuals interested in starting their own shop. Banyan Coffee Co. will provide the coffee beans and equipment, while allowing the shop to operate under its own brand. "It gives you a feeling that it's your own thing," he says. "This is a bit more personal with a small business touch to it."