Walk into Korchmar's office and factory space in Naples, and you'll likely find Michael and Mike Korchmar at their desks right up front. The father-and-son running the family-owned leather goods company don't close themselves behind office doors. Instead, they're right in the middle of the action at the longtime company that makes handsome briefcases, backpacks, weekenders and other handcrafted leather goods.
"It's definitely by design," says Mike Korchmar, 35. "We're very involved in basically every piece that's coming down the line. So we need to be here to support the team to make sure they can do what they need to do well. I mean, I walked in this morning, and the first thing I did was fix a sewing machine." 
"I think our philosophy on leadership is accessibility," says Michael Korchmar, 68. "We want everyone to be able to see us as part of the process and talk to us about everything. Too many leaders are hiding away like they're afraid of something. We're actually quite proud."
There are a lot of reasons for them to be proud of the family business founded in 1917. They won't disclose revenue figures, but Michael says the company has enjoyed double-digit growth coming out of the pandemic. Korchmar has introduced home goods and pet products in recent years and acquired and continues to operate the pet accessories brand Genuine Canine. And another family member, Mike's sister Amy, has also joined the business, as marketing director.
Father to son
Neither Michael nor Mike immediately went into the family leather goods business started by Michael's grandfather, Max Korchmar, in Cincinnati. Michael was attending law school when his father gave him the push he needed to switch paths.
"I'm in the middle of reading these boring law books that were just torture," recalls Michael. "And he made me an offer. He said, 'A plant manager's leaving. We need some help; we're growing. And you can come back to Cincinnati and start working.' It was an offer I couldn't refuse, and I never looked back."
Mike graduated from the University of Florida with a degree in industrial and systems engineering and worked as an IT consultant at Deloitte Consulting for five and a half years. He joined the family firm in 2017 at its 100-year mark.
He's brought what he learned over his years in consulting to his role at Korchmar. "I was working with Fortune 500 companies on some of their biggest, baddest areas and problems, getting to lift the hood and see how things really work," says Mike. "I was getting to see how no one is really all that perfect, and what it takes to try and move the needle toward that perfection. So there were a lot of experiences I had there that I was able to bring to the company and make some adjustments and tweak some processes. I still love doing that stuff as much as I can, in addition to kind of just the day-to-day work."
Mike serves as president and Michael is CEO of the company, but their roles have been less strictly defined than they might be at another firm. "A lot of folks when they go into business with each other kind of try to find very explicit lanes of who's doing what," says Mike. "We kind of took a little different approach as I onboarded; it was really more collaborative."
That's allowed Mike to learn all the specific ins and outs of running Korchmar to add to the general operational experience he developed outside of the company. "There's an immense amount of complexity and detail that goes into making each and every product we make," he says. 
Michael doesn't have a set exit plan in place; he believes he'll know when it's time to pull back more. "I think we're having a good time, and we're doing pretty well," he says. "I think the timeframe would be when it's clear that I'm not able to contribute enough…This whole evolution happened naturally; that evolution will happen naturally too. I'm not afraid to admit if my age is affecting my performance."
Pivots and perseverance
When a lot of other companies started shifting their production to China, Korchmar opted instead to open a factory in the Dominican Republic in the 1980s. "We decided that rather than producing in China, we were going to build a factory in a friendly democratic country closer to the United States," says Michael. "We chose a higher-cost manufacturing location in a friendly democracy, and it looked like a really dumb idea for a long time. And now it looks like a smart idea."
Product arrives much quicker from the Dominican Republic than it would from Asia, for example, which proved especially beneficial during the shipping delays and supply chain issues caused by the pandemic. And while Korchmar started out and operated in Ohio for many years, all of its U.S. operations have been consolidated at its Naples headquarters since the early 2000s, where it also makes some of its leather and canvas goods.
"The fact that Korchmar is a U.S. company and that some of their products are made in the U.S., we really appreciate that and so do our customers," says Demian Wendrow, co-owner of London Harness in Wellesley, Massachusetts, which has been carrying Korchmar products for decades. "They have beautiful leather, their product is great, and their prices are very reasonable for what it is and for being made in the U.S."
Korchmar's history is full of strategic pivots. The company started out making leather lamp visors, thermos cases, and "suitcase corners" for trunks and hard-sided luggage. When the Great Depression hit, it shifted from retail to government contracts, making briefcases and bags for government business. After World War II, it shifted back into the retail market, persevering through everything from the oil crisis of the 1970s, increasing globalization, economic downturns, 9/11 and the financial crisis of 2008.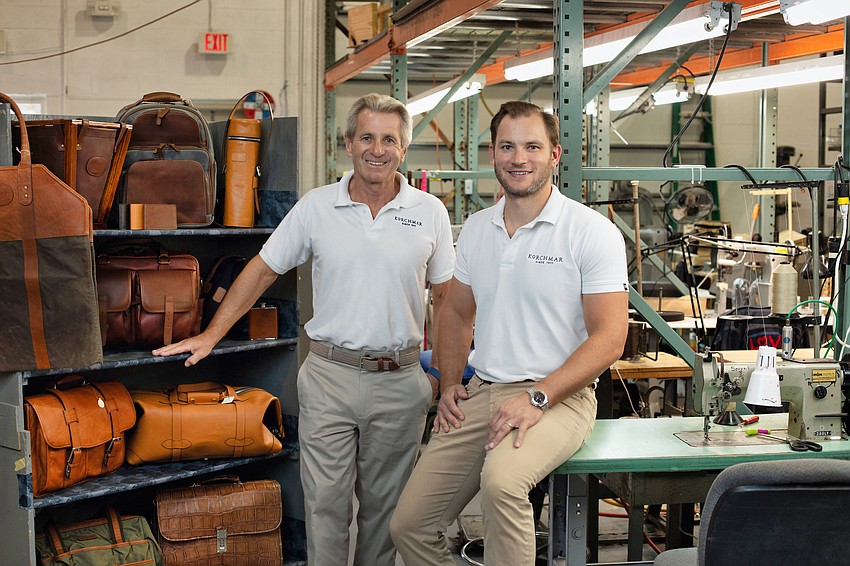 Korchmar's entry into the home goods space was something of a pandemic-driven shift. 
Remote work and a pause in travel meant people weren't reaching for briefcases, messenger bags and weekenders for their daily commutes or vacation getaways. So the company introduced items like a leather desk pad, mouse pad, pencil cup and trash can. "It seemed like a natural transition to help folks kind of improve their workspace at home and come out with some products that help make the desk as beautiful as it should be," says Mike.
Michael chalks up the company's longevity to "stubborn persistence." It's still making its own products both in Florida and the Dominican Republic, when a lot of other longtime companies now just put their names on products made by others. "We're going to keep manufacturing," says Michael. "That's what we know; we're good at it. Do what you love, do what you're good at, and don't give up."
In some cases, it's Korchmar making those products for other brands. The company has been manufacturing bags and sporting gear for outdoor equipment company Tom Beckbe for five years. "They're a critical vendor for us, one of a handful of people we really couldn't function without," says Radcliff Menge, founder of Tom Beckbe.
Story to tell
As the company looks to the future, it knows it has a great story to keep sharing with customers. "The story is something very unique to us," says Mike. "And it's the one thing about a brand or a product or a company that you can't fabricate. You can't market that up; you can't conjure that up. It's just real."
That's a strength Amy Korchmar, 38, can draw on in her new role as marketing director. "There's a ton of opportunity there," she says.
She's excited to both play up the company's past and usher it into the future. "We have a lot of people who understood the brand, like, 30 years ago who still come back and buy things from the brand," she says. "They know the brand very well and, to me, that's really neat…But there's a lot of room to continue to grow and continue to really make people understand who we are."
A recent collaboration with footwear company Helm is an example of Korchmar's efforts to expand its reach. Collaborations, she says, "are one area I definitely want to put more energy behind." 
Amy also worked for Deloitte Consulting before joining the family business, and while marketing is a newer area for her, the skills she developed in tech consulting have proved helpful as she's delving into things like ad buys, Google and social media marketing in an economy with a lot of lingering question marks. "I'm determined and excited to continue to learn as I go and try and make our brand grow," she says. 
Korchmar products are sold predominantly on the company's website, though they are carried by a handful of shops and recently started being sold on The Tie Bar website. Jim McKenzie, owner of Bag & Baggage in Wilmington, Delaware, has been carrying Korchmar bags at his family's shop for as long as he can remember. "I know they're going to be made well, they're going to be functional, and if my customer has any problems, I know I can call them up and they'll take care of it," he says. 
The Korchmars have discussed opening a store in Naples, but at this point that's still just an idea.
Mike Korchmar says product quality combined with the customer service to support it has been crucial to the company's success. "A lot of the bigger brands with bigger marketing budgets, when you have an issue or a question about an order, you're kind of sending an email out into a black hole," he says. "We actually have a phone number that you can call — and there's real people who care on the other side of that phone."