Project details
Stevens Construction always strives for repeat clients, and the Environmental Studies Dormitory project it completed for the Conservancy of Southwest Florida in early 2023 is a good example of that. The construction management firm had previously worked on a new outdoor wildlife rehabilitation area for the Conservancy several years ago.
"We look to build long-term relationships rather than just build one project for a client," says Dan Adams, executive vice president of Stevens Construction. "The Conservancy is a great group with a great mission, and we enjoyed working for them previously."
The new structure was needed to replace the Conservancy's aging existing dormitory and to provide additional administrative space for the nonprofit. The three-story, 23,915-square-foot building includes 15 covered parking spaces and four level 2 vehicle charging stations on the first level; offices, flex space, and a soundproof media room on the second level; and 16 dormitories on the third level.
Officials believe the project will help the Conservancy attract interns to support its work and learn about scientific research and environmental advocacy. "We hope they'll continue to recruit the best of the best for their mission," says Adams. 
Cool factor
In addition to the 16 dorms that can accommodate 32 students, the third floor also features a living area overlooking a preserve, a full kitchen, a private suite for visiting scholars, restrooms with showers and laundry facilities. "It's way better than any dorm I lived in when I went to college," says Adams.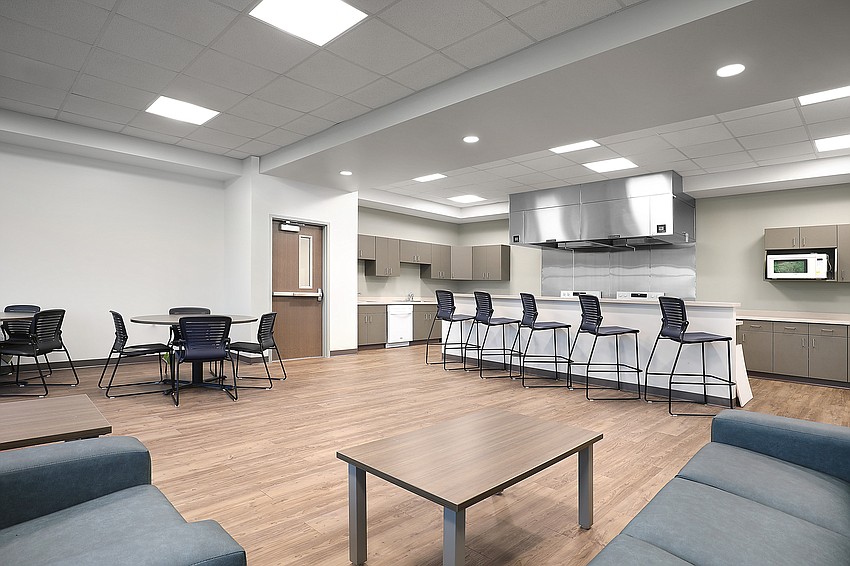 The new structure includes all LED lighting and was constructed for future solar capabilities, fitting elements for a facility at an advocacy organization focused on protecting the water, land, and wildlife of Southwest Florida. Windows feature frit pattern glass to minimize bird strikes, and the building was designed with energy efficiency in mind.
The soundproof media room on the second level helps support the Conservancy's video production efforts. And in the event of an emergency, the building has complete lockdown capabilities "just by pushing a button," says Jon Zander, senior project manager at Stevens Construction. 
The site was ready for occupants in early 2023, and it's hoped the new modern space will help the Conservancy grow its internship program. Interns come to the nonprofit's campus each year to work in areas such as environmental education, sea turtle research, Burmese python research and animal rehabilitation at the von Arx Wildlife Hospital.
Challenges
Supply chain delays caused challenges during the 12-month build, and Stevens Construction did what it could to adapt. "You go through the process of trying to find alternatives," says Zander. "There's no easy answer or no one-size-fits-all solution."
Portions of the building were constructed out of sequence as a way to deal with materials delays. "We're dealing with that on pretty much every job right now," says Adams. "We're having to become very creative in how we build buildings nowadays."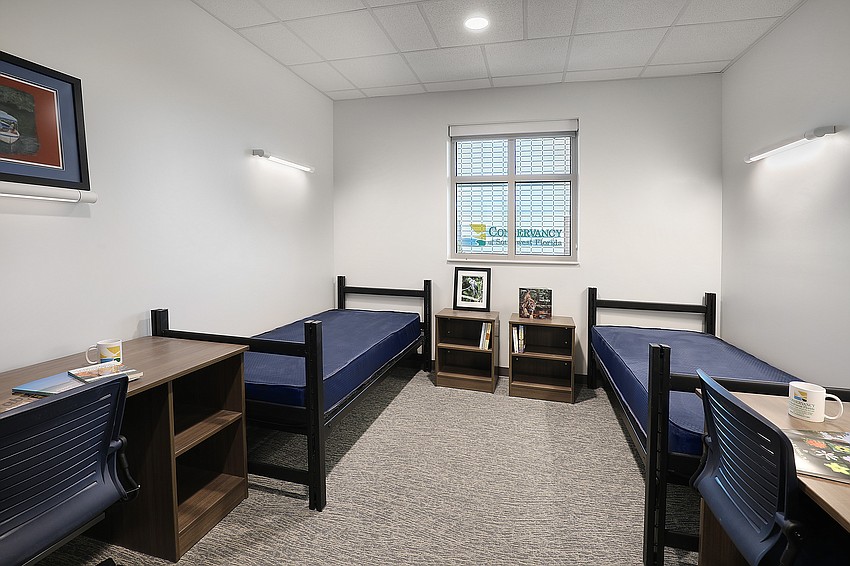 It's not the preferred way to do things, but sometimes it's the only way. "I don't know that you ever get used to it," says Zander. "It's never as efficient, but you try to be as creative as you can to not lose any momentum you have. In construction when you lose your manpower, it's tough to get them back."
Hurricane Ian also roared into the area during the project. The exterior was essentially complete at that point, and the team raced to put in as many of the hurricane-resistant windows as possible before the storm arrived. Anything they didn't finish got boarded up with plywood. "We ended up working, I think, up to the afternoon of the hurricane," says Zander. "And we did not sustain any damage as a result."