Project details
When Great Wolf Lodge opens in Naples it's likely not going to be anything the area has seen before.
The resort, the company's 21st in the country and first in Florida, is being built on 20 acres on the eastern end of Collier County, near the Paradise Coast Sports Complex.
The center of the project, and what's likely going to be its largest attraction, is a 90,000-square-foot indoor water park that will include body and tube slides and raft rides, along with activity pools and splash areas. Jason Lasecki, vice president of corporate communications for Great Wolf, says the water will always be heated at 84 degrees.
Along with the indoor park, there will be a 60,000-square-foot family entertainment center that offers "family-friendly attractions" including MagiQuest, a live-action adventure game; Yoga Tails, a morning exercise program; and Hustle & Howl, an evening dance party.
The resort will have 500 suites and, of course, there will be dining options ranging from standard fare like pizza and burgers to upscale dining.
Construction on the project began in July 2022 and, Lasecki says, plans are for it to open in October 2024. 
Cool factor
Lasecki says what's cool about the project is its economic impact.
While the kids — and the adults — who'll make the trip to hang out in the massive, state-of-the-art indoor waterpark and to play loads of games are likely going to disagree with this sentiment, Collier County officials who gave Great Wolf $15 million in incentives and its accountants will be thrilled to hear it.
Lasecki says along with the features that will make the lodge a year-round destination, Great Wolf is going to "be a significant economic engine for the region." To back up that contention, he quotes an economic impact study commissioned by the county that reported Great Wolf will bring $5 billion "in new net spending" to the region and $150 million in tax revenue in the next 30 years.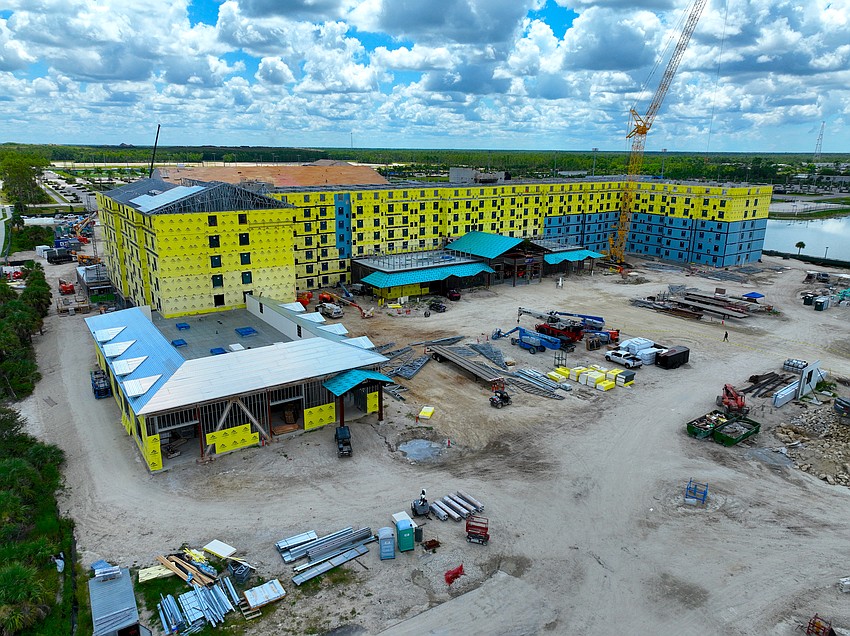 It's also expected to create 600 jobs.
The reason for this economic uptick, he says, is that Great Wolf offers "exceptional value for families" with packages that along with rooms include admissions to the park and for other activities. According to Great Wolf's website, a family of four can stay in a room for a weekend next November starting at about $299 per night.
The idea is that this will drive visitors to the area.
One of the reasons the company chose Naples after a five-year search is its accessibility to residents from all parts of the state and that it didn't have to fight for consumers' dollars against behemoths like Walt Disney World.
In an interview with the Business Observer last year, Great Wolf's vice president of domestic development Steve Jacobsen said 65% of its customers drive at least four hours to the resorts. And, he said, its average customers are families ages two through 12 with a disposable income of about $19,000.
Challenges
While construction projects across the region and nation have been beset by supply and labor shortages, and a major hurricane has hit the area since work began, all is well at Great Wolf, says Lasecki.
While saying that "large-scale construction projects, especially of this magnitude, inevitably always come with challenges" he says things are moving along smoothly thanks to the companies charged with building the resort.
The lodge, he says, is "on track to open next October, and if all continues to go well, hopefully we can open a little earlier than expected."