Yacht ownership might be the stuff of dreams for many people. But for those who have the means to actually make it happen, it's a pleasurable pursuit that comes with its fair share of hassles. 
There's never-ending maintenance, decisions about where to keep a yacht, and all of the expenses that continue long past the initial investment. It's why the old trope that the two best days in a boat owner's life are the day they buy a boat and the day they sell it is more than just a cliché.
Chartering is another option, but it's more of a transactional, one-off experience. And with fractional ownership, the other owners may not share your vision or approach. Like many entrepreneurs before them, Bill Charbonneau and Josh Linkner thought there had to be a better way. And from that the idea for Exclusive Yachts was born.
The Naples-based company recently launched the first subscription-based membership club for luxury yacht experiences. Charbonneau has amassed years of operating in the charter space since starting Naples Nantucket Yacht Group in 2006. Linkner is a venture capitalist and entrepreneur who developed a friendship with Charbonneau as a frequent charter client of NNYG. 
"They have a huge love for the water, and they absolutely think that yachting is an amazing experience, as many people do," says Scott Stuckmann, CEO of Exclusive Yachts. "Unfortunately, there's a lot of flaws in yachting and in the different models that are available."
The founders knew there had to be an easier option. "Some really interesting business insights start from that simple idea," says Stuckmann, 57. 
And for Exclusive Yachts, the simple idea for an easier option is "step on the yacht with no worries, and step off with great memories," Stuckmann says. "I thought that was a really powerful insight and a model that could actually meet a need. Yes, for many it's a niche need, but it's a need that is not solved at the moment."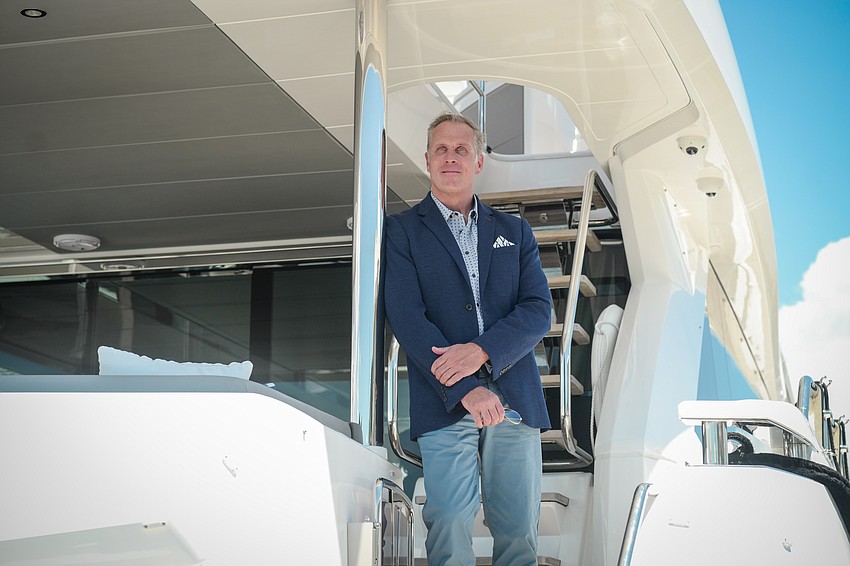 Stuckmann thinks the timing was right for an idea like this due to an intersection of acceptance and growth of the sharing economy and consumer interest in experiential travel and activities. Owners also see the value in partnering with a company like Exclusive Yachts. "There are many yacht owners that would like to monetize some time on their yacht but not necessarily have anybody just charter their yacht," says Stuckmann. The percentages owners receive by entering into use agreements with Exclusive Yachts are determined by variables like yacht size, location, and crew arrangements.
Members choose from among five tiered membership levels, which start at $70,000 a year for more casual users and go up to $250,000 a year for passionate yachters interested in trips to destinations like the Mediterranean or the Caribbean. Each membership level comes with an allotment of "yacht points" that can be applied for anything from a sunset cruise to multi-day journeys, and members choose the yacht size and destination by making a reservation through a booking app or by phone.
All of the company's yachts are fully crewed by highly trained staff, and member preferences are noted and then implemented each time they make a reservation. "Everything, and I mean everything, is taken care of besides your food and provisions," says Stuckmann. "Even the tip, the gasoline, and the taxes. So you just basically step on and have your preferences for what you want, what you're celebrating, and what the experience is supposed to be about, and then you step off and that is it. We really try to make it very special and personalized."
The company has 22 yachts in its pool for members available in locations like South Florida, the Northeast U.S., the Caribbean, the Mediterranean and the Maldives, and that number has been growing by about one new yacht per month. To ensure capacity for members, Exclusive Yachts is capping memberships at 50 for its first year, and member numbers have been growing at a good pace.
"It was a little slow at first, but I think part of that was seasonality," says Stuckmann. "Things are really accelerating as we've now had a couple of events and the PR's kicking in. We've gone from more of a Naples focus to a national focus, and so therefore memberships have really picked up. So we're absolutely on track, which is fantastic."
Charbonneau's connections from almost two decades in the yacht business proved helpful in getting the company ready to launch. And Stuckmann brings years of experience in global business expansion and brand building for companies such as Nestlé Professional Australia/Singapore and The Coca-Cola Co.. Though there are differences between the industries in which he's worked and the one he's in now, he also sees a lot of similarities.
"What it comes down to is that it is an experience," he says. "Whether you're dining out at a very nice restaurant or if you're on the water, it's a very holistic experience of emotion as well as what you consume, what you eat, what you see and who you're with."
That same kind of thinking contributed to higher-than-expected interest from small and medium-sized businesses that want to build relationships with and entertain high-value clients. Exclusive Yachts created a mid-tier membership level to serve corporate customers along with individual members.
"For certain types of businesses, there are certainly plenty of options out there for them to entertain or create client connections, but very few are like yachting where you have an intimate experience, and an amazing experience on the water without distractions," says Stuckmann. "So that's been eye opening for us, what a powerful tool this can be for a small business or a medium-sized business."