Tacos and toiletries, with some balloons and burritos on the side — that's the trick these days to filling a retail plaza.  
So says a new report from real estate giant JLL. The second quarter update report notes several interesting nuggets that bode well for the sector, including a rise in new leases. A little more than 250 million square feet of nationwide retail space has been signed for in the last 12 months, the report shows, and current estimates put the final second-quarter 2022 leasing number at 78 million square feet. That tally would be the highest since the fourth quarter of 2017, the report states.
In addition, U.S. net absorption remained positive for the sixth straight quarter — though it dipped 12.2% to 18.9 million square feet. Over the past 12 months, net absorption hit another five-year high, of 94.3 million square feet.
More good news comes from investor interest in the sector, where there was just under $44.7 billion, including M&A, in total transaction volume. That's up 81% year-over-year.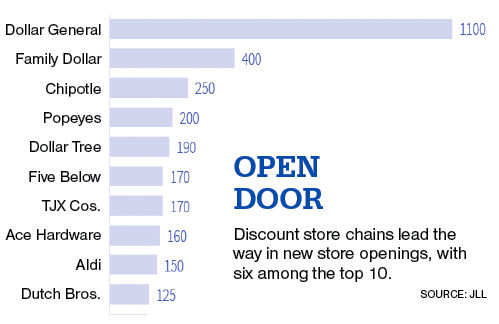 But new store counts could be the most interesting find: so far this year, U.S. retailers have announced approximately 4,432 store openings, compared with 1,954 closings. That's a net gain of 2,478 stores year-to-date, a solid rate coming off 2021, when Covid crushed the retail industry.  Discount stores top the list of announced openings, the report states, with 1,910 new locations planned. Restaurants were No. 2, with a combined total of 838 and apparel stores were No. 3, with announced openings of 348.
On a specific brand level, the top three companies with new announced locations are Dollar General, with 1,100 stores; Family Dollar with 400; and Chipotle with 250 — hence the tacos, toiletries, balloons and burritos. While not in the top 10, other discount stores to make the top 25 of new announced openings are Ross Dress For Less with 75 stores and Big Lots with 50. One notable outlier on the new announced store list is Lululemon — the high-end yoga pants and athletic wear chain, with 70 store openings planned for 2022.
One final positive note lies in experiential tenants, as it appears people are coming back to places. Second-quarter visits to movie theaters, entertainment venues and fitness centers, JLL reports, soared 39.4% over the same period in 2021. "Theaters saw particularly strong improvement, with foot traffic surging 127.6% from year-ago levels," the report states. "This surge in movie-going was largely due to two major blockbusters, "Top Gun: Maverick" and "Jurassic World Dominion" — each grossing more than $300 million in June. Fitness center visits have (also) been steadily rising, with second-quarter foot traffic being the highest in years."