A journey that started with a toy magic trick fished out of a cereal box put Chris and Ryan Zubrick on a career path that's led them around the world.
They've gone from humble beginnings in their home state of Michigan to Guam, Saipan and now St. Petersburg, where they own and operate Zubrick Magic Theatre, a 90-seat venue that offers Las Vegas-style, family-friendly magic shows — a unique and vibrant addition to the city's booming downtown.
Chris, 39, and Ryan, 36, spent 13 years overseas, perfecting their magic act over the course of more than 7,000 shows. In Guam, they performed at a theater that seated 500 people — a far cry from the intimacy of their current venue — but it shuttered because of pandemic restrictions, prompting the couple to reassess their career path.
After returning to the United States, the Zubricks, along with their young son, Oliver — who's now five and sometimes appears in their act — bought a RV and toured the country, searching for their "forever home," starting in Santa Monica, California, and visiting 26 states, winding up in the Florida Keys. On their way north to Michigan to visit family, they stopped in St. Petersburg.
"We rolled across the Skyway Bridge and into St. Pete, which we had never heard of before," Chris says. "It checked all of our boxes. It was very artsy, and we wanted someplace that had year-round tourism, no competition, no snow, good weather, and was LGBT friendly for our family. So we settled in St. Pete, and I'm so glad we did, because we just love it."
They say there's no business like show business, but it's also one of the riskiest, most demanding forms of business, requiring constant reinvention to attract and keep the attention of fickle audiences, who, now more than ever, have nearly limitless entertainment options. How will the Zubricks, as they approach the one-year anniversary of putting down roots in St. Pete, keep their act fresh and people coming back for more magic?
Presto change-o
Effectively updating a show's content can be a big challenge for illusionists such as the Zubricks. While a portion of their act relies on tried-and-true sleight-of-hand tricks involving birds, top hats, playing cards and even Marlana LaCivita, their female assistant, being "sawn" in half, music, jokes, predictions and personal stories play a large role, as well. Chris and Ryan also update the act in accordance with holidays, such as when they conjure up "snow" in the theater at Christmastime.
"We won't change the whole show all at once," Ryan says, "but we'll add new routines in here and there."
Chris says they like to change up the act for themselves, too, for the sake of professional growth. But they've been pleasantly surprised at the amount of repeat business their performances have generated thus far.
"We're always working on something, new routines that aren't in the show yet," he says. "One of the most commonly asked questions after somebody has seen the show is, 'How often does it change?,' because people want to come back and see something new. But we've also found that a lot of people are not only coming back, but they're bringing somebody else with them because they like to watch their reaction to what's happening on stage."
Another Zubrick Magic Theatre selling point is its ticket price —$40 per person for a 70-minute show. While more expensive than, say, going to the movies, it's on par or maybe less, depending on the act, than what you might pay to see a show at St. Pete's Mahaffey Theatre or Tampa's Straz Center for the Performing Arts. The Zubricks put a lot of thought into pricing.
"We do have a higher-priced ticket," Chris says, "and that's not by mistake. There a lot of people who say we're charging too little, but we looked at what's in the area. We want to offer an elevated experience, and I think the price reflects that."
In addition to the standard $40 ticket, Zubrick Magic Theatre offers a VIP experience for $147 that includes reserved seating for two people, two complimentary beverages, one complimentary order of popcorn and a special gift from the venue's magic shop, which offers a magic set with a collection of basic tricks, a deck of cards and how-to guide for card tricks, T-shirts and gift certificates.
The Zubricks seem to have found a sweet spot when it comes to pricing, because the VIP tickets, they say, are the fastest to sell out. As for gross revenue, "Let's put it this way," says Chris, declining to disclose specific numbers, "we're selling out. We're adding additional shows because the demand is there. We started out with shows on Thursday, Friday and Saturday, and now we're doing Thursday, Friday, Saturday and a Sunday matinee. We've picked up additional shows throughout the year during the holidays, November and December, and beginning in January, we'll do shows five days a week."
Take ownership
For the Zubricks, performing is the easy part.
The business side is where they have to work the hardest. Zubrick Magic Theatre is somewhat unusual, they say, in that it's owned and operated by its performers, and unlike other small theaters, they don't bring in guest acts — it's just the two of them, day in and day out.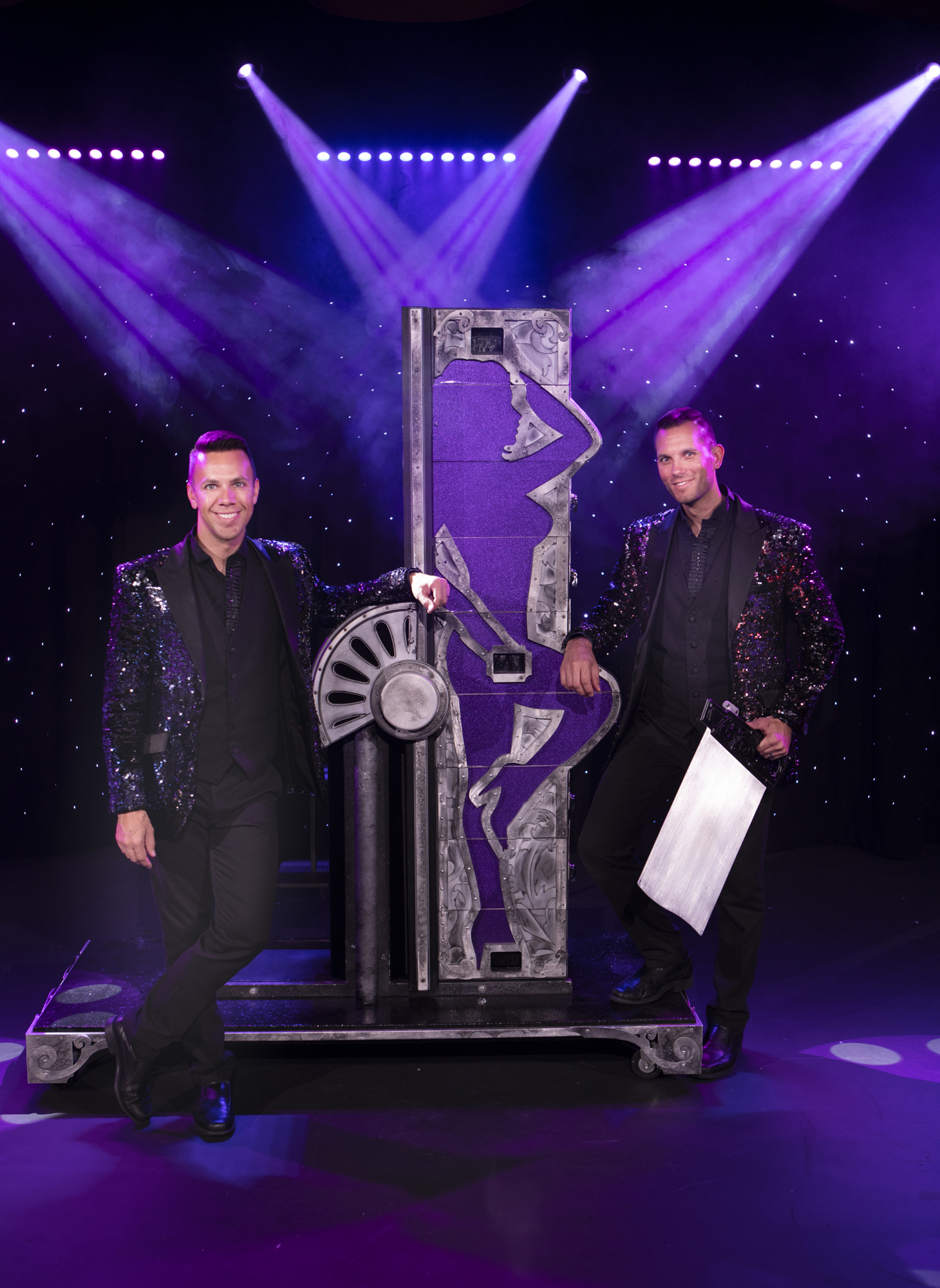 "Ryan does all of the graphic design work, all the Photoshop stuff," Chris says, "and I'll hit the streets and work on a little bit of marketing. We handle all of the ticket reservations."
To generate additional revenue, the Zubricks rent out their theater, at 1211 1st Ave N., Suite 101, St. Petersburg, for private events that can include a performance of their show.
"We like to have our hand in the business as much as we can," Chris says. "We're illusionists, first and foremost, but we're learning all the business aspects of it as we go."
The Zubricks learned a great deal during their first year, particularly about how to succeed in a market heavily dependent on seasonal tourism. 
"We did a lot of research," Ryan says, "but we didn't have a good grasp on high season vs. low season. So after this first year, I feel like we have a much better understanding."
Marketing is another area where the duo allocate a significant chunk of time and energy. Because there's nothing else like Zubrick Magic Theatre in the area, they didn't have much of a playbook to go by when it comes to promotion.
"We're trying all sorts of different marketing channels," Chris says, "but I would say the best has been word of mouth. It's exceeded our expectations."
That's reflected in Zubrick Magic Theatre's online reviews, which netted Chris and Ryan the 2022 TripAdvisor Travelers' Choice Award. Social media marketing and good old-fashioned rack cards and brochures displayed at other local businesses have also been effective.
In addition to LaCivita, the Zubricks employ a handful of front-of-house staff members who primarily work during shows, but by and large, the illusionists handle most facets of the business. "It's unique that we wear so many different hats," Chris says. "When you look at the term 'show business,' what is the bigger word? 'Business.' Because that's what takes the most effort and time. The show is the easy part, the reward that makes the business aspect more palatable."
Having paid their dues overseas, often performing two shows per evening, six days per week, Chris and Ryan say they're content to operate Zubrick Magic Theatre as more of a "lifestyle" business that allows them to spend time with Oliver and enjoy St. Pete's abundant cultural and recreational activities.
Looking ahead, the couple say they'll probably bring in other performers to wow audiences, generating even more work-life balance. "That's kind of a retirement plan for us," Chris says. "We'll bring in other acts and produce the shows that will happen here."