Construction is close to starting on a long-awaited mixed-use project on Cape Coral's main shopping corridor.
The Cove at 47th, touted as the kind of project that will help elevate the area and make it into a true nighttime destination, is being built at Cape Coral Parkway East between SE 8th and 9th Courts.
A ceremonial groundbreaking is scheduled for Aug. 24.
When complete, the $103 million development will include 327 luxury apartments, 19,000 square feet of space for retail or offices, and a steakhouse and sushi restaurant called Blu Sushi. The restaurant will be the anchor tenant and will feature a rooftop bar.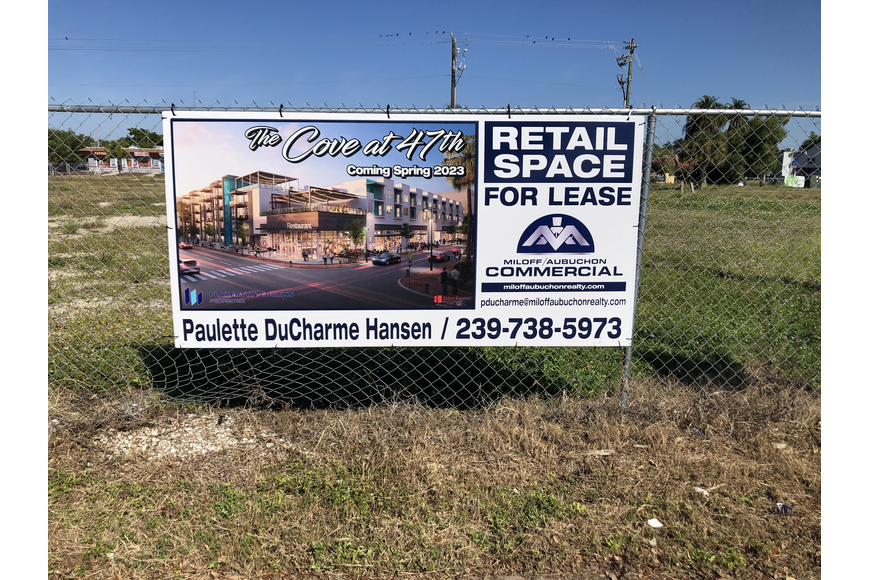 Developers will also build a parking garage with 585 spaces, 125 of which are reserved for the public.
Other amenities include a resort-style heated saltwater pool, coworking space with private offices and conference rooms, a pet spa, and private EV charging spaces.
As for the apartments themselves, the building will have studio, one- and two-bedroom units with luxury features as well as three penthouses with amenities including a wine refrigerator.
The complex, which is right in the heart of Cape Coral's shopping district, is seen as the kind of project that could change the city's commercial strip by enlivening it with new energy brought by a new crop of residents and amenities.
At a showcase of the city's commercial real estate projects in November, Bill Johnson, the executive director of the Cape Coral Construction Industry Association, told the gathering of insiders that a project like The Cove at 47th "sets us alongside of a lot of your major cities — your Naples, your Coconut Point, your Mercato."
"This is truly going to give us a mixed-use look that's going to allow people to live downtown in an entertainment district and still bring additional businesses … and create jobs that will bring people into our area."
And, in a statement announcing the groundbreaking, Cape Coral City Manager Rob Hernandez called it "exactly the type of transformative project that helps create a walkable downtown where people live, work, dine and are entertained."
At November's real estate event, Hernandez said The Cove at 47th and a couple of other projects in the area would help change the city from Cape Coma to Cape Cool.
The first apartment units should be ready for residents in about 16 months. The full project is expected to be complete in the late summer of 2024.