When the pandemic hit, Energy Harness didn't have to wait for that classic light-bulb moment to develop a product to help combat the virus. The Cape Coral-based manufacturer and distributor of commercial LED lighting had already spent several years researching LED lighting for hydroponics, and it knew UV light could be utilized to eliminate molds or viruses attacking plants.
"So we took our knowledge and built a device that can eradicate pathogens by cleaning the air," Energy Harness President and CEO Michael Fischer says. "And that device went from a paper drawing in about April [2020] to shipping product by September."
The Energy Harness Active Airflow UV-C Fixture circulates and cleans indoor air. As air passes through the device, it's sanitized by a large dose of high-energy UV-C light and then released as clean air back into the space. Technology used in the fixture, say company officials, has been shown through third-party testing to be 99.9% effective in eliminating the virus that causes COVID-19, as well as other dangerous pathogens like tuberculosis and Legionnaire's disease.
About 3,000 Active Airflow units are now in use at schools, medical facilities and other locations nationwide. "The response was skeptical at first, but as we deploy them people realize they're really good devices," says Fischer, 58.
'This is going to be a way of life going forward. We all need to prepare our buildings and offices and schools so that we are ready for this and whatever else may come down the line.' Michael Fischer, Energy Harness
He sees a bright future for the device — no matter how the pandemic progresses. "This is going to be a way of life going forward," he says. "We all need to prepare our buildings and offices and schools so that we are ready for this and whatever else may come down the line. And I don't think there are many of us who believe that something else is not going to happen now."
The company has designed slimmer versions of the fixture to fit in elevators or over a restaurant table. "We really just want to be able to help clean the air without people even knowing that these devices are there working," says Fischer.
Energy Harness is the serial entrepreneur's seventh tech company. He got his start in the computer industry in the 1980s, then moved into software and the VoIP (voice over Internet protocol) space. After the recession of the late aughts, he began thinking of his next move.
"My wife asked what I wanted to do, and I told her I had all these inventions in a notepad," he says. "I wanted a workshop to build them."
An interest in alternative energy and energy conservation led him to LED lighting. "I figured out it was much easier to save electricity than it was to create electricity," he says.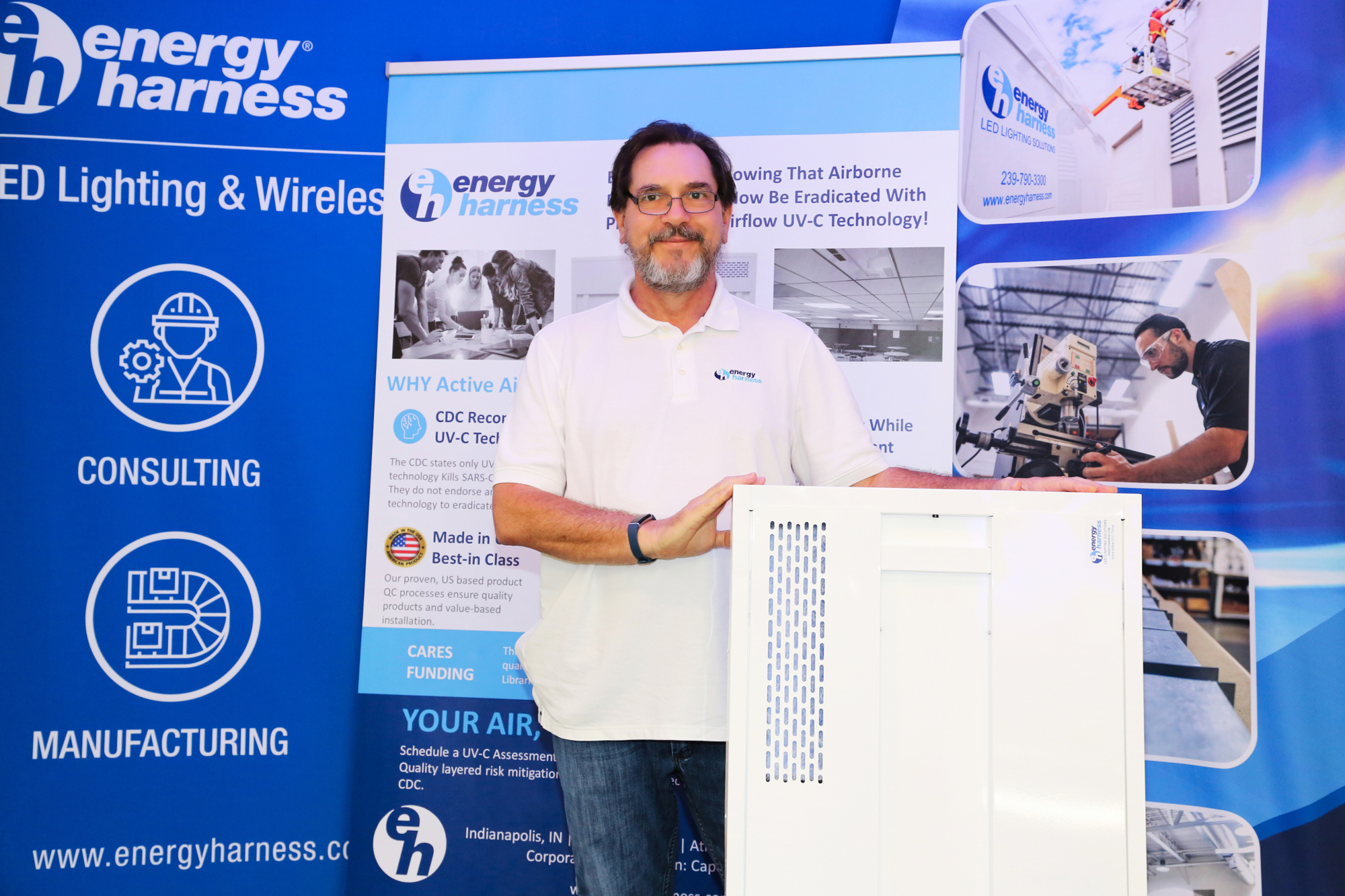 Energy Harness was founded in 2010. Since then, it's designed, manufactured and distributed commercial LED lighting being used in schools, hospitals, government buildings and other sites nationwide, especially in the Midwest, where the company has had a lot of success.
It has about 20 employees in Cape Coral and 25 employees at its sales and installation facility in Indiana. Some of the company's products are manufactured in Cape Coral, others by partners elsewhere in the United States or Asia. Fischer is hoping to increase the amount of manufacturing done in Florida.
Fischer declines to provide or revenue figures, only saying the company has had steady growth over the past 11 years. "In the beginning it was about trying to tell people how good LED lighting is and that everyone should convert to it," he says. "Eventually everyone figured out that LEDs were good and began converting.
"The next big hurdle was competing with worldwide companies with large resources," he continues. "We had to hold our own in the market, and my sales team did a fantastic job of keeping us in the game. Other LED lighting companies went out of business and we kept growing. It's a testament to not giving up."
A focus on creating high-quality products and providing excellent customer service have helped the company garner good reviews and repeat customers so it can compete with the big guys. "It sounds kind of simple, but it works," Fischer says.
He invests "everything" back into the company for research and development efforts, he says, with an eye on future products. He and others in the company with computer and software backgrounds, for example, are tapping into that experience to develop products in the wireless control area to manage a building's lighting and other features. Electric car charging is another area being explored.
"I'm very good at the vision, the seeing things before they happen," says Fischer. "That little bit of future vision helps us to navigate new products and new ways of getting into the market. Sometimes by just stepping back and taking the broad view and seeing what's out there, it becomes obvious where you need to go next. We have a lot more coming up than we've accomplished in the past."