Tabitha Ramos could be the face, the embodiment, of the toll the COVID-19 economic downturn has taken on tourism and hospitality workers in the Tampa Bay region. 
Ramos, 35, of St. Petersburg was employed full time at a Bonefish Grill at the beginning of the year. When the coronavirus pandemic forced restaurants and bars to shut down, she says she was out of work for three months. Recently, the eatery brought her back to work, but with reduced hours and pay that weren't enough to make ends meet for the single mother of four boys who's also in recovery from substance abuse. (While not disputing Ramos' situation, a spokeswoman for Bloomin' Brands, parent of Bonefish Grill, says the company didn't furlough employees and provided relief pay when employees' schedules were reduced to zero hours due to dining rooms being closed.) 
It's a minor miracle that Ramos, who says she's been clean for 18 months, didn't fall off the wagon. Instead, she looked into a new program launched in January by AmSkills, a nonprofit that seeks to boost interest in manufacturing careers through European-style apprenticeships.  
"I'm getting my life back on track," Ramos says. "I went through a behavioral modification program that helps teach you things about yourself. And that's where I learned about AmSkills. It's giving me a second chance." 
'From a manufacturer's perspective, if they are really in need of hiring people, the boot camp is a much better model than your traditional career fairs because we are vetting each candidate.' Tom Mudano, executive director of AmSkills
Initially focused on high school students, earlier this year, AmSkills — funded by Pasco, Pinellas and Hernando counties — created a manufacturing "boot camp" that gives adult job-seekers a chance to get a taste of what a manufacturing career would be like, in addition to guaranteeing them an interview with a local company if they successfully complete the two-week program. The initiative was rolled out prior to the pandemic, in January. But the pandemic, which wrecked the tourism and hospitality sector, has brought a surge of interest, AmSkills Executive Director Tom Mudano says. 
"We have a waiting list of over 80 people right now," he says. "And it's growing." 
But with tourism and hospitality unemployment news growing bleaker by the day — Disney, in late September, in one big example, announced it would be laying off 28,000 workers at its theme parks because of ongoing weak attendance — a program like AmSkills faces something of an abyss. One core challenge for AmSkills, with a series of boot camps slated to continue throughout the year in various parts of the Tampa Bay region, is to address both employee and employer needs, while also considering root causes of the issue. 
PERSONNEL EMPOWERMENT
In that way, AmSkills' approach to the unemployment crisis is both hyper-local and hyper-focused. The organization seeks to recruit people who aren't just looking for a job, a quick fix to pay the bills. It wants hard workers who aspire to a true career change and a new path for their lives, like the homeless veteran who went through the first boot camp in January and landed a good-paying job with a local company. And it's working hand-in-hand with firms located in the vicinity of wherever AmSkills sets up its mobile workshop — firms with specific jobs to fill and that seek qualified, motivated candidates to interview. 
For example, the most recent boot camp, held at the Lealman Exchange in Lealman, a struggling community located in central Pinellas County, drew interest from leading manufacturers, such as Jabil.; Venice-based PGT Innovations, which in late 2019 acquired Tampa-based New South Window Solutions for $92 million; Formulated Solutions in Largo; Clearwater-based TSE Industries; and Custom Manufacturing & Engineering, based in Pinellas Park. 
"The real benefit of the boot camp model," Mudano says, "is by using our mobile workshops, we can go to different places throughout Tampa Bay. The idea is this: We go to Lealman, which is a low-income area. We recruit people from within a 10-mile radius of there. And we recruit manufacturers within that same radius with the goal of getting people to work close to home."
Another strength of the boot camp approach is it's not just a government initiative. Thanks to the involvement of Tampa Bay Works, an employment-focused offshoot of the Tampa Bay Partnership, a business and public policy advocacy group, it's a true public-private partnership. Tampa Bay Works, in a study published on its website, says that because of an aging workforce and other demographic and sociological trends, Tampa Bay employers will have to fill 850,000 jobs over the next five years. With the region home to more than 3,000 manufacturers employing 66,000 people, a sizable number of job openings will be at manufacturing-based companies. 
AmSkills, Mudano says, boosts those companies' chances of making successful, long-term hires.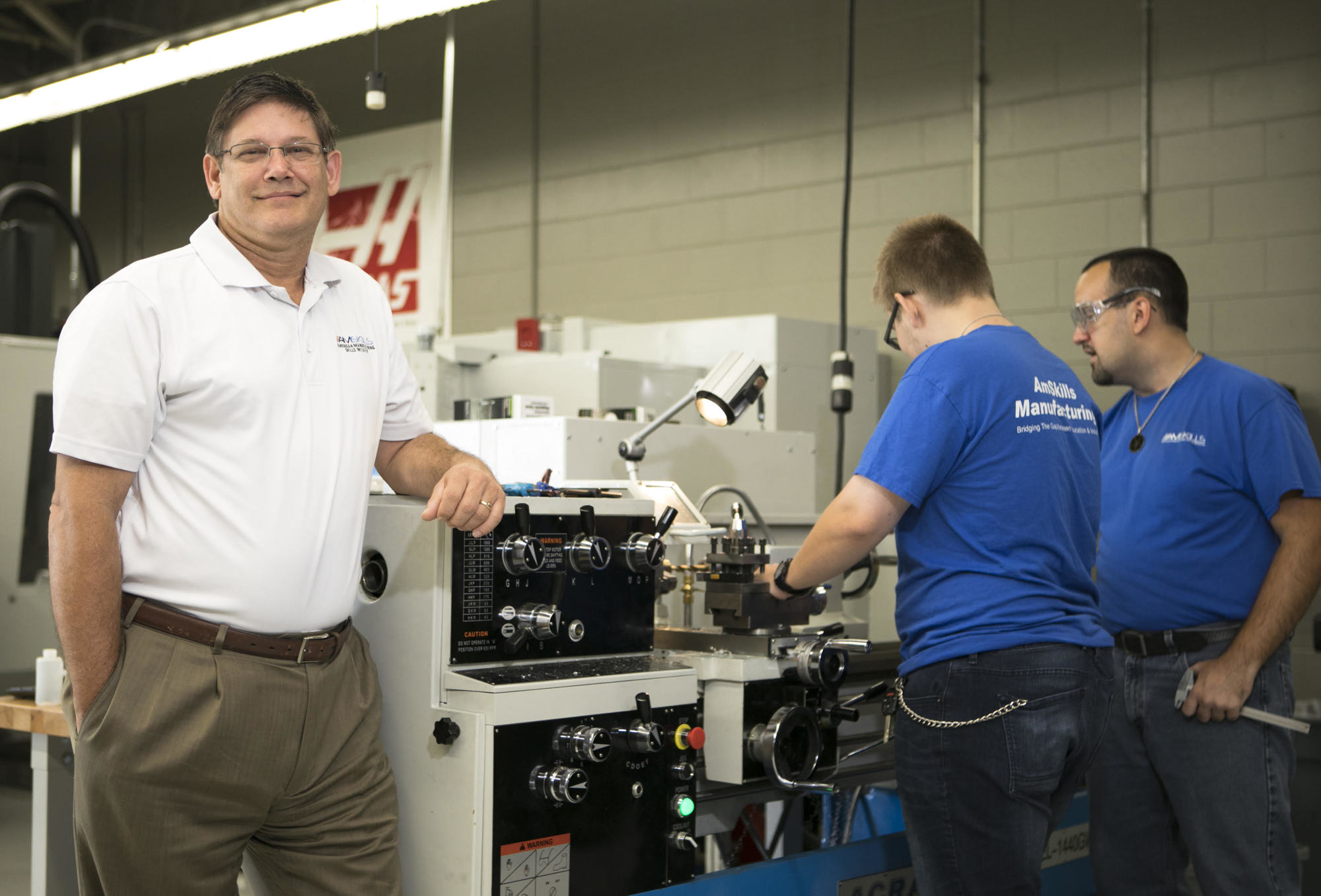 "From a manufacturer's perspective, if they are really in need of hiring people, the boot camp is a much better model than your traditional career fairs because we are vetting each candidate," Mudano says. "When they go through the program, they are being evaluated on every project that they do by multiple instructors, and they're evaluated on soft skills." 
During the two-week boot camp, participants work in teams and as individuals to complete a wide range of projects, such as a 3D printer, a picture frame, a peg-board puzzle modeled on Cracker Barrel's "Genius Game" and metal artwork in the shape of the Eiffel Tower. They also tour manufacturers' facilities and obtain their Occupational Safety and Health Administration safety certificate, which many employers require before new hires can start work. 
Participants are also given a free crash course in essential soft skills by Yvette Clayton, the president and CEO of Building Toward the Future, a Riverview-based professional training and coaching firm. 
"They're teaching us a lot about building our resumes and what 'power words' to use," Ramos says. "And they're really good about reaching out to us by email, and they tell us to respond quickly. So I've gotten a lot better about that because normally, I don't read my email [often], and so I've gotten better about responding as soon as I get a phone call or an email. So I've picked up on that, gotten a little bit better about staying in contact."
CLEAR A PATH
For other boot camp participants, such as Clearwater resident Ashley Espy, AmSkills has provided some much-needed career clarity, direction and inspiration. The 32-year-old Tennessee native moved to the Tampa Bay region three years ago because she heard the economy was strong and thought she could find a good job here. After dropping out of college just a few months shy of completing her degree, she joined the hospitality industry, working in hotels. A 10-year veteran of the sector, she works the overnight shift at a Holiday Inn in Indian Rocks Beach.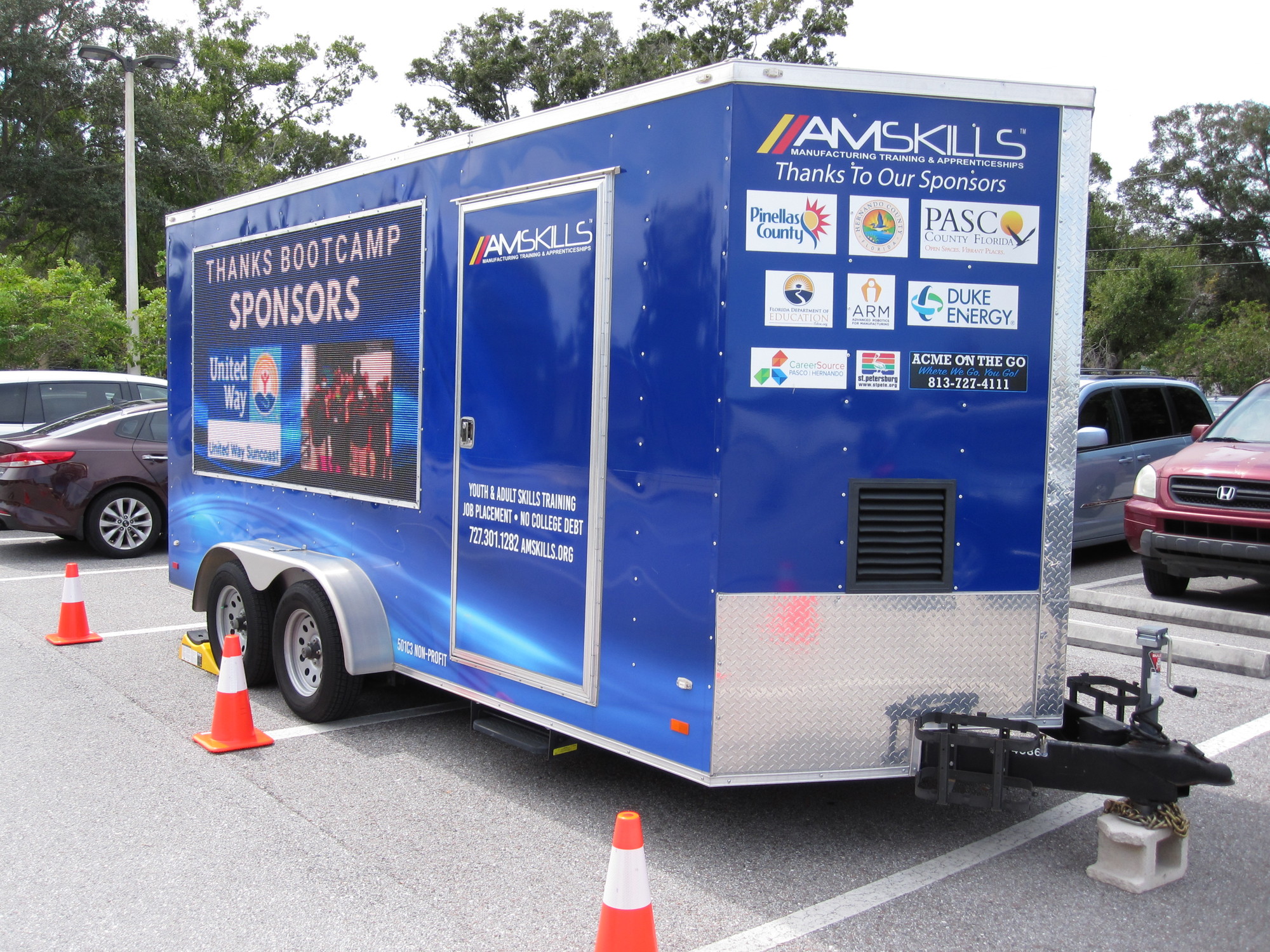 Espy wasn't furloughed during the pandemic. But her hours were cut and she watched 50 of her co-workers lose their jobs. That got her thinking about a career change. 
"I have the debt of a college graduate," she says with a laugh. "I got caught up in that traditional sense of my parents expecting me to go from high school straight to college. But I didn't really know what I wanted to do. I got in there, and I was just fumbling — I fumbled the whole thing. I wasn't successful, and I wasn't happy."
Espy majored in business administration "because it's very general," she says. "But I realized it didn't fit what I wanted to do, ultimately, in life. I wish I had taken up a trade when I graduated from high school as opposed to collecting college debt with no degree." 
For Espy, it's better late than never. She developed a keen interest in CNC machining and spent a good portion of the past year watching YouTube videos about the trade and teaching herself how to read blueprints; however, that wasn't enough to land her a job, she says. 
"If you don't have experience, nobody wants to hire you," Espy says. "When I first came [to the AmSkills boot camp], the only tool I knew how to use, besides a screwdriver, was calipers. That's it." 
Like Ramos, Espy says her two weeks in the program gave her the hands-on technical experience she craved while also shoring up intangibles including patience, teamwork, effective communication, having a positive attitude and attention to detail. The program also awakened Espy's entrepreneurial spirit: She envisions herself owning and operating her own manufacturing company, someday, after she's accumulated enough experience. 
"I definitely see myself opening my own business," Espy says. "I'm very fond of entrepreneurship. I just have to take the time and have the patience to learn the skills that it takes to actually produce a product and take it from a raw material to the end point."
Espy is also looking forward to a break from the demands of the hospitality industry. 
"Machines," she says with a chuckle, "don't complain."
(This story was updated to reflect that an outback spokeswoman says the company didn't furlough employees.)