A development partnership seeking to build a luxury condo tower in downtown Sarasota has closed on the purchase of the land for $37 million. 
The purchase, while approval obstacles remain for the project, dubbed One Park, is of blocks 1 and 9 in The Quay. 
There, national investment, development, and asset management firm Property Markets Group and Sarasota-based financial education company Moneyshow plan to develop an 18-story luxury condominium tower at the intersection of Boulevard of the Arts and Quay Commons.
The partnership group purchased the site from The Quay master developer GreenPointe Developers of Jacksonville, in a deal that closed Sept. 29. 
"The acquisition of this land once again demonstrates our dedication to following through with constructing and delivering a quality project to the community of The Quay," says PMG Managing Partner Dan Kaplan. "We are firmly committed to fostering growth within Sarasota, and we are thrilled to take the next step in doing so by developing this transformational project for its residents."
To be developed as planned, One Park must first receive a ruling in its favor from 12th Judicial Circuit Court Judge Hunter Carroll. One Park development entity Quay Blocks 1 & 9 and GreenPointe were challenged in court by condo owners in Ritz-Carlton Residences in The Quay, collectively known as Block 6, over the conveyance of the air rights over Quay Commons in order to combine blocks 1 and 9 into one building above an amenitized breezeway. 
Carroll's ruling is expected soon.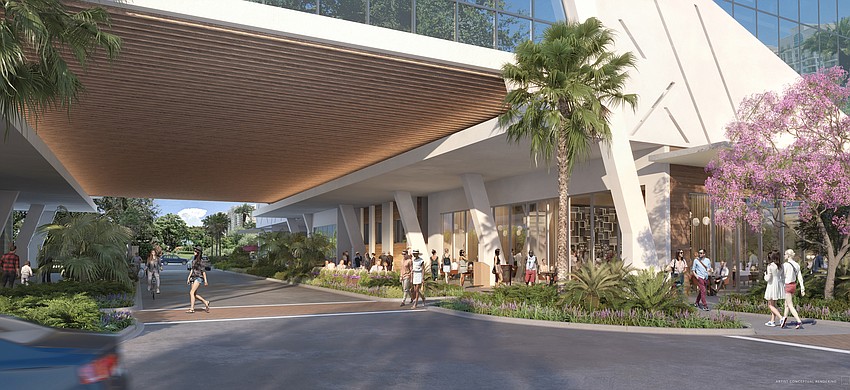 Also, a public hearing before the Planning Board that began in March but was suspended for several months during an FDLE investigation surrounding the project is scheduled to continue Oct. 11. There the matter is a petition by One Park to combine the two blocks across Quay Commons from each other. The anticipated day-long hearing will result in a recommendation of approval or denial to the City Commission, which also must hold a public hearing before voting.
Both determinations are subject to further legal appeal.
In the interim, the One Park development group continues planning.
According to a news release, the 123-unit development will offer two- and three-bedroom residences ranging from 2,460 to 4,219 square feet priced from $1.95 million. Each will feature 12-foot, floor-to-ceiling windows, large outdoor terraces with glass railings and summer kitchens, along with smart-home technology. 
Amenities will include a 120-foot-long resort-style pool, a 14,000-square-foot fitness studio, staffed executive office suites designed to serve as a flexible office space for residents, private theater and golf simulator room, lounge, wine room, children's playroom and guest suites for use by residents and their families and more. A wellness spa will include a reception area, treatment rooms and private locker rooms with steam and sauna rooms. Additional services led by the dedicated concierge staff include valet parking, package delivery and dog walking.
Also planned is more than 13,000 square feet of street-level retail space 
"One Park Sarasota is an exquisite project full of world-class offerings with an unbeatable location on the bay," says Moneyshow CEO Kim Githler, who leads the local investment group in partnership with PMG. "We are excited to continue working alongside PMG to raise the bar for luxury living with its stunning design and planning, and we look forward to it engaging the community for years to come."
Founded in 1991 by Kevin Maloney, PMG operates in Florida, New York, Colorado, Arizona, Tennessee and Georgia. It specializes in acquisitions and land use, design and architecture, construction management, capital markets, asset management, sales and marketing and in-house legal and accounting.
The company's multi-billion dollar portfolio includes assets across pre-development, construction, lease-up and sell-out, totaling more than 8,500 residential units and more than 16 million square feet of development.
This article originally appeared on sister site YourObserver.com.