Tampa-based Metro Development Group is confident it's on the verge of harvesting a sweet advantage in the ongoing battle of amenities in master-planned communities. 
The edge stems from a farm. 
At 2.5 acres, this working farm is small compared to many other steadings in Florida. But for Metro, it's plenty big. The farm is being developed in Agneline, a wellness and sustainability-themed community Metro is developing with the H. Lee Moffitt Cancer & Research Institute, among other partners, in Land O' Lakes, Pasco County. Officials with Metro — which has gained national attention in development circles with its clear water, man-made lagoons — call the project the first residential farm amenity in the Tampa Bay area. 
"We always want to be first and ahead of the pack," says Metro Vice President of Marketing and Communications Vaike O'Grady. "We also want Angeline to be more than a lagoon community. We want this to be a place where people can really put down roots — pun intended." 
Adds O'Grady: "We think this is the right place to experiment with this." 
The Angeline Farm experiment has several angles. 
For starters, Metro hired Houston-based agricultural consulting and management company Agmenity to design, build and maintain the 2.5-acre farm, which will be located next to the Angeline Farmhouse welcome center and café. When operational, likely by mid to late fall, the farm will offer access to fresh produce and, Metro says in a statement, "a unique community experience for residents and serve as a gathering place for the larger community."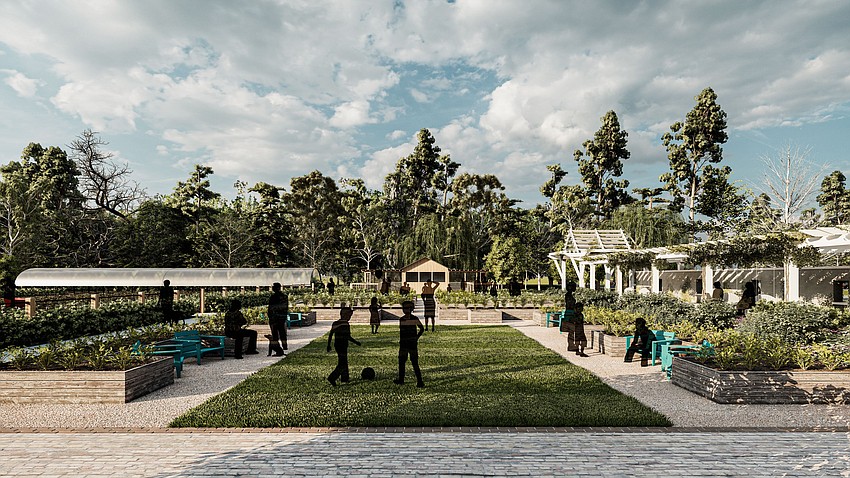 The Angeline Farm will use sustainable farming practices to grow a variety of vegetables, fruits, herbs and flowers. Crops will change seasonally. The farm will also keep a flock of 15 to 20 laying hens that will have the potential to lay up to 40 dozen eggs a month.  With the rising price of eggs, that's another tangible benefit from the farm community, O'Grady says. 
Beyond the day-to-day of the Angeline Farm's hens and harvests, the bigger picture, say Metro officials, is to create a sense of community that attracts homebuyers. A decade or two ago, master-planned community amenities were relatively standard: hiking and walking trails, parks, social clubs, swimming pools, fitness centers and golf courses. 
Metro was founded in 2003. It introduced its clear water lagoon, dubbed MetroLagoon, in 2018 in its Epperson community in Wesley Chapel, Pasco County. It now has MetroLagoon amenities in Epperson and in Southshore Bay, which is in Wimauma, in south Hillsborough County. Another MetroLagoon is opening next month in Mirada in San Antonio, Pasco County. 
Notably, as Metro pushes forward on the farm and other amenities, at least one development industry consultant, Daniel Green, principal at real estate investment firm Wheelock Street Capital, says amenities are on the downswing. Speaking at the Lay of the Land Florida Conference in Lakeland in late February, Green said "residents and homeowners don't necessarily want the big amenities."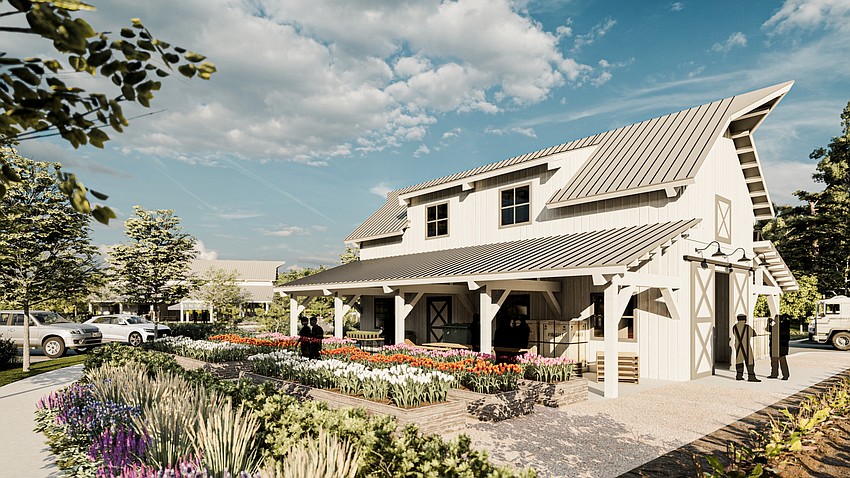 "In the last cycle, you would see master-planned communities with 10,000-square-foot amenities, with three pools and all the accouterments," Green added. "The thing that I think came to light was that it cost a lot of money annually to keep up and they and the homeowners all pay for that. 
Some of the trends Green discussed mirror what Metro is doing with the Angeline Farm, in using nature and natural surroundings. A Metro spokesperson, in a statement, calls it agricultural urbanism, "a trend that emerged about 20 years ago as master-plan community developers put more focus on sustainable planning practices." This can include community components like preserved natural areas, community farms and sustainable gardens and landscaping. Metro officials decline to disclose the cost projections for the Angeline Farm. 
Agmenity, meanwhile, has been working with residential and commercial real estate companies to incorporate farms into communities for six years. The company has  helped create sites such as Harvest Green Village Farm in Richmond, Texas and Jordan Ranch Sunset Farm in Fulshear, Texas.  
"A driving mission of our company is to facilitate healthy relationships between people, place and food," Agmenity COO Justin Myers says in the statement.  "We design our farm amenity projects with agriculture as the heart of the space, which then allows for multiple engagement experiences to support our goals of creating true connections with residents and to build long-term value for communities."
Agmenity farmer Alex Serrao, who has worked on similar residential farm projects in Texas, will lead and manage the Angeline Farm. Serrao, who says she's excited to "get out there" and work on the farm with the new Angeline residents, will be doing everything from planning irrigation routes and crops to guiding community programs. "Community farms are special places for people to experience how healthy, delicious food grows," Serrao says.