A multibillion-dollar Charlotte, North Carolina, mixed-use developer and real estate investor has begun work on a pair of residential communities in south Sarasota with a forthcoming retail component.  
One is a multifamily project, dubbed Render Legacy Trail, while the other is a build-to-rent community called Harmon Legacy Trail. A groundbreaking, according to a statement from the developer, Crescent Communities, took place March 1. Combined, the company adds in the statement, the projects, on 15560 Render Way, will be part of an overall master-planned residential community "supporting Crescent Communities' vision of bringing a mix of new housing options, including market rate apartment homes and build-to-rent townhomes, to the area." Next to the Legacy Trail, a 20-mile path connecting downtown Sarasota to downtown Venice, the project also includes "six acres of forthcoming retail spaces."
"We are thrilled to have reached this milestone for Render Legacy Trail," Crescent Communities Multifamily Managing Director of Florida Tim Graff says in the statement. "Render offers residents thoughtfully crafted communities that are rich in character at a more approachable price point. The adjacent build-to-rent single-family offering, Harmon Legacy Trail, will also provide residents the opportunity to live in new construction homes. Together, these communities highlight Crescent Communities' commitment to growing strategically in Florida and the Sun Belt."
Render Legacy Trail is a joint venture between Crescent Communities and FCP, a Chevy Chase, Maryland privately held real estate investment company that's invested in or financed more than $9.3 billion in assets since its founding in 1999. At 15560 Render Way, the 19.5-acre community will feature 450 multifamily residences for rent. (Render by Crescent Communities is the company's suburban-market multifamily business, the release states.)
Amenities at Render Legacy Trail will include a centralized lobby and leasing area, self-service package area, 24-hour fitness center and multipurpose rooms that can serve as coworking lounges. In addition, the company says Render Legacy Trail will "feature functional design elements that will intentionally contribute to the space's overall feel of a home, rather than a typical apartment unit." That includes entryway mudrooms with built-in storage, home office workspaces separate from the living room and kitchen and enhanced closet systems to provide added in-home organization. Configurations from one to three bedrooms will be available.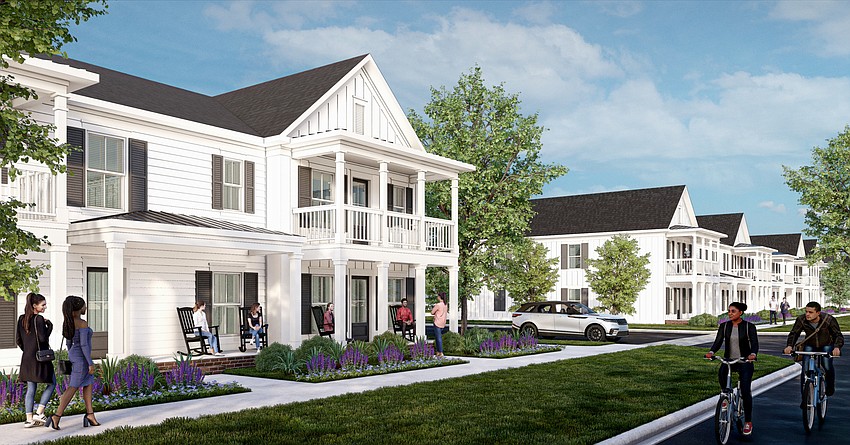 Harmon Legacy Trail, meanwhile, will feature 76 build-to-rent town homes with the option of three- and four-bedroom floor plans.
Crescent Communities continues to expand in Florida, with recent announcements including the groundbreakings of multifamily communities in Tampa and the debut of a forthcoming industrial project in Bradenton. It also plans to deliver the first units for a pair of projects in Orlando later this year. Overall, the company has $7.2 billion of residential and commercial investments and developments currently under construction, operations and planning.