As Slim Shady once put it, "Guess who's back, back again?" 
The answer in Sarasota is Darwin Brewing, a popular spot now back under the ownership of an original owner, after being sold to a Clearwater-based company in 2021. 
Chef Darwin Santa Maria recently reclaimed the brand, with plans to open a new brewing facility in Sarasota, complete with a full-service restaurant, brewery and distiller, in late 2024 or early 2025. He declined to say how much it cost to gain his brand back.
"I realized no one in Sarasota was doing Latin craft beer," he says. "That's what is going to set us apart."
The new location, much like the brand's other restaurant Almazonica Cerveceria, in Sarasota, will pay homage to Santa Maria's Peruvian roots. 
"We also reconcile the Floridian background through craft beer and combine the two together to do something that is new and different in the community," he says. 
The new location will bring in flavors from Amazonian peppers, coffee, chocolate and fruits, he says. "That's how our story started at Darwins. We didn't want to lose that, we want to continue with our journey and make it better."
The brand started as Darwin's on 4th in the Rosemary District, just north of downtown Sarasota, in 2012. It later expanded into a 15-barrel production brewing facility in Bradenton as Darwin's Brewing Company. Clearwater-based Big Storm Brewing Co. purchased the Darwin Brewing brand in late 2021 for an undisclosed amount.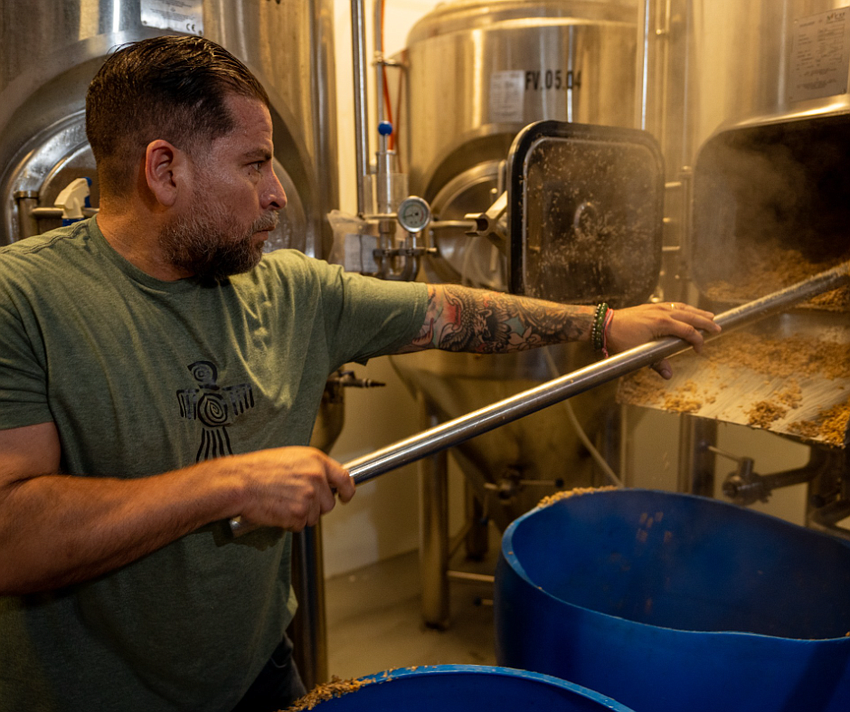 The new facility, meanwhile, is going to feature two soccer fields, a live music stage and a jardín cervecero, which translates from Spanish to beer garden, Santa Maria says. He expects the soccer fields to make it more family-orientated, with a plan to create leagues and tournaments for both kids and adults. 
"What's a better way to start than with soccer, beer and food?" he says.  
The new location will be off Fruitville Road in Sarasota, on three acres. Santa Maria says the spot has already been purchased — he declined to disclose the amount paid or the exact location, and Sarasota County property records hadn't been updated through March 24 to reflect the purchase.
But one thing is for sure. He's going to take his time this go around. The brand, for example, will start with beers on tap only, with no plans to distribute canned beer until the time is right. 
"They say you learn your lesson, right?" he poses. "Before I wanted to be everywhere. But now I just want to concentrate on the local market."
"We're not going big by any means," he adds. "We just want to take our time to come up with great beers with a Peruvian influence that our local market can enjoy."
After opening, the first goal is to establish a presence in Sarasota, with distribution also starting locally. "Then after that customers will tell us," he says.  
With it being a big project, Santa Maria expects the facility to be a good opportunity to hire quite a few employees, though he's not yet sure on how many. 
Santa Maria, an award winning chef and James Beard celebrity chef food tour host, bought the brand back on July 4, 2022 after leaving the company to pursue other ventures — like becoming a personal chef for professional baseball player Manny Machado — in 2016. 
He opened Almazonica Cerveceria five years ago off Tamiami Trail in Sarasota. It started as a restaurant but recently received the green light to expand into a brewpub, a restaurant that also sells beverages brewed onsite. Ahead of the new location's opening, Santa Maria will start producing small test batches of beer, which will be on draft at Almazonica Cerveceria over the next few months. He's currently working on a purple corn hazy IPA and an orange wheat ale. Almazonica Cerveceria will continue to operate with the new location as the brand's sister taproom and restaurant. 
The craft beer scene in Sarasota has been growing for a few years. Sun King Brewery debuted last year. Irvine, California national chain Yard House is expected to open at University Town Center April 2, and Sarasota-based Oak & Stone debuted in 2016 and is now up to three locations. 
That means it's getting harder to hit a bar in Sarasota that doesn't offer craft beer — defined as beer produced by small breweries. Not that anyone is complaining, especially Santa Maria.  
"The craft beer community, we all help each other out," he says. "It's like a familia (family). If I don't know something, I reach out to Calusa or Big Top. We don't look at it as competition. The more great beer we can (make), the better for the market. We grow together." 
Calusa and Big Top are two craft breweries in the Sarasota market. Santa Maria added that in a few months, he'll probably call Calusa's owners for help with permitting on the new facility. 
The next big challenge? Getting the word out. 
"Our challenge is to let people know that I'm back with the same vision and passion to create good beer," he says. "We're not here to change the craft beer business."