Naples/Fort Myers
Home land: Prolific Lakewood Ranch homebuilder Neal Communities has bought 345 acres of land in Alva, Lee County. The property, 12850 N. River Road and 17900 and 18420 Owl Creek Drive, is about five miles from Interstate 75 and just outside Fort Myers. According to CRE Consultants, which negotiated the sale, Neal paid $5.5 million for the land. Neal Communities officials did not respond to an email seeking information on its plans for the property, but according to a listing on LoopNet the property, partly on the Caloosahatchee River and Owl Creek, is approved for 380 units.
Garage sale: A 4,697-square-foot mechanics shop in Fort Myers has sold. The property at 2466 Lafayette St. brought $451,500. The sellers were Rafael and Gloria Castillo and the property was the site of Castillo Auto Repair of Lee County. Multiple calls to the shop were unreturned and the agent representing the buyer, Clarissa Engelhard of Weichert Realtors Agency One, did not respond to a request for comment. The buyer was Jacy T. Engelhard, according to CRE Consultants, which represented the Castillos.
Tampa/ St. Petersburg
Done dealership: The Ken Ganley Automotive Group has bought the New Port Richey property that once belonged to Friendly Kia. According to Pasco County property records, the Ohio dealership group paid $11.76 million for the 13-acre property at 5819 U.S. Highway 19. Ganley has already taken over operations at Friendly. In a Facebook note posted several weeks ago, Friendly announced that "your hometown Kia dealer since 1997 now has a new name." Ken Ganley Automotive operates 48 dealerships, mostly in Ohio and Pennsylvania, according to its website. In addition to the New Port Richey store, it owns Performance Nissan in Pompano Beach. Crain's Cleveland Business reported in March that Ganley sold 30,302 new vehicles in Northeast Ohio last year. Gillis & Gillis Inc., Friendly's owners, paid $1.2 million for the property in 1999. 
Office handover: A Pinellas County office building has sold — but unlike recent sales of office properties in the area, the deal didn't produce a windfall for the seller. The Centerpointe building at 16120 U.S Highway 19 N. was bought for $14.1 million, about $300,000 more than what the previous owner paid in 2017. The buyer is a Clearwater LLC named Crown Pointe on 19. According to a LoopNet profile, the two story, 178,544-square-foot building has two existing tenants with long term leases. Both, the listing says, have been occupants since 2014. The previous owner, 16120 US North GP Inc., paid $13.8 million for the building. 
CRE takeover: SRS Real Estate Partners has bought Meridian Retail Group, a Tampa-based commercial real estate firm. The Dallas company did not disclose what it paid for Meridian but a spokesperson says all five of the firm's employees are staying. That includes founders John Fahey and Tyler McRae. Among Meridian's specialties is site selection, tenant representation and lease negotiations for a client roster that includes PDQ, Buddy Brew Coffee, Beachside Hospitality Group and Glory Days Grill. As for SRS, the purchase doubles its footprint in the city. It currently has an office on Kennedy Boulevard and now employs 14. The company was founded in 1986 and it has 28 offices, including in Orlando and Fort Lauderdale.
Sarasota/Manatee
Loan proceeds: A private Miami lender provided $16.5 million in acquisition funding to the Virginia developer that recently bought seven downtown Sarasota parcels. The lender is BridgeInvest and the loan was to Orange Pineapple LLC, which bought the properties totaling 3.1 acres at the intersection of Ringling Boulevard and Orange Avenue for $32 million. While no plans have been announced, the property is zoned to build up to 10 stories and 50 residential units per acre. BridgeInvest was founded in 2011. Among its loans is $12.5 million for the purchase of 6.1 acres near the Westshore Yacht Club in Tampa for an apartment and townhouse project.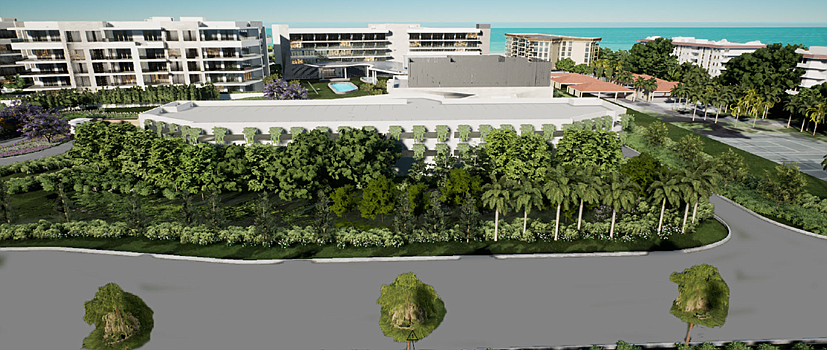 No parking: The Longboat Key Town Commission rejected a request from the developers of the Residences at the St. Regis Longboat Key to build a multilevel parking garage on the property. According to the Longboat Observer, sister paper of the Business Observer, commissioners unanimously rejected the plan for a 156-space garage, which would have replaced the original plans for 62 mechanical lift spaces and a 28-space surface parking lot. Commissioners, according to the Longboat Observer, "were in agreement that the developers did not prove a substantial need for the parking change and the building of a garage that has faced public scrutiny since the application came forward in January." Construction on the St. Regis, which will include 69 condo units and 165 hotel rooms, is expected to be finished late next year.
If you have news, notes or tips you want to pass along, contact LLLov[email protected]. Or you can text or call 727-371-6944.