Josh Marzucco, president of Marzucco Real Estate in Naples, says Florida's residential real estate market could correct. But if it does, he believes any correction will be minimal.
The red-hot Florida market has been overheated before, and it crashed in 2008 and 2009. Some like to say Florida invented the boom-and-bust cycle. So that would seem to make Marzucco's optimistic claim a bold outlier. 
But Marzucco, 36, believes he has the proof that the market is not in danger of slowing. 
His company has five offices, ranging from the Naples headquarters to Cape Coral, Fort Myers, Plant City and Lake City in Columbia County. He has 420 agents statewide, which gives him and his team a good sense of the state of the residential real estate market. His books, he says, show strong residential sales growth, possibly driven by beachfront upward corrections.
In 2021, Marzucco Real Estate did $318 million in sales volume. In 2022, the firm saw 32% growth, to $420 million in volume. (Some 15% of his business is commercial real estate, Marzucco notes.) Florida, he adds, has a natural buffer against another real estate recession because this time, net migration has led to more people moving to the Sunshine State — as many as 1,000 per day.
That's the reason, Marzucco says, beachfront communities are still behind on price per square foot.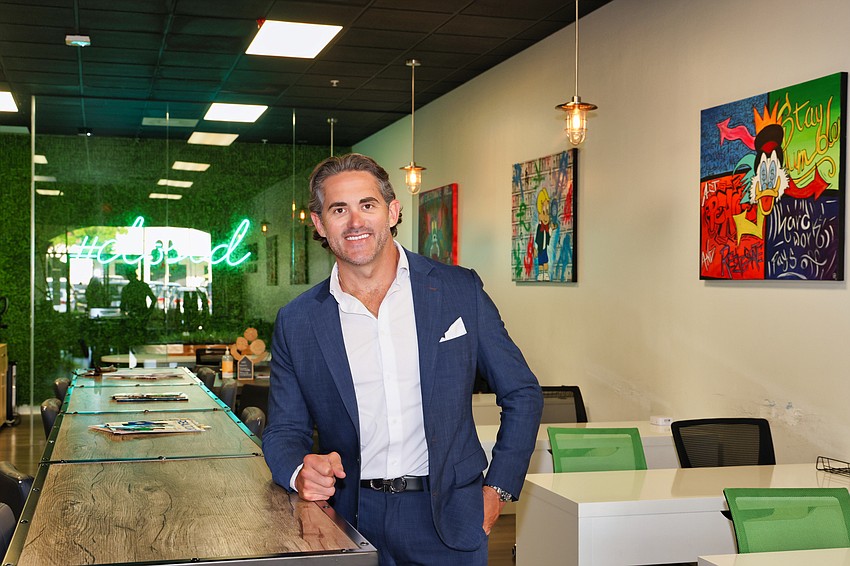 As for the real estate industry, the recession of 2007-2009 was a "corrupt fluke," caused by "liar loans" and banks that wanted to sell mortgages with a wink and a nod, he says. That is not the market today, he adds.
Marzucco was raised by a construction-experienced father. His two uncles are also in the construction and concrete business. So Marzucco was always ready for work when the career ladder showed up.
But first Marzucco learned as much as he could about acquiring money when things looked tight and bleak. He grew up in a studio apartment he shared with his divorced father, who had left Pennsylvania to settle in the Naples area.
The duo made dollars almost any way they could, Marzucco says. On weekends, the father-son team would find furniture, fix the items up and sell them at flea markets. The elder Marzucco had various economic dilemmas, forcing them to live frugally, in terms of both money and time.
We hardly ever recruit. I'm a firm believer in agents making their commission." –Josh Marzucco, founder of Marzucco Real Estate in Naples
Marzucco's father decided to take a different track when the 2008-09 recession hit construction. He founded Zookie's Sports Bar and Grill in 2008. The business was a hit, drawing in business networkers who wanted a beer, some Italian-American fare and a place to watch sports. Marzucco's father opened two other restaurants and then sold them.
Marzucco, who says he sleeps about four to five hours a night, learned a key lesson from watching his dad: heed every opportunity. 
With that in mind, Marzucco started forming his namesake real estate company in earnest in late 2017, after a father's friend, Realtor April Keating, suggested he should get his real estate license.
Marzucco had been helping his father with the restaurant business for about a decade, getting his associate's degree in the meantime. He sold for Florida Home Realty for a time, then wanted more. Even so, a 420-agent company was probably not what Marzucco would've predicted for himself.
"We came into the market at the right time, with the right model," Marzucco says.
One successful aspect of the model involves productive use of social media. His real estate agents tend to be younger and savvier about marketing online.
"We are kind of known as a younger 'social media' brokerage," Marzucco says. "We are always posting stuff."
Marzucco also tries to keep his workers happy by giving them 100% commission. It seems to work, even though Marzucco says a 20% cut would be nice.
"We hardly ever recruit," Marzucco says. "I'm a firm believer in agents making their commission."
The reward does come for Marzucco, however, with an 84% retention rate annually.
Sales can sometimes stall, so Marzucco calls on his experience when he encourages agents to never give up.
"We try to keep them as motivated and positive as possible," he says. "I try to stay away from any negativity. You have to hope for the best and prepare for the worst."
The agents are advised to be frugal, as Marzucco and his father were. And positivity is big for Marzucco, who declined a speculative reality TV show, likely being pitched to Netflix. Marzucco suspected the producers wanted infighting to sell the program.
"Not for me," Marzucco says.