Jaime Zabala Jr. had always been inspired by his father and the business he started after the family immigrated to Naples from Ecuador.
"My dad has always been kind of a vanguard," Zabala Jr. says. "He's one of the few people I've met in my life who sets a goal for himself and follows it through no matter what."
That can-do spirit led to the founding of the company known today as Advanced Hurricane Technology. But while the younger Zabala admired all that his father had accomplished, he didn't plan on following in his footsteps. He instead pursued his own career, getting a master's degree in computer and electrical engineering from Johns Hopkins University and spending almost a decade working for NASA. "It was a very formative time," he says.
But one Thanksgiving, the family conversation turned to the elder Zabala's interest in retiring. Since his children hadn't gotten involved in the business, he didn't know if he would have to sell it or pass it on to someone else. Zabala Jr. was happy with his career at NASA in Maryland and still wasn't moved to join the family business — until he thought more about the family part of it. A visit to Naples sealed the deal.
"We realized that I needed to be close to family," he says. "I needed my kids to have contact with their grandparents. Plus, the weather was better and it's a great place to raise a family."
The junior Zabala is now president of Advanced Hurricane Technology, following his father's retirement in 2019. During his tenure, he hasn't shied away from investing with an eye toward growth: He's spent at least $10 million on land for a new headquarters, in addition to technology and equipment upgrades in the seven figures. And he still adheres to the principles of fairness, honesty and quality that served his father so well.
"I'm guided by his values," says Zabala Jr., 35. "Those ideas and those concepts are embedded in the way that we operate every day, from the products we manufacture to the way that we treat people."
A better way
When Jaime Zabala Sr. first arrived in Naples from Ecuador in the 1990s, he took a job as a shop helper at a hurricane shutter company. He paid attention while working and got a break when there was a vacancy in the company's workshop. "He was promoted and slowly but surely he started learning more of the industry," Zabala Jr. says.
He learned enough to go out on his own, starting Imagen USA in 1994. But he wasn't content with just selling and installing hurricane shutters. He felt he could come up with a better option, and in 2003 he received a patent for his end retention hurricane shutter system, leading to the formation of Advanced Hurricane Technology.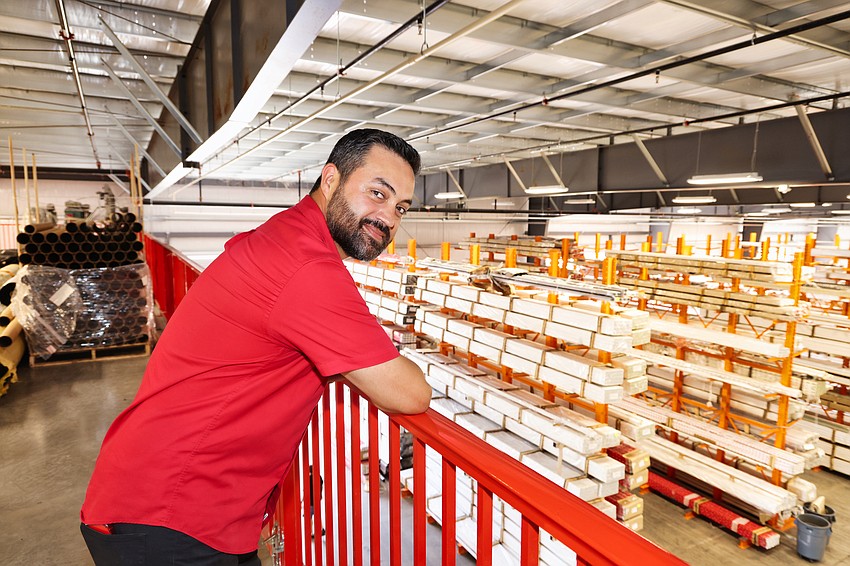 Zabala Sr. developed a system with a special channel in the track and a complementary screw embedded in the slats that allowed rolldown hurricane shutter slats to slide up and down the track without being pulled out. Before this, the tracks were basically just guides for movement, and the only thing that kept the slats in the tracks was the rigidity of the slats. Hurricane conditions would cause challenges to this, so removable rigid vertical support beams, typically called storm bars, needed to be placed at every six feet of the shutter.
"My father's invention eliminated the need for storm bars, made shutters safer and simpler, and became the market standard throughout the entire shutter industry," Zabala Jr. says.
Since becoming president, Zabala Jr. has worked to make the innovative manufacturing, retail and service company his father started even better. One way he's doing that? By bringing the expertise and knowledge he developed at NASA to the family business model.
"The company had been essentially run like a mom-and-pop shop, not in a negative way, but in a way that limited the growth," he says, adding there weren't clear job descriptions, and the back-office processes needed a technology boost. Paper instructions in the production shop increased the chance of errors and affected quality control.
"Any time you have a paper-based system, papers can get lost," Zabala Jr. says. "They can get switched; they can get smudged. Now everyone receives daily work instructions on iPads. That's been one of the big things that really helps us produce more. And in order to instill growth in the company, we have to be able to produce more."
Since Zabala Jr. started with company in the beginning of 2019, revenue has doubled. (He declines to disclose specific revenue figures.) "The thing that has set us apart here at AHT over the last few years has been how we really adapted our internal processes,"  he says. "We've gotten smart and that, I think, is the key."
Chris Andon, a business advisor at the Florida Small Business Development Center at Florida Gulf Coast University, is well acquainted with AHT: The company was the SBDC's 2022 Innovator of the Year. 
"There's passion at the company, and I think passion is an important ingredient to any business that wants to be successful," Andon says. "Because it's a family business, I think that they are better focused as to what they're trying to do than some other companies that can get distracted. They have passion, they have skills and they bring a different mindset to hurricane shutters."
Happy customers
Zabala Jr. has taken several other important steps aimed at growth. He moved the company out of Collier County, for one, purchasing property at Alico ITEC Park in Fort Myers. "We needed to be somewhere that we felt was a more positive environment for manufacturing," he says.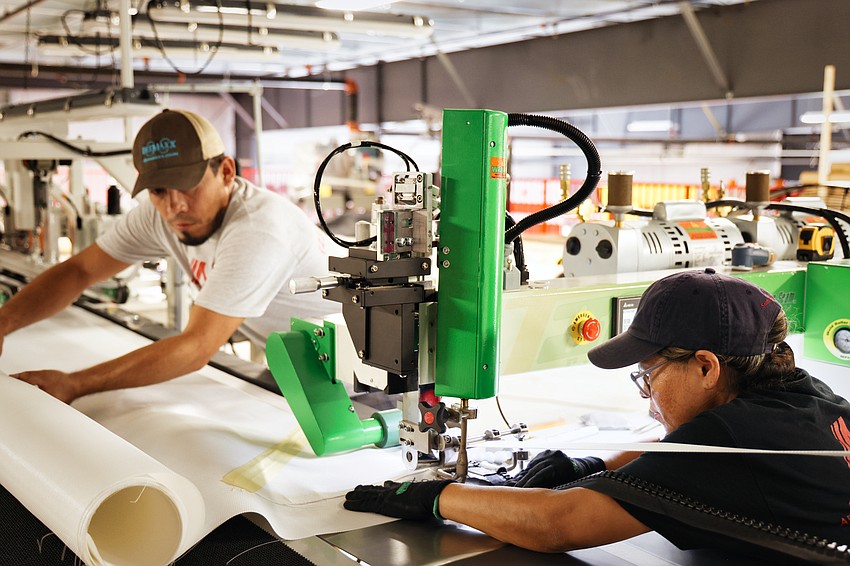 "They were really important because they were our first sale [at the industrial park]," says Paul Hardy, managing member of Alico ITEC Park. "That really kind of kicked off ITEC; that got the ball rolling. And they were so happy they bought two more tracts from us."
Advanced Hurricane Technology has room for expansion at ITEC and hopes to build a second building at the park to replace almost 50,000 square feet of warehouse space it rents in Lehigh Acres. "We don't want to be a tenant; we want to have our own buildings," Zabala Jr. says.
A few years ago, the company launched a subsidiary in Puerto Rico to better serve its growing Caribbean business. It's also worked to expand beyond Southwest Florida into the rest of the state and sends frequent deliveries to dealers in Louisiana and Texas. And more recently, Zabala's sister, Fernanda Ferrell-Zabala, has been establishing a presence for the company in the Mid-Atlantic region.
Zabala Jr. recognizes the seasonality of the hurricane protection market, and the fact that people can have short memories when it comes to the power of storms. That's why he's always thinking of new ways to innovate, whether that means new products, better ways of offering financing for customers or creating lower-cost options for consumers.
The company's retail and installation division, AHT Shutter Services, meanwhile, helps him get a local picture of trends in the industry. It's headed up by his cousin Andy Zabala, who's been involved in the family business for years. "He's able to take his deep knowledge of the industry and really grow that department," Zabala Jr. says. "That's our canary in the coal mine."
Investing for innovation
As hurricane season approaches, Advanced Hurricane Technology is embracng another period: awards season.
The company not only garnered the FGCU Florida Small Business Development Center award, but was also a finalist for the Horizon Council's Manufacturer of the Year award at the Horizon Foundation's 2022 Industry Appreciation Awards. And Zabala Jr. was a finalist for the Florida Small Business Development Center's Distinguished Entrepreneur of the Year honor. "People are starting to recognize what we do," he says.
A backdrop to the awards — and with an eye toward being even better — is the firm has also made investments in new machinery and manufacturing equipment such as an auto upcut saw and what Zabala Jr. says is the largest aluminum long folder in the southeastern U.S. That will allow the company to expand its product lines to up to 32 feet to address larger patio openings in homes. The company is also pursuing a patent on a new kind of flood protection that combines a roll-down shutter with a flood barrier.
Zabala says the company has invested over $750,000 into new machinery to weld and sew hurricane fabric, decoil/slice/bend aluminum coil for housings and cut slats with higher precision. It's also spent over $250,000 in developing new systems and updating old ones to meet new statewide engineering requirements.
"All of these things require an investment not just in the machinery but in the people," Zabala Jr. says. "We have to train them. We have to make sure that we have backups, because if someone is out the show can't stop."