Naples/Fort Myers
Where all the action is: The Fort Myers commercial real estate firm LSI Cos. has brokered a trio of deals in Punta Gorda totaling 349 acres and $5.72 million. The bulk of the Charlotte County sales were for a 339-acre parcel of residential property at 26901 Zemel Road, which brought $4.25 million. The property was bought by an LLC whose Lakewood Ranch address matches that of homebuilder Neal Communities. Neal, through another LLC, recently bought 345 acres in Lee County's Alva community for $5.5 million. The other two sales are for properties right next to one another on Rampart Boulevard. The largest is for three parcels totaling 6.55 acres which sold for $955,000 to a company called Rampart USA LP. The second is four acres and sold for $522,000 to Sanjay Patel and Daxaben Patel. Both were previously owned by an LLC that's registered to a Hialeah law firm. 
Bryer's market: The Naples real estate investment firm Bryer Properties has bought an office development and a vacant office pad off of U.S. Highway 41 in the city. The three-building property, the Hammock Cove Office Park, totals 17,000 square feet according to Bonita Springs-based Premier Commercial, which represented Bryer and announced the deal. The firm paid $5 million for the development at 4660, 4670, 4680 and 4690 Cardinal Way.
Fill 'er up: While Naples' Mercato is mostly known for its retail options, the development's 140,000-square-foot office offering is bustling as well. North American Properties, which manages the 315,000-square-foot high end lifestyle center off of U.S. Highway 41 at Vanderbilt Beach Road, says the financial institution Merrill is leasing an additional 12,000 square feet, raising its total square footage to 29,000 square feet. This, says North American Properties, means the office portion of the product is 100% occupied. As for the retail sector, Miami-based Silverspot Cinema announced it was shutting down July 23 after 14 years. Word is that a Texas based chain, Alamo Drafthouse Cinema, is stepping into the space though that has not yet been confirmed.
Tampa/St. Petersburg
It's a wash: While car washes seem to be popping up on every corner the past few years, an existing one is on the market. The Ballast Point Car Wash, a 2,952-square-foot building on 0.57-acres just off of South Dale Mabry, is listed for $1.25 million. According to the marketing materials from the broker, SRS Real Estate Partners in Tampa, the property has five bays and 120 feet of frontage on Dale Mabry. Maybe as importantly for a potential buyer is that it's zoned for mixed-use and approved for a quick service restaurant drive thru. What makes this an interesting property is that it is in a fast-growing section of the city, south of Gandy Boulevard and about three miles north of MacDill Air Force Base. While the major residential developments are a few miles away on West Shore Boulevard, in the past couple of years Publix has a built brand new store and refurbished another within a mile and several large chunks of commercial properties, including the former iHeart Radio complex, have sold or are on the market in anticipation of population growth.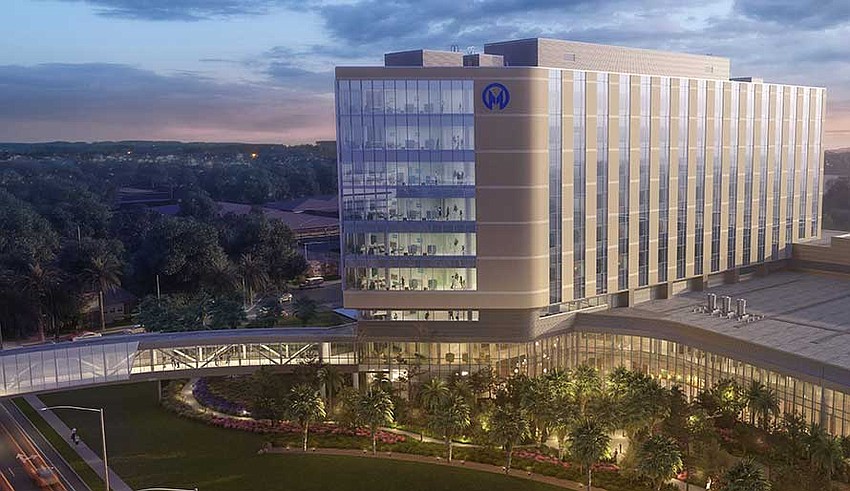 Healing power: Moffitt Cancer Center is scheduled to open its new Moffitt McKinley Hospital in Tampa July 31. The 10-story, 490,000-square-foot facility is just off of East Fowler Avenue across from — and linked to by a pedestrian bridge — Moffitt McKinley Outpatient Service. Construction began July 2020. Moffit says the $400 million inpatient surgical hospital was built "in anticipation of a 65% increase in patient volumes and a 33% increase in cancer surgeries over the next 10 years." The hospital will have 80 beds with the capacity to expand to 400 beds, 72 prep/recovery rooms, 19 operating rooms, two nuclear medicine cameras and a diagnostic CT scanner. Patients are expected to stay on average three to seven days. Moffitt is also building a Pasco County campus that, when complete, is expected to include 16 million square feet of lab, clinical, office and manufacturing space. 
Concrete jungle: An industrial property in St. Petersburg has been sold and will be turned into concrete batch plant. The property is at 4451 8th Ave. S. and was bought by Lake Park-based Maschmeyer Concrete, which paid $5 million. Bridgewater Commercial Real Estate, which represented the seller and announced the sale, says the property, in the city's Warehouse Arts District, is 4.13 acres and is zoned Industrial Traditional. The seller is another concrete company, Stabil Concrete Product.
Sarasota/Manatee
Beach side: Jacob Spooner, a Bradenton Beach city commissioner and local businessman, has bought two lots on nearby Holmes Beach totaling 1.83 acres. He paid $4.75 million for the two properties, according to Michael Saunders & Co., whose commercial division represented him in the transaction and announced the deal. The properties are at 5325 and 5327 Gulf Dr. The sale, completed July 10, includes a 10,328-square-foot former Wells Fargo bank building. According to the firm, Spooner plans to keep the building as part of his plan to redevelop the property. What that plan is, though, will remain a mystery for a little while. Spooner, the firm says, is publicly staying mum on his plans for the property until receiving approvals from the city of Holmes Beach. ABC Family, a North Carolina property management company, previously owned the property.
If you have news, notes or tips you want to pass along, contact LLLov[email protected]. Or you can text or call 727-371-6944.