As traditional malls began a steep decline some 20 or more years ago, the prevailing theory among retail industry insiders was that to continue to attract shoppers the properties had to reinvent themselves.
There had to be more creativity in attracting anchors beyond the tried-and-true department stores. Owners needed to offer more than just stores, they had to provide experiences as well. The term and concept of the open-air lifestyle centers came into vogue.
The idea was to create a place where consumers could do more than just browse shops, they could wander along sidewalks as if it was a downtown of old. Restaurants would sit side by side with shoe stores, local boutiques with national chains.
Well that model has seemingly captured the attention of a pair of investment firms that in the past few months have bought open-air lifestyle centers in the region — each paying more than $70 million for the properties. The Lakeside Village shopping center in Lakeland sold for $77.93 million to the Baltimore real estate investment firm Continental Realty Corp. And The Shops at Wiregrass in Wesley Chapel, Pasco County, sold for $70.5 million to Dallas-based TriGate Capital.
While the prices are not earth shattering — apartment complexes have been trading at those figures for a couple of years now — and may not have resulted in a profit for entrenched owners, the deals are an indication that the lifestyle centers could provide a steady value for investors, even as the price for these centers has dropped in recent years.
"These institutional assets are held by pretty active real estate companies, so they are keen on positioning assets appropriately for changing market conditions and dynamics," says Nelson Taylor, vice president of market research for the Fort Myers commercial real estate firm LSI Cos.
Taylor says there hasn't been a similar transaction in Southwest Florida recently. But he points to the redevelopment plan for Promenades Mall in Port Charlotte as an example of owners who "are staying active and keeping options open for the property."
The plan there calls for an additional 270,000 square feet of retail and office space, bringing the total space at the mall to 500,000 square feet.
With Lakeside Village in Polk County, executives at the commercial real estate firm JLL, which arranged the sale, say what drew CRC's attention was that the center was regionally dominant "with an extraordinary tenant mix that drives traffic from an extended trade area."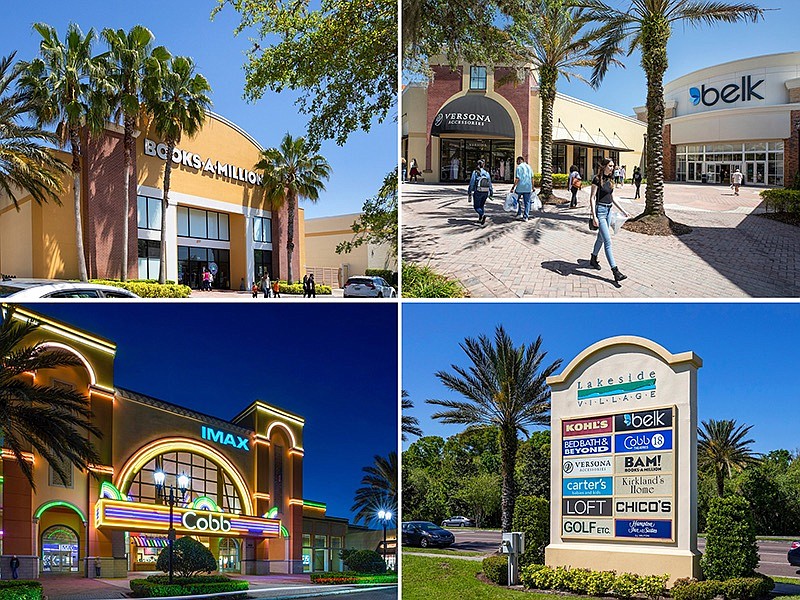 The 88-acre center is off of the Polk Parkway and its tenant roster includes anchors Belk, Books-A-Million and an 18-screen CMX Cinemas as well as Starbucks, Chili's, Olive Garden, Burger 21, Chico's, Versona, Victoria's Secret and Longhorn Steakhouse. Kohl's is a shadow anchor.
Eric Williams, a senior director at JLL, says centers like Lakeside Village are in a good position because investors understand the long-term value. "We have recently experienced strong investor demand, increasing conviction and capital formation around large format retail strategies," he says.
One reason for the interest from investors could be that despite changing shopper behavior, rents and vacancies at lifestyle centers have remained steady while prices for the properties have been dropping. That makes them attractive assets that could be picked up on the cheap.
According to commercial real estate firm CBRE, overall rent in the retail sector nationally rose 2.7% in the first quarter of this year when compared with the same time last year and remained higher than the 10-year average. But rents remained flat at lifestyle centers, while vacancies barely dipped, from 6.1% to 6%.
And according to a report from the valuations firm Marshall Stevens, the price per square foot for lifestyle centers fell 40.1% between 2019 and 2021, going from $373 per square foot to $223 per square foot.
Lakeside Village, at 454,872 square feet, sold for $171.32 per square foot. The Shops at Wiregrass, at 800,000 square feet, sold for $88.13 per square foot.
One challenge? Foot traffic at lifestyle centers is lagging.
Placer.ai, which studies foot traffic at retail locations, reported in April that the number of people visiting open-air lifestyle centers was down 5% year-over-year in March, part of an overall decrease in visits to malls in general. Traditional malls saw a 7.4% decline and outlet malls saw an 8.6% decline when compared with last year.
While this, and the other data points, could be a cause for concern, the study shows that the smaller decline in traffic at open-air malls proves both that there is still a demand from shoppers who want to visit several shops in a single place and that the model could work.
Placer found that while overall visits were down, open-air malls got the largest share of evening and weekend visits. "Since lifestyle centers often include bars, gyms and carefully designed outdoor socializing space, it is possible that many people are visiting this format as a budget-friendly option for afterwork recreation," the report states.
And, when all is said and done, isn't that what the industry insiders predicted and what investors are betting on?