Executive: Gerri Moll. Southwest Florida market executive for Bank of America Private Bank, as well as bank president for the Southwest Florida region. Throughout her 36-year career at Bank of America, Moll, a Naples resident, has held several senior leadership roles and provided leadership for the transition team through two mergers. 
Diversion: Lobstering in the Florida Keys. 
Family ties
A licensed scuba diver, Moll been in and around water since she was a baby. But she married in to lobstering. "My husband and his brothers had been doing it for a few years by then, and when I joined the family 30 years ago, I joined them for the first time and loved it," she says. 
The lobstering trip to the Florida Keys in July during a mini-season event became an annual tradition for the entire family, which has since grown, with the next generation now coming along. 
Teach them young
Moll's nieces, nephews and her son have been going lobstering since they were all babies. 
"They've been on the boat all these years watching the adults catch lobsters and they learned how to help out on the boat," she says. 
While it's great that they understand the process, it's even better, Moll says, when they meet all the qualifications to go lobstering. Generally speaking, once a kid is in middle school, is a strong swimmer, has a big enough lung capacity and the hand-eye coordination required to juggle the tickle stick, a net and a bag, then they're ready.  
"Once they're at the age they can do all of those things, it's so gratifying," she says, before adding it takes time before the kids find a legal lobster. "What happens is they'll catch a smaller (lobster) first that's not a keeper. They have to be a certain size for you to keep them. But eventually they'll catch one that's legal and it's so fun to see how excited they are." 
Tickle, tickle
The act of lobstering is funny until it's not.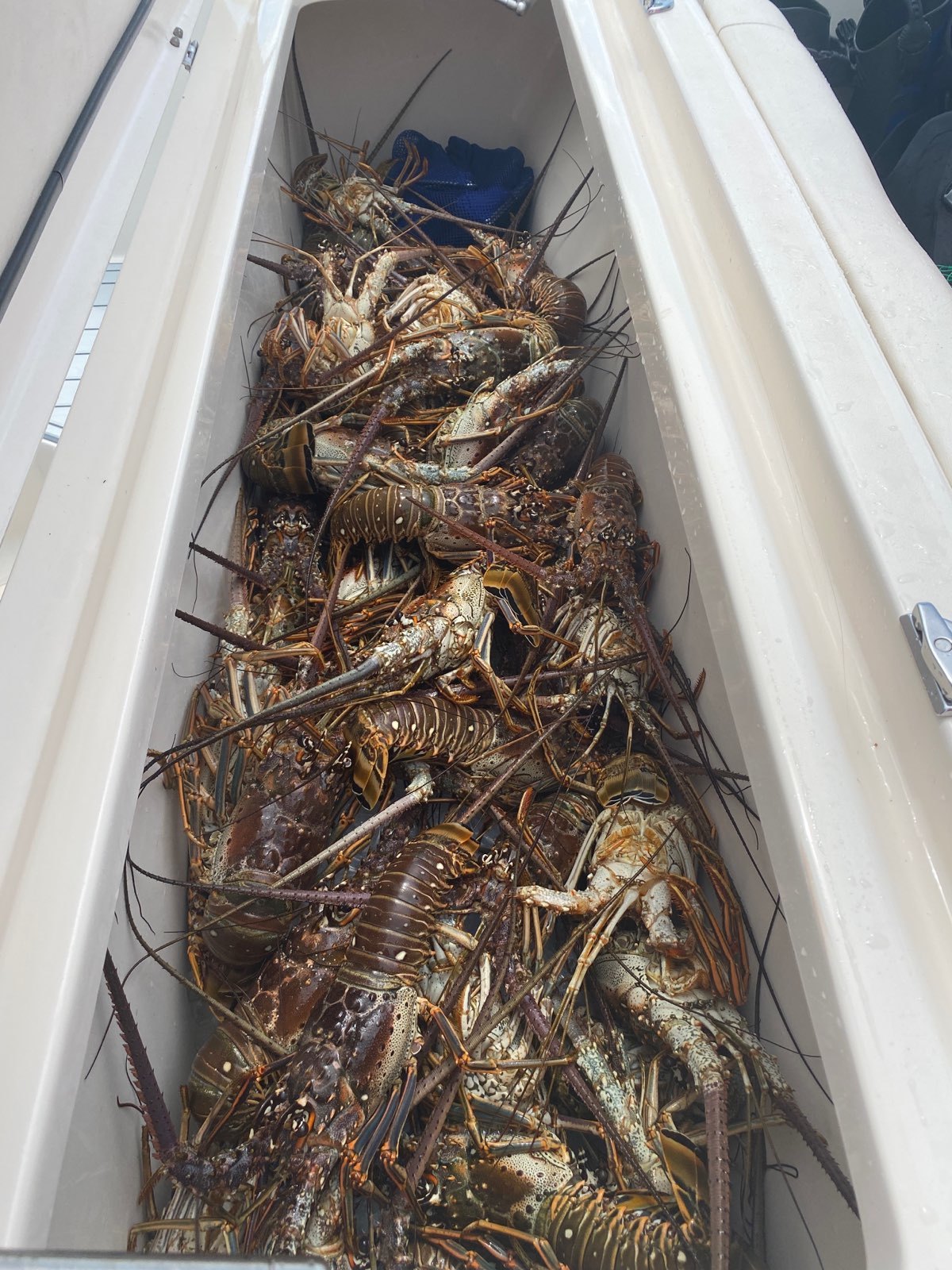 In order to snatch the lobsters, Moll has a tickle stick at the ready with the net not far behind. "Lobsters are nocturnal so at night they're walking around for food," she says. "During the daytime, they're in holes or under lime rock ledges." 
While in the water, divers mosey around until they see antennae sticking out from under a ledge or rock. The swimmer dives down in about eight or ten feet of water and "tickles them out from under their rock," she says. The net comes over the lobster and the lobster then goes into a mesh bag the swimmer is carrying. 
"It's all by hand," Moll says. "And you have to hold your breath for a really long time — from the time you spot them on the surface to the time you get down there, patiently tickle them out and (get them) into your net. That's all in one breath."
Deep breath
"Sometimes they're not so cooperative," Moll adds. "So you have to be a strong swimmer with a strong lung capacity." 
That comes in particularly handy on the days Moll is out there swimming, snorkeling and looking for lobsters for 12 hours. Sometimes they're back home in time for lunch, but other times — when the lobsters aren't as plentiful, it takes a little longer. 
The hard part is staying patient. 
"You can't be too aggressive with them," Moll says. "They'll back up under that ledge and you'll never see them again." 
Head start
Moll's family goes lobstering once a year. The mini-season starts on the last Wednesday of July and ends quickly — the next day. The season is really for recreational lobster fishermen to get a head start as the regular season opens in August to commercial fishermen. 
During the mini-season, fishers are limited to nabbing six lobsters a day per person. 
"We typically have 10 people on the boat," Moll says. "So we'll get 60 on one day and hopefully somewhere near 60 the second day."  
Since Florida lobsters don't have claws, the tail meat is all you can eat. So Moll's family brings home only the tails with each family receiving about 30 lobster tails. "We'll grill or boil them while we're down there in the Keys," she says, "then the rest we bring home and freeze them to enjoy throughout the year." 
Fishing for sharks
Lobsters aren't the only creatures Moll has run across while lobstering. 
"A lot of times you'll have lobsters in your bag," she says. "Sometimes they attract other predators." 
Like sharks or barracuda. But Moll doesn't let them bully her. 
"We don't give them our lobsters," she says. "We chase them away with our tickle sticks. Those lobsters are really hard to catch and we're not giving them up."