The lack of a large, or even mid-size, branded convention center and meeting space in downtown Sarasota — long an issue for business and civic leaders — is inching closer to an inflection point.  
The crux of the issue: the new owners of the Hyatt Regency, at 1000 Boulevard of the Arts, plan to demolish the hotel and rebuild it into a Hyatt-branded Thompson Hotel. A timeline for that project, originally set for summer 2024, isn't definitive. But whenever the Hyatt goes, a 10,000-square-foot ballroom that can seat some 750 people will go with it. 
"The Hyatt has been our meeting lifeline," says Virginia Haley, President of Visit Sarasota County, the county's tourism marketing arm. VSC works with dozens of groups and associations globally to hold and host meetings and events in the region. The Hyatt is in the upper end but still reasonably priced sector of the market, and a popular spot for both out of town groups and local ones. The Sarasota Chamber of Commerce and the Economic Development Corp. of Sarasota County are among the organizations that have recently held major events there.   
Sarasota Chamber of Commerce President and CEO Heather Kasten says when the Hyatt is gone, there will be only one primary downtown spot left to hold a large lunch or dinner event with a "ballroom experience." That would be the Ritz-Carlton, Sarasota, down the street from the Hyatt Regency. The Ritz has a 12,000-square-foot ballroom that can hold 800 people for a banquet and 1,200 for a reception, according to its website. 
Kasten says for meetings or events with 200 to 250 people, there are multiple choices in and around downtown Sarasota and across Sarasota County. "But when you get to 500 and 600 people you are running out of options," she says. 
Multiple business leaders in the Sarasota community have heard 2024 is when the Hyatt will come down. But Hyatt Regency Sarasota General Manager Wes Santos says there's no definitive date on when the development firm that bought the property, Kotler Hospitality, will begin the transformation to a Thompson-branded flag.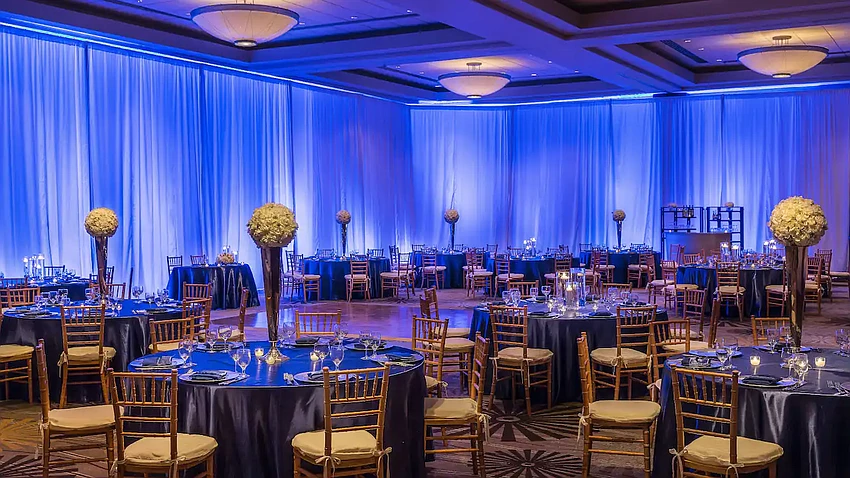 Santos says he's instead focused on the here and now. "We're not shying away from any convention center business," Santos says. "We're at the peak of it right now."
Officials with Kolter Hospitality, a unit of Delray Beach-based Kolter Group, declined to comment, through a spokeswoman, on a date or timing of the project. In a statement last May, when Kolter bought the property, Kolter Hospitality President Scott Webb confirmed Thompson as the hotel. Webb added that the company was in the "initial stages of the redevelopment plan…which will feature innovative design, luxury and personalized hospitality." 
At the Ritz, meanwhile, General Manager Rajesh "Raj" Khubchandani says it's mostly business-as-usual at the property, which he boasts is in a higher echelon in the local meeting and convention marketplace. "There's a possibility we might get some business" when the Hyatt closes, Khubchandani says, adding that the hotel offers a broader array of services and options than most others in the market. 
A look back 
The pending Hyatt closure also exacerbates an issue that's long confounded many leaders in the region: Why doesn't Sarasota, with its arts and culture a national, even global, draw, have a convention center? 
"It's odd for a county of our size," Kasten says, "with 400,000 people, that we don't have a convention center."
It's an issue that, at some level, has been floating around since the 1990s. In 1994, a study from KPMG Peat Marwick of St. Petersburg found that Sarasota "needed both a hotel and a meeting facility and suggested a 300-500 room hotel with 70,000 to 125,000 square feet in meeting space," according to a timeline of stalled convention center projects from the VSC. The report added that the project should "be under one roof." 
In 2004, Sarasota County officials paid $80,000 for a study that found a similar need, calling for a third hotel in addition to the Ritz and Hyatt Regency. Multiple other entities, from the initial team that worked on the Quay to local developer Charles Githler to the founders of the Sarasota Film Festival, have looked into a conference or convention center downtown in the past two decades. 
In addition, according to the VSC timeline, in 2015 all five Sarasota County commissioners supported an effort to look at "conference center feasibility in Sarasota, driven by the need to fill the new hotels under construction in downtown Sarasota."
And, finally, in 2019 VSC, in its draft of its 2025 Strategic Plan to Sarasota County Commissioners, called for exploration of a conference center. 
All of those efforts, from a combination of cost, inertia, debate and more, have led to the same result: no conference/convention center in Sarasota County, with no one out there proposing one. 
Haley says cost is a big issue developers face. She's heard often that the return on investment, higher than ever with inflation, supply chain and labor challenges, isn't there when choosing to build more hotel rooms vs. a large meeting space. And given convention centers only really work in downtown areas, "with a lot of entertainment options," she adds,  that makes the cost, particularly in land, even higher to justify. 
| | | |
| --- | --- | --- |
| Location | Square feet | Capacity |
| The Ritz-Carlton | 12,000 | 800 |
| Hyatt Regency | 9,879 | 750 |
| Art Ovation Hotel | 5,588 | 678 |
| The Westin Hotel | 5,510 | 520 |
| The Carlisle Inn and Conference Center | 5,000 | 500 |
| Michael's on East | 4,800 | 430 |
Note: The Westin and Art Ovation are theatre seating
Source: Visit Sarasota County, individual locations 


Up north
One part of the region where a convention center project has some momentum is 14 miles north of the Hyatt Regency — at the Bradenton Area Convention Center in Palmetto, Manatee County.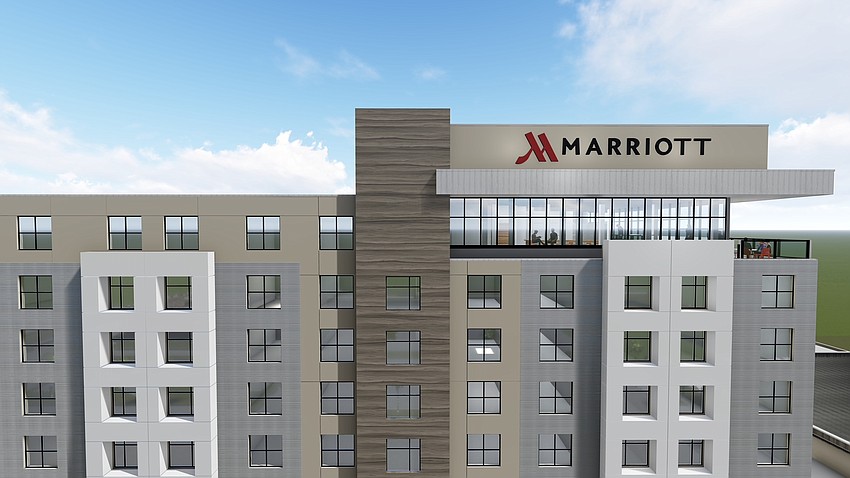 Activity is happening there on two fronts. For one, officials with the Bradenton Area Convention and Visitors Bureau are preparing to go before Manatee County commissioners in March to propose a convention center expansion project that could be worth up to $17 million. If approved, the project would add some 20,000 square feet of space to the center, which is already 32,000 square feet. With capacity for 1,200 people under air conditioning in a banquet setting, that would make it the largest convention center space from St. Pete through Naples, says Bradenton CVB Executive Director Elliott Falcione. 
The last time the convention center, built in 1985, was renovated was in 2007. That was a $6.5 million project. But in championing the expansion, Falicone says it's a bit of apples and oranges to compare it to the Hyatt Regency, which is on the water. "These are two different models," he says. 
In addition to the convention center expansion, a California-turned-Florida developer is building a 252-room Marriott connected to the convention center. Tony DeRusso, with Improvement Network Development Partners, is building the hotel, branded the Marriott Palmetto Resort. The eight-story project, including a roof-top pool and restaurant, in addition to 10,000 square feet of convention and meeting space, is on target to be open in January 2024.  
DeRusso, who says he moved from northern California to the region to oversee this project, looks at the Marriott as a 50-50 partner with the convention center in being an economic development magnet. "We want to be able to attract Fortune 500 companies and CEOs here," he says. "And to do that you need a full-service upscale hotel and a convention center."