As Janet Mixon sat at a table by the ice cream section of Mixon Fruit Farms, a customer approached her. 
Although she couldn't remember the customer's name, she knew the customer was a regular who frequently bought ice cream.
The customer hugged Janet. 
"I'm sure going to miss this place," the customer said. "I love this place."
Since Janet and husband Dean Mixon, the owners of Mixon Fruit Farms, announced they were closing down July 29, the couple has heard countless stories and memories of Mixon Fruit Farms from customers. 
"I'm going to miss people coming up and saying they love our place or thank you for doing this or that," Janet says. "It has meant a lot to us."
Mixon Fruit Farms lasted 84 years.
Lasting legacy
The idea of Mixon Fruit Farms began in 1939 when Willie Mixon and his wife, Rosa, bought a 20-acre grove in Manatee County with the vision to begin a retail operation. 
Janet says the retail operation started with Rosa Mixon loading up a Ford truck with their six children and baskets of fruit they would sell to guests at the Dixie Grande Hotel in downtown Bradenton. 
Then came the fruit stand Willie and Rosa started on the corner of 26th Avenue and 27th Street, which at the time were dirt roads. 
In 1941, Willie quit Manatee Hammock Fruit Co. to focus solely on his farm. 
At its peak in the 1970s, Mixon Fruit Farms' groves spanned 350 acres.
"You just saw orange groves everywhere, and everybody remembers that," Janet says. 
Generations of Mixons have since owned and worked for Mixon Fruit Farms.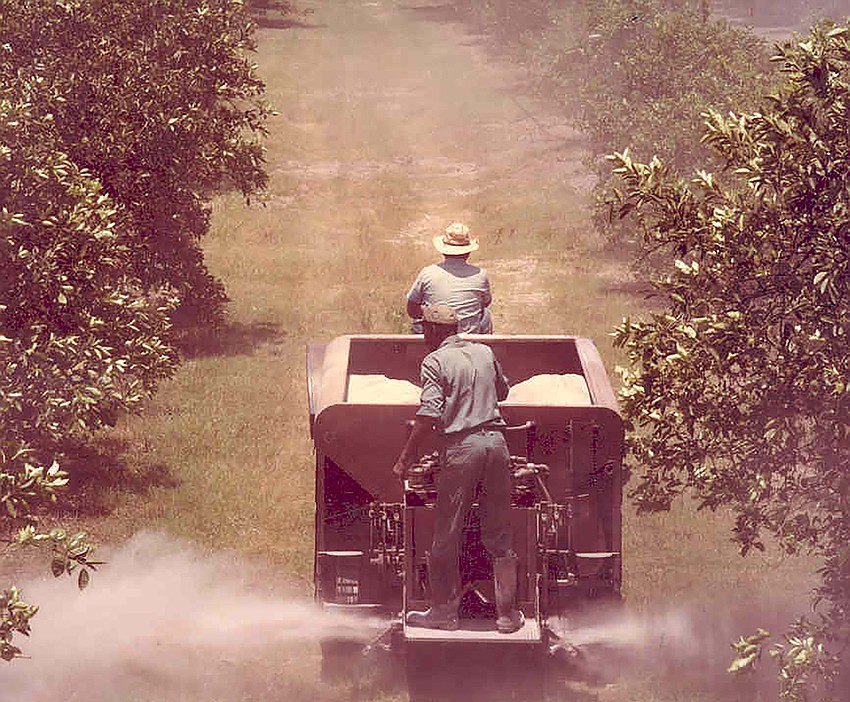 One of Willie's sons, Bill Mixon, bought a section of grove for himself in high school. He used earnings from his crops to purchase materials to build his own home. 
Bill and his wife, Mary, moved into the house built on the property after the couple married in 1949. Later, Bill and Mary's sons Dean and Don Mixon joined the business. 
Dean said his favorite memories are growing up on the farm when they were "running lots of fruit" and they had about 120 employees. 
"I started working as soon as I could reach the pedals on the tractor," Dean says. "It took me a while to figure out that it was work. It was work, but it was fun."
In 1992, Mixon's sold 250,000 packages of citrus gift boxes, and the mail-order business Mary Mixon developed made up a majority of the farm's revenue.
Janet says the North American Free Trade Agreement, which came into effect in 1994, created an environment that allowed citrus diseases to infect the groves. Diseases like citrus greening, a bacterial disease that attacks trees' vascular systems and reduces production, caused ongoing challenges. 
"It brought in all the diseases that are killing not only citrus but tomatoes, apples, peaches, every single thing you can think of," she says. "People are all happy because they get all these wonderful fruit and vegetables. In the meantime, it's killing the farmers that are here."
Janet says 20,000 trees died and regulations made it so the family couldn't graft its own trees. 
"They made rules that basically made it very tough to be a farmer," she says. 
As a result, in 2006, the farm took a turn for the worse. 
Janet says most of the family wanted out of the business. Bill and Don Mixon decided to sell their portions of the land, which added up to about 250 acres. But after Dean and Janet prayed about it, they didn't want to let go. 
"We thought if we can keep the 50 acres, we can do something different, we could try to make memories," she says. "I'm a big memory-maker kind of person."
Dean and Janet took over the farm.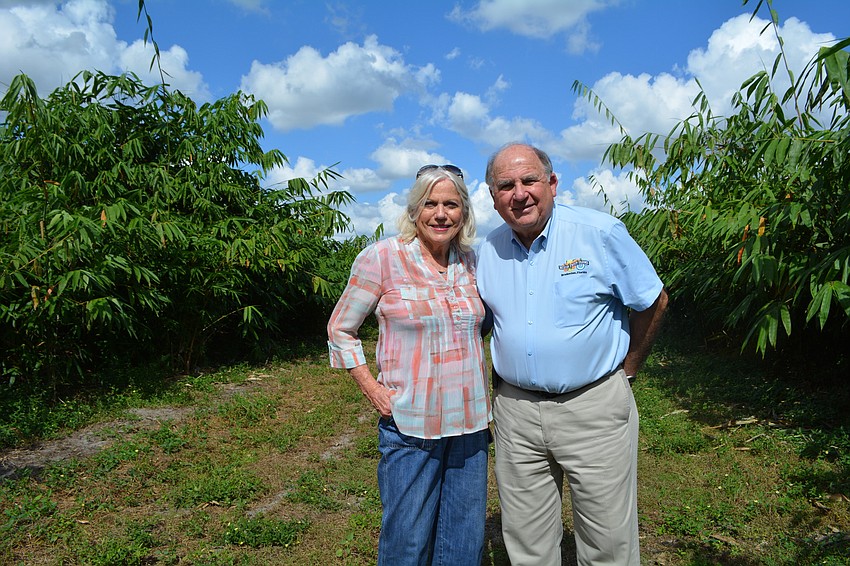 With loss comes love
Dean and Janet met when they were in kindergarten at Manatee Elementary School. After graduating from Southeast High School together in 1969, they went their separate ways. 
Janet eventually married Gerald Bennett, became a teacher and was living in Charleston, South Carolina. 
Dean went on to marry Wendy Mixon and attended the University of Central Florida, where he changed his major from math to biology before returning to the farm to work. 
In the early 2000s, Dean's wife and Janet's husband were diagnosed with cancer. Wendy Mixon died in 2001, and Dean heard of Janet's husband's diagnosis through a prayer request. He reconnected with Janet, sharing potential treatment options. Bennett died in 2003.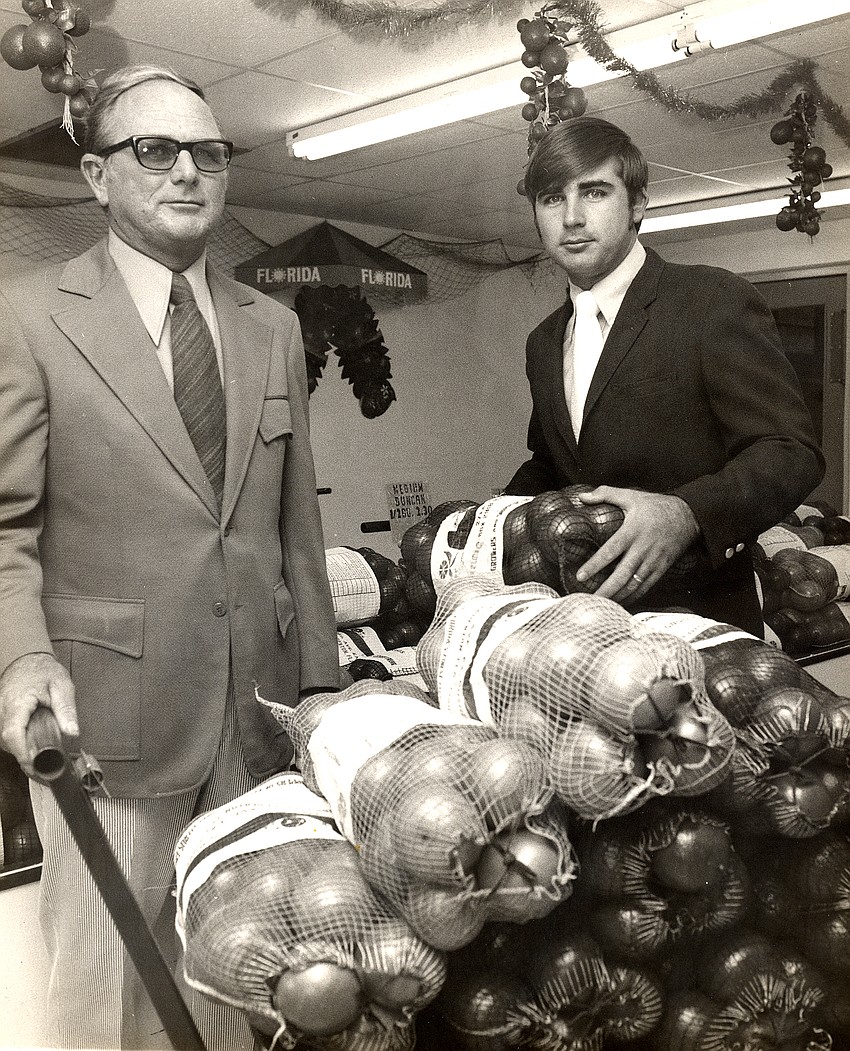 The two were reunited as their daughters — Lori Mixon and Julie Bennett — became roommates and played volleyball together at Lander University in Greenwood, South Carolina.
Janet said she knew she would move back to Manatee County to be with her family, but she didn't want to leave her church, Seacoast Church. 
During one of Dean's visits to South Carolina, he went to Janet's church. Janet found out Seacoast Church was expanding with an establishment of a new church in Bradenton, which is now Bayside Community Church. 
"We thought it was like a message from God," Janet says. "It was like this is where we're supposed to go to church. Dean was like, 'I think He wants us to be together.'"
Now 20 years later, the couple has made Mixon Fruit Farms a home away from home, expanding the business to provide tram tours, host weddings, create a wildlife viewing area, grow bamboo, include a play area and become a producer of broghies. 
"Our prayer was that we would provide a place where memories were made," Janet says. "People were already making memories here because they would come in for the ice cream and stuff, and we just wanted that to continue. I think we've really done that."
This article originally appeared on sister site YourObserver.com.