Coldwell Banker Realty broker Edward Johnston has one of the most distinctive listings you are likely to see. It's for a house, a mansion really, in Davenport, Polk County. 
The 14,208-square-foot home has 20 bedrooms and 23 bathrooms. It's brash and colorful, with each room featuring a unique movie theme. There's an Oscar statue outside the front door when you pull into the driveway and the dining room sits 37. A lazy river, water slide, custom lighting and a volcano are part of the package.
The asking price: $11.25 million.
"This is definitely a unique animal," says Johnston. "This property probably will go to an investor or to a corporation as either a corporate retreat, or as an investment for cash flow."
While the Davenport house itself is a rare specimen, the price tag is one that's becoming more common in and around the west coast of Florida as demand for homes surges and a new type of buyer from places like New York, Silicon Valley and Los Angeles moves into the state. That's not to say homes listed for well over $5 million are something new. They are common in Miami and Naples, and show up regularly in Tampa, Sarasota-Bradenton and Longboat Key.
But in recent months, homes have hit the market at increasing speed for what shopping centers sold for not that long ago.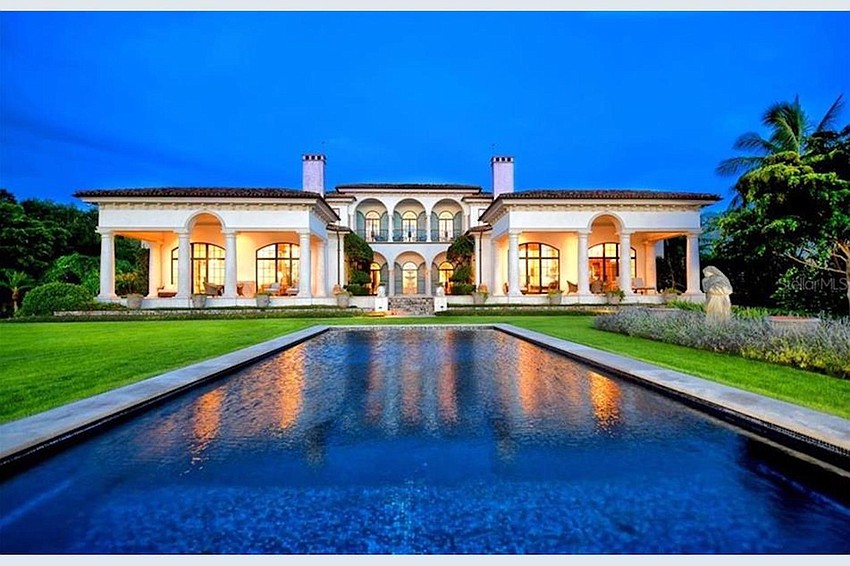 In the past month alone in Naples, a house in Port Royal sold for more $46.8 million and another a short drive away was listed for $174.7 million — including two adjacent properties listed at nearly $60 million apiece. A home on Sarasota Bay sold for $15.5 million in September and one on Anna Maria brought $16.5 million in March 2022.
Sell it
Tasked with selling these homes are Realtors like Johnston who specialize in luxury, high-end properties with a  specific clientele that spends more on a home than what the average American earns during their entire career. (According to the jobs website Zippia the average person earns $1.7 million for 20 years of work before retirement.)
Selling multimillion-dollar homes may seem like it's not for the faint of heart, but some real estate agents and brokers who traffic in these more-than mega mansions say it's no different than selling a rancher in the middle of a suburban neighborhood. Sure, the marketing is a bit more exotic and expensive, and the clients are more exclusive, but the basics remain the same. You have to service your clients, know how to reach buyers and know your market.
More importantly, agents will tell you, selling real estate is about relationships and reputation. The best ways to get listings is from people you've dealt with before, who know you and feel comfortable sending business your way. Finding buyers is not much different. You have a book of business and are friendly with other brokers.
Obviously, it's not as simple as it sounds. Given that the number of homes selling for more than $10 million is tiny when compared to the total number of homes on the market and that the buyer pool of those who can afford multimillion-dollar price points is significantly smaller, information is key. You better know your market, who your buyers are and how to value and market a property properly.
If you are charged with selling a $50 million house, you need the contacts to be able to reach the billionaires who will buy it or if it's a $2 million home you need to know how to market it to the executive looking to get out of New York or San Francisco and pay cash in Florida.
And, of course, every market has its nuances.
Yet, experts in the luxury field says those skills are identical to the skills needed to sell any home. Sure, the buyers may be a bit more discerning, the homes may take longer to sell and the sales volume may be smaller, but the skill set required to do the job right are no different. "I think the principles are the same," says David Parnes, founder and principal at the Bond Collective in Los Angeles.
"It's just about the market you're in. If you want to do anything in life, you got to be the best at it, right? You got to have knowledge. You've got to know it better than anyone else. And the truth is that just as selling a $2 million, $3 million house or a $500,000 house you want to do the best job possible. You want to know your market. You want to be able to serve your clients."
Million-dollar listings
Parnes specializes in high end real estate and, along with his partner James Harris, was featured on the hit Bravo TV series Million Dollar Listing Los Angeles. He and Harris also write a newsletter, The Blueprint, where they share their experiences with other real estate agents.
They have completed $3 billion in sales volume since 2017 according to their website.
While they are known globally for their luxury listings, Parnes and Harris moved to Los Angeles from London in early 2009 and started their U.S. career by knocking on doors in Bel Air and the Hollywood Hills.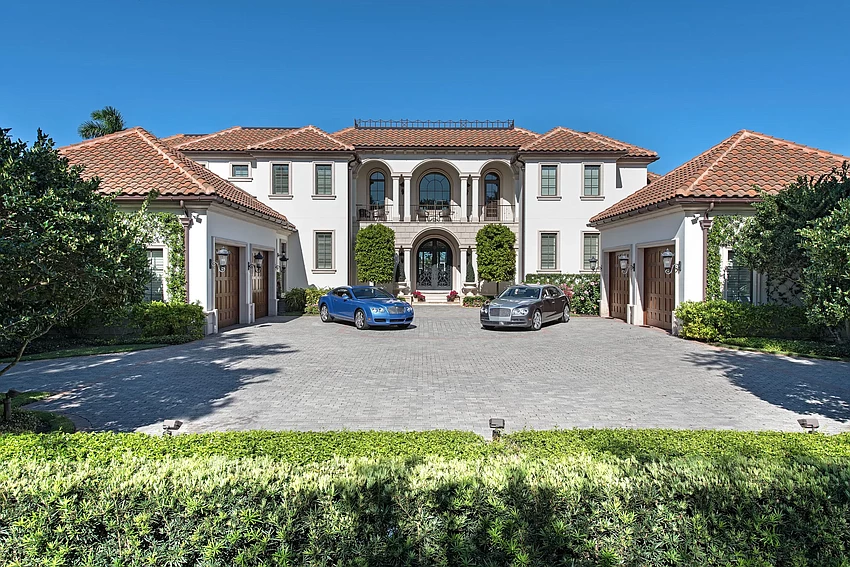 Parnes says they didn't have a track record at the time and couldn't develop one without getting listings. But how could they get listings without the track record?  "It's like chicken and egg, right?"
So, they began selling tear downs to developers because developers didn't care about past performance if a deal made sense. And they also learned that if you did the job well, the developer was likely to give you the listing on the back end.
Over time, they found themselves in a position where they were selling ultra-high end real estate in one of the most sought off markets in the world "because we set ourselves up that way inadvertently."
But the lesson Parnes wants to impart is not about how to land a multimillion-dollar listing. It's one about working hard and being prepared to make a sale, whether that's an $11.5 million Hollywood themed mansion in Davenport or a $300,000 condo in Sarasota.
"The truth is that it's much like any listing, you have to know your market," he says.
"We're not the kind of people that will take a listing and basically not roll up our sleeves and put the work in. A lot of people broker load. They just stick it on the MLS and wait for everyone else to do the work for them. But no, that's not us. That's never been our mentality. We know our market very well. We reach out to buyers directly, we're not afraid to go above and beyond and do the work."