If you've ever driven down Kennedy Boulevard in Tampa it's likely you've seen the Urban Centre.
It's the bronze colored office building on the corner of Westshore Boulevard which, along with Westshore Plaza across the street, acts as a sort of a gateway into the city's financial district and has been a landmark along Kennedy since 1984.
The property is actually two connected buildings and includes the 325-room Marriott Westshore Grand.
Like a lot of buildings built around that time, today it's competing for tenants in an evolving office market dealing with a cultural shift in office life and competing against massive office developments on the east side of downtown and nearby at Midtown Tampa.
But something interesting has happened at the Urban Centre. Despite the changing trends and market conditions — and the predicted crash of the office market during the pandemic — it's managed to keep occupancy at 90%.
A large reason for that is a $3.5 million investment into the building guided by the idea that the Urban Centre could become a recruiting tool for tenants. Rather than a company moving into a suite of offices and adding bells and whistles to lure employees themselves, the entire building would provide the perks on a much larger scale.
"What's changed at Urban Centre is that where we were pre-pandemic, if you could, you had a fitness center to cater to the occupants needs. You had a conference center, you had a coffee shop, you had a tenant lounge, if you will," says Jim Moler, executive vice president at the commercial real estate firm JLL, overseeing business development and leasing in Tampa for the firm. 
"The owners of Urban Centre bought into the concept and said, 'Well, let's just do everything better because we should in order to capitalize on market conditions.'"
Among the capital improvements made is an overhaul of open space to include shaded pergolas, a putting green, garden chess board and, of course, a pingpong table. There's also a separate courtyard for those seeking quiet to read or decompress.
Before the renovation, open spaces were underutilized and wasted. Now it's being used by employees in the building to work, socialize or just have some peace for themselves.
In addition to improving the open spaces, the former conference center was torn down and rebuilt with the latest technology, as was the fitness center. And about a dozen niches were built into common areas, allowing people to have private conversations better held away from others.
"That's the next level of thinking that is taking place right now," Moler says. "How something could be what it was, and it was that way for a reason, but now, based on what we know people are looking for, we can transform it (in such a way) that it's not just space anymore, that there's value and utility to it."
Big scale
These changes are an evolution of sorts from 15 or 20 years ago, when companies believed ping pong tables and rock walls and food options would lure employees, getting them to stay longer and be more productive.
Urban Centre, with its remodel, has taken that whole-building strategy to office life. It's the same way of thinking, but on a macro scale, Moler says.
"People like flexibility. And it's, again, hitting on key things to give the people what they want. Whether it's the hybrid work schedule, whether it is dedicated space in an office or the ability to float in and around the office and go and play ping pong for a little bit, or go sit on beanbag chairs and play PlayStation, or whatever it is. It's giving them reason to come in and be the most productive they can possibly be.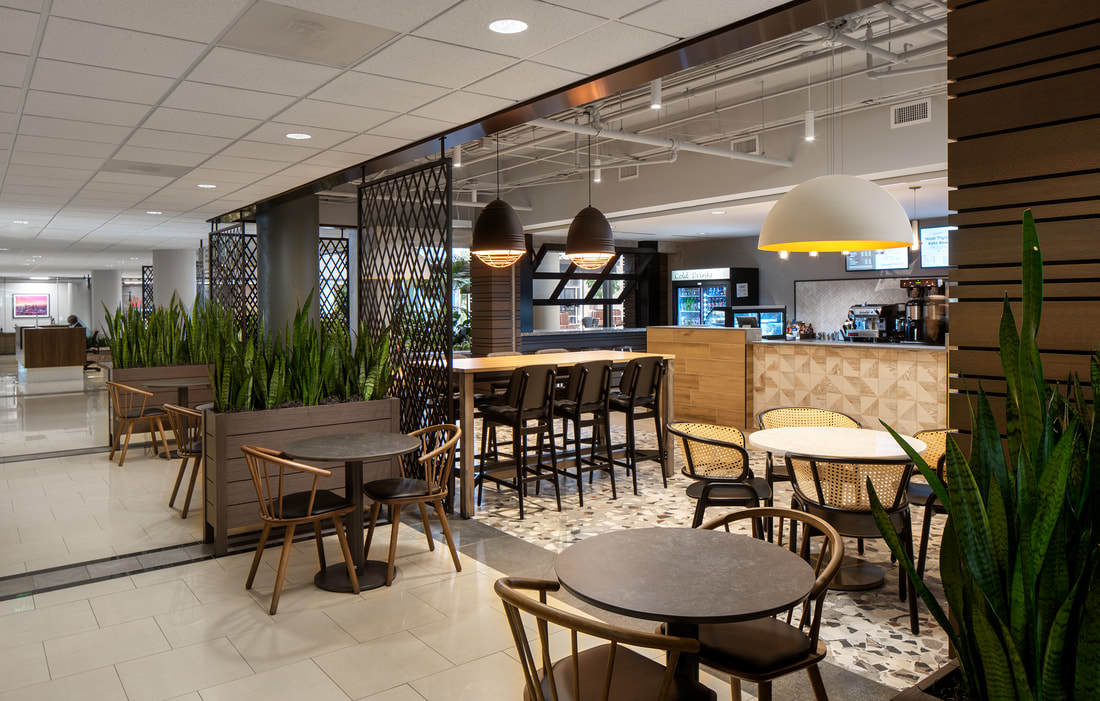 Urban Centre isn't alone.
Across the city, region and country changes are coming to the amenities offered in office buildings. Whether that's building them with green space or walkability in mind or upgrading amenities to give options for workers to go beyond the confines of their cubicles.
Obviously, new construction has an advantage, but some building owners are making multimillion-dollar commitments to improve their properties.
Transformed space
Not far from Urban Centre, New York developer the Sason Organization is spending $4.5 million on the modernization of The Bridge, a Tampa building formerly known as Presidents Plaza II, built in 1985.
The idea is to completely transform the building by creating a space owners say fits today's employees. This means upgrading amenities and technology, bringing in natural materials, light woods and luxury furnishings that are comfortable and welcoming as well as focusing on health and wellness by updating and integrating the fitness center and creating outdoor space.
"What we're doing is, we follow a multi-pillared approach to the repositioning of office to reflect the needs and demands of tenants in this day and age," says Joshua, CEO of the Sason Organization.
This changing approach is also part of a big shift in the tenant landlord relationship. And this is critical, Moler says, as companies continue to struggle with bringing employees back to the office, give up space and are accommodating the shifting needs of workers.
It's not only the pandemic.
That employee who was lured by a climbing wall and beer fridge in the office 20 years ago now has kids so prefers the flexibility of working from home. And the young person who just graduated from college needs the experience only learned by spending days next to mentors and coworkers who have years of institutional knowledge.
Today a company has to balance those dual realities, and several others, as it continues to think about if, when, and how it will work from an office.   
"What worked before is not working now and is not projected to work into the future," Moler says. "So, landlords have become much more tenant-relations friendly and service friendly, and really focused on their customers, as consumers of real estate."