Project: Frantz EyeCare
Location: Fort Myers
Cost: Multimillion-dollar (decline to disclose specific amount.)
Size: 60,000 square feet, two stories
Builder: Stevens Construction
Architect: Southview Studios and Gordon & Associates
Project details
Stevens Construction had already done two previous projects for Frantz EyeCare. So the company was a natural partner when the growing practice wanted to build a new Fort Myers facility to replace a space it had outgrown.
The goal? To give patients a high-end experience and allow staff to be able to work more efficiently and effectively. "The need was absolutely to create the best possible patient facility where we could continue to show that compassionate care but also have the most advanced technology and services available," says Bev Hollingshead, marketing director for Frantz EyeCare.
Visitors enter the 60,000-square-foot site through a porte cochere and walk into a two-story atrium. The ceilings in the lobby and main optical waiting area "are pretty spectacular with their different shapes with acoustical panels tucked up in them so sound doesn't bounce all over," says Jon Zander, the project manager for Stevens Construction. "Spaces that have a lot of hard surfaces get a lot of echoing, so it helps dampen that sound and kind of keep some privacy."
The first floor includes 44 exam rooms, a retail area showcasing hundreds of frames and the Suncoast Surgery Center, which has four operating rooms and four laser suites plus sterilization and recovery areas. On the second story, the Frantz EyeCare corporate headquarters occupies about 15,000 square feet, housing offices, conference rooms, a call center, billing and insurance operations and an employee lounge, and the remaining 10,000 square feet on that level is unfinished and available for lease.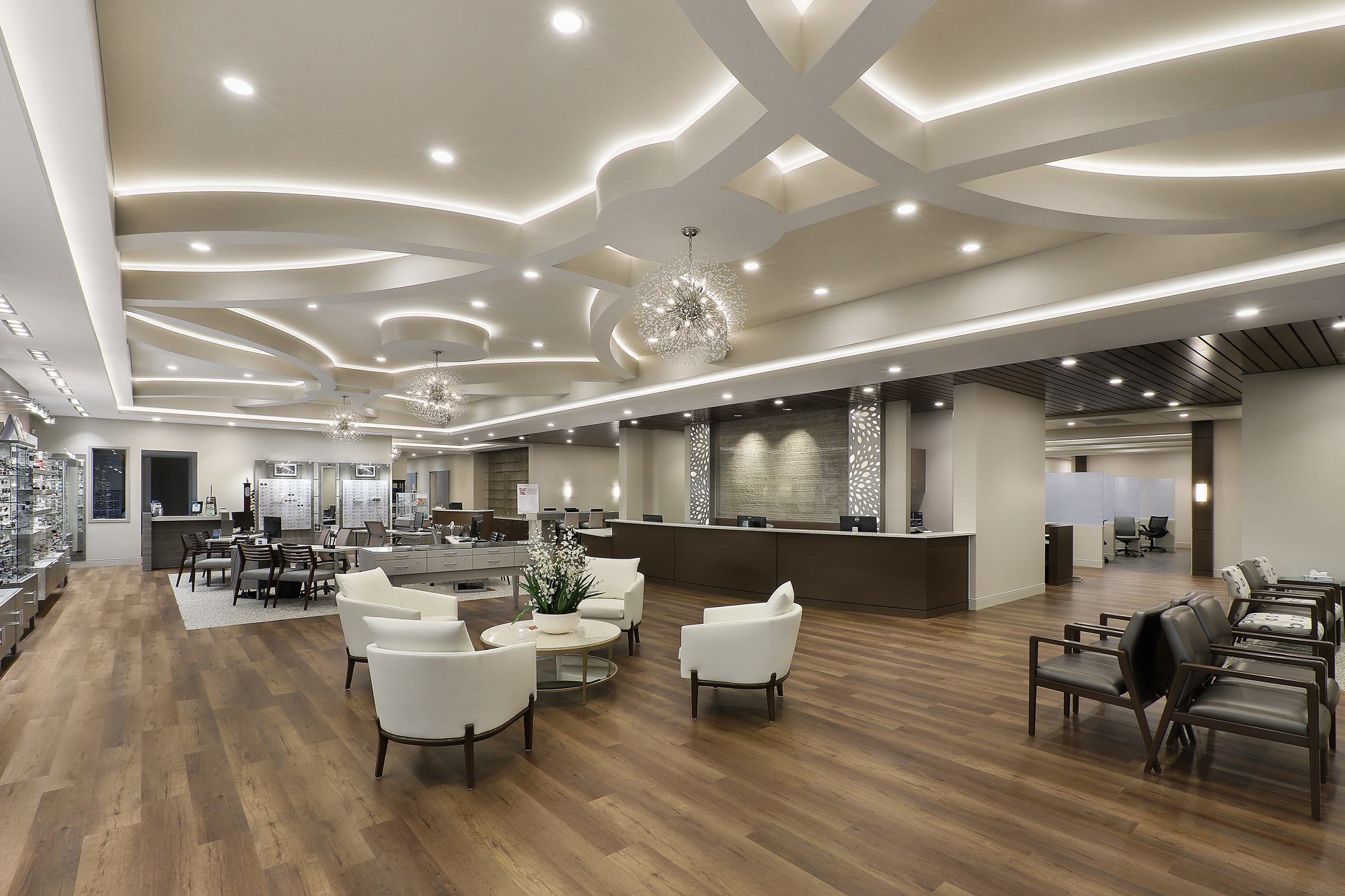 "We installed skylights in the call center and insurance center to bring in some natural light," says Zander. "That's why we're all down here, because we like the sunshine."
The sleek, modern structure enjoys good exposure at Interstate 75 and Alico Road in Fort Myers (and made it through Hurricane Ian unscathed). "It was quite a process over 10 months or so of going through the design and what it would look like and how it was going to function," says Zander. Gordon & Associates handled the architecture plan for the surgery center due to its expertise in the medical space, while architecture and design firm Southview Studios worked on the rest of the facility.
Cool Factor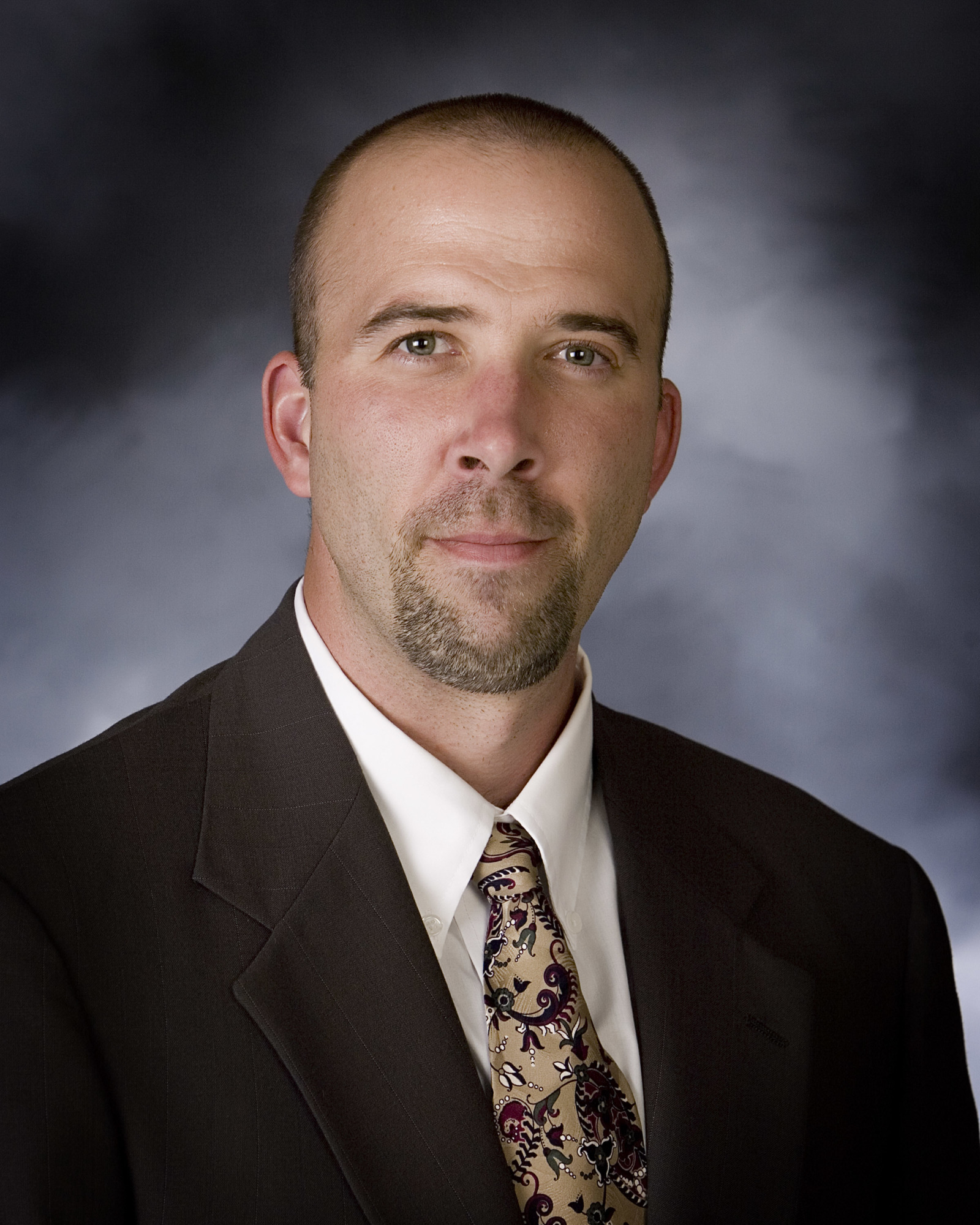 High-end finishes and unique touches can be found throughout the building, like hospital-grade barn doors that close softly and block sound well. In addition to the custom ceilings, design choices like wood flooring, chandeliers and wall paneling make the space feel more special than your typical medical office.
For families who want to keep an eye on their loved one undergoing a procedure, there's a laser vision correction suite that features a full glass-walled viewing area. So folks can watch along as the facility's staff works on patients, who sign a waiver saying they are okay with being observed. "There is a monitor up on the wall where you can actually see the doctors working on the eyes of the patients," says Hollingshead. "It's also a learning experience for the people sitting in the waiting room, It's a good thing to be able to see that this is safe, this is fast, and this is a life-changing procedure."
Challenges
Zander says challenges arose "every day," from the general difficulties of moving the project forward during the pandemic to supply chain challenges. "Our roofing materials were delayed, which caused us to do some out-of-sequence work," says Zander. "We actually put a temporary roof on the surgery center portion to be able to get ahead on a few items. It certainly wasn't as good as a permanent roof, but it allowed us to at least continue with some of the work until the roof did show up."
Pushed-back delivery dates for electrical components also caused some issues. "It made for some uneasy times," says Zander. "With out-of-sequence work you lose momentum. You lose the flow you try to develop where certain trades come in and work in a certain direction and then you start the next trade behind them. It becomes a little more inefficient when you do out-of-sequence work."