Company: Founded in 2009, Homes By Westbay is a rapidly growing residential real estate development company headquartered in Riverview. The firm has been on a tear lately, with gross revenue rising from $347.7 million in 2020 to $391 million in 2021, up 12.45%. Nunn expects sales to top $400 million in 2022.
Best advice: Nunn doesn't hesitate to credit Homes By Westbay founder Roger Gatewood, who sold the company to Nunn, for some of the best advice he's ever received: "Good people work with good people." Nunn adds, "If you have a choice between working with good people on a questionable deal, or working with questionable people on a good deal, take the questionable deal."
Tipping point: Homes By Westbay is not afraid to zig when others zag, and that mindset paid off in 2011, just the company's second year in business, when it sold 63 homes — well over the goal of 36. Nunn attributes that to the company's focus on building higher-end homes, an underserved market segment in the wake of the financial crisis and housing crash of the late 2000s.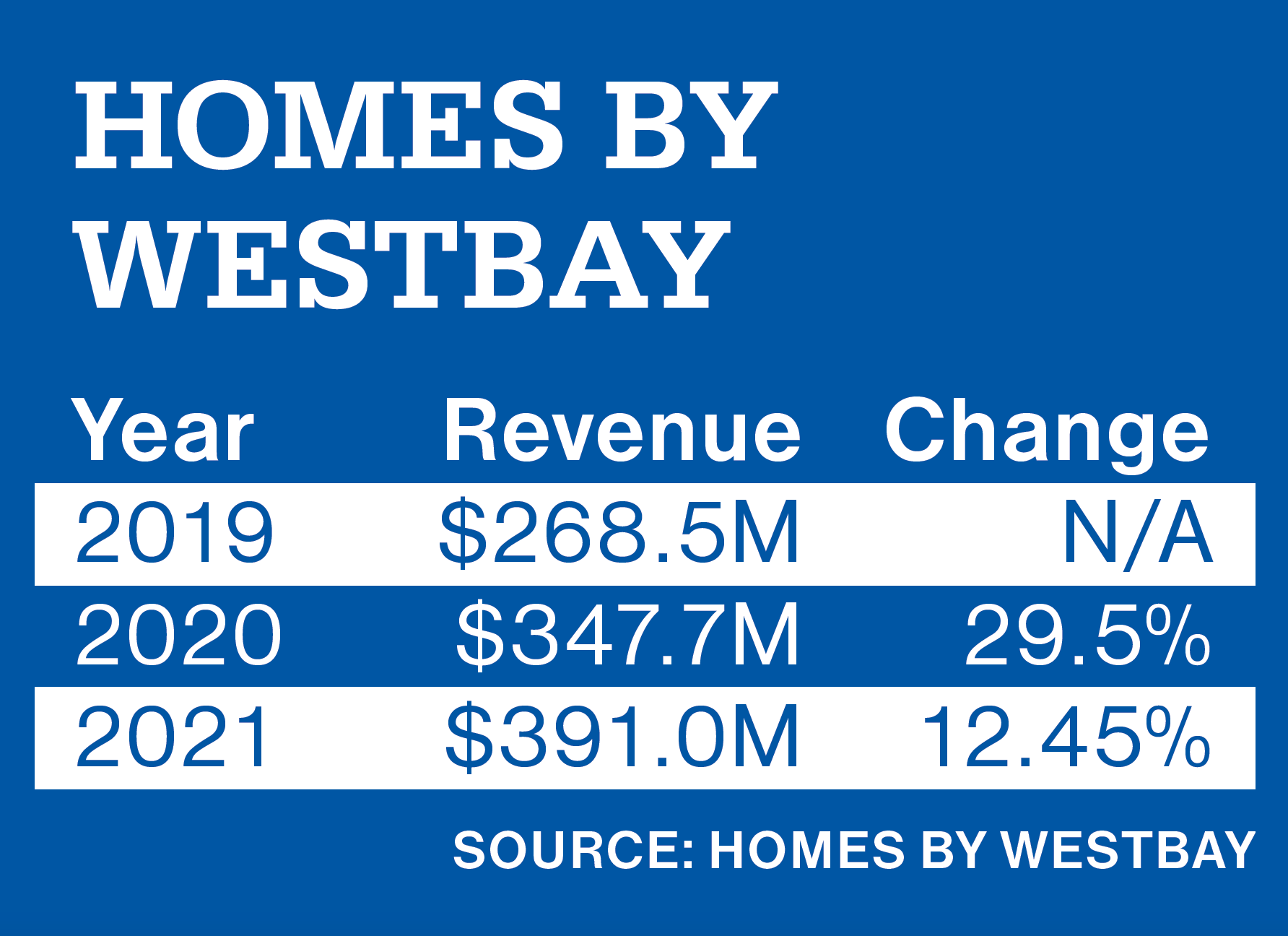 "Our price point was almost double most of our competitors," he says. "That made us the second-largest builder, by revenue, in the Tampa market. From 2009 to '12, we essentially had no competition. That allowed us to make mistakes and hone the operating model. But 2011, that year was really something, because it solidified, to me, that this is actually going to work."
The good times continued to roll in 2012, when the company closed deals for 139 homes.
Biggest mistake: Nunn says he initially erred in trying to home in on what Homes By Westbay's standard features should be, a misjudgment that led to more lessons from the school of hard knocks.
"It took three years of trial and error to figure that out," he says. "But probably the biggest mistake that I made was trying to get into the high-end custom home business. That's a business that's meant for a true custom homebuilder to build 10 to 15 homes per year and have direct involvement in each and every house. We were in that business in 2013 and '14 but exited quickly. We decided that it just wasn't a good business for us."
Up-at-night worry: "I worry about everything all the time, but I sleep well," Nunn says. "But if there was one thing that specifically concerns me, it's the supply chain, and the hoarding behavior throughout the economy. That has been very challenging."
Nunn also frets about the Tampa Bay region's skyrocketing cost of living.
"I'm deeply concerned about the effect of rapidly rising rents on legacy Tampa residents," he says. "I've been talking about some ideas for how to help solve that problem, and I've been delighted by some of the early responses I've gotten from policymakers and other stakeholders."
Best pandemic decision: Nunn's response is simple: Stay the course, don't panic and always look for opportunities. 
"Because of our size and our relationships with our capital partners, we were able to see very quickly that [the pandemic was] going to be very good for housing," he says. "From the middle of March to mid-May 2020, we saw a lot of our larger competitors drop contracts to buy land that was, in some cases, fully permitted and ready to go. And so, we started accumulating land quickly, and at reasonable prices."
Scariest pandemic moment: Seeing Homes By Westbay staff members fall ill with COVID-19 was terrifying for Nunn, whose wife is an ICU nurse at Tampa General Hospital and treated many coronavirus patients, so he was well aware of the disease's effects. "I was deeply concerned every time one of our employees got sick," he says.
Outside work: Nunn has been practicing martial arts for most of his life and regularly trains in traditional karate and Muay Thai, a form of kickboxing that originated in Thailand. He also likes to ski. "Kickboxing is a great workout," Nunn says.