Company: What was once supposed to be a side gig for co-founder Pete Maldonado — meat sticks company Chomps — has quickly became the main hustle. 
Back in college, Maldonado was a personal trainer. The problem he kept running into was how hard it was to keep clients on an elaborate meal plan. Most of them stayed busy and were on the run quite a bit. "That's where the idea came from," he says. 
Chomps was launched with a goal of recreating conventional gas station snacks, but as a health alternative. The meat sticks are made with high-quality, sustainably sourced proteins like grass-fed beef and venison. The company promotes its snacks as free of hormones, antibiotics and added sugars.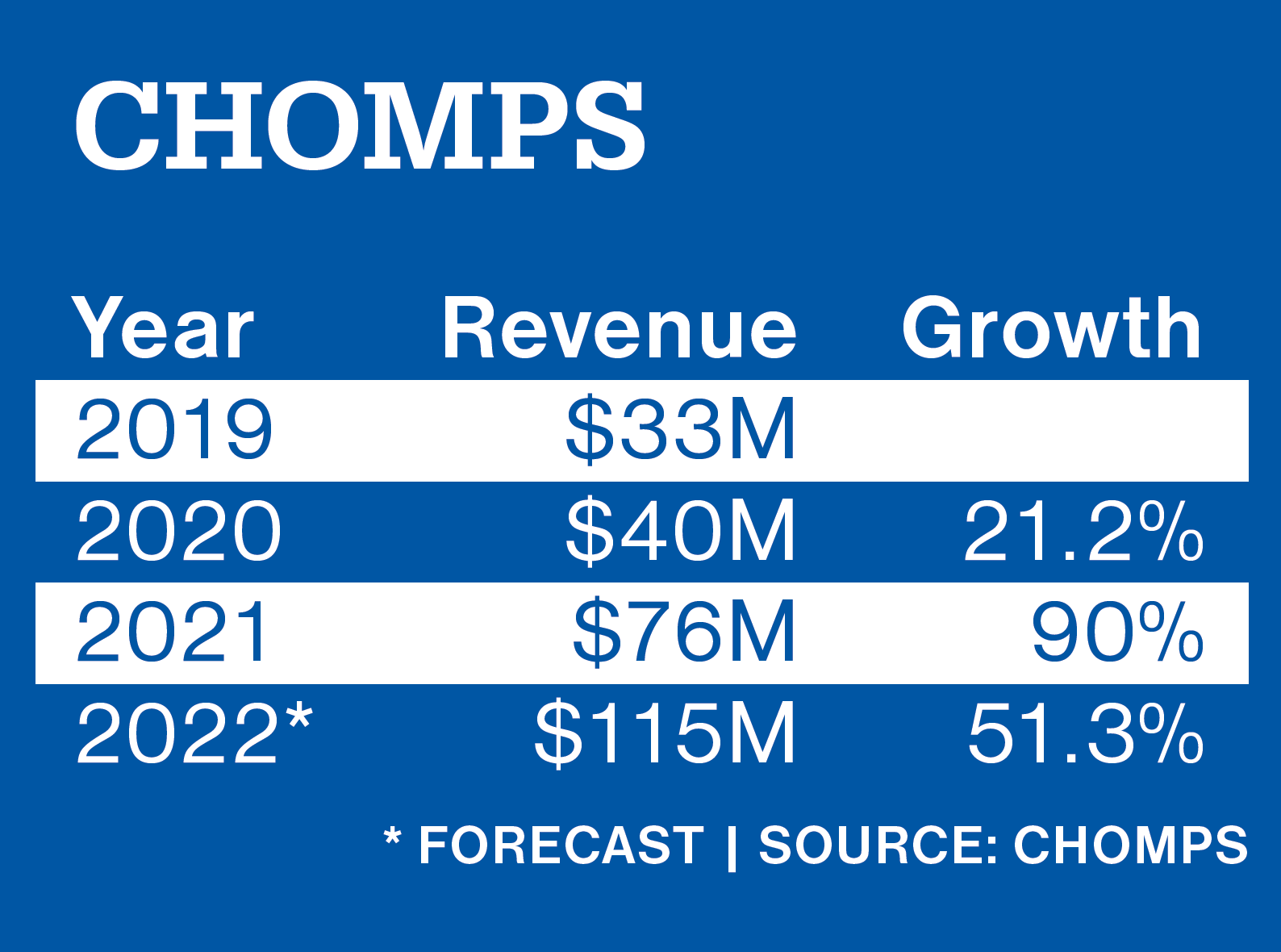 This business idea was put into motion in 2012. Maldonado and his business partner Rashid Ali invested a total of $6,500 into the company to get it going. They created a website, and Maldonado says proof of concept followed shortly after. 
Now the snacks are available in just under 19,000 retail stores throughout the U.S., including Walmart, Whole Foods Market, Trader Joe's and online retailers like Amazon and Thrive Market. Annual revenue is projected to surpass $115 million in 2022. 
Best advice: Maldonado admits he's easily distracted. So when a friend told him to "pick one thing you're really good at and focus on that," Maldonado listened. 
Five years later, Chomps was born. Maldonado says the advice helped him to stop jumping around at different opportunities, and instead to focus on one. "So I used all the skills I've learned to form Chomps," he says.  
Tipping point: The best thing Maldonado and his partner Ali ever did for the company was to bootstrap it, or start and grow the company with little capital and without outside investments. 
The problem when startups rely on investments, Maldonado says, is "they get too comfortable with spending money." 
The need for money that grew from that decision, he says, gave the partners the push they needed to sell more products. "We had no choice," Maldonado says. "It was sink or swim." 
For 10 years, Chomps was a self-sufficient company. Earlier this year, that changed with an $80 million minority investment from Boston-area private equity firm Stride. The investment, a first for the company, came about to help accelerate innovation, brand building and distribution.
The additional help is welcome, Maldonado says, given the team has struggled, at times, to keep up with demand. 
"We've grown so much quicker than anticipated," he says, adding at one point Chomps didn't place a big enough order with a supplier, which led to a big bust in retail: empty shelves. "Our production partners couldn't keep up with demand. We hit a ceiling."
So now, the company is increasing secondary and tertiary manufacturing sources so demand doesn't exceed supply again. "If the customer can't find it, they move on to something else," he says. 
Up-at-night worry: Not having enough product on the shelves is the least of the worries, especially after the last two years. Now, Maldonado stays up at night worried about external factors. 
"You never know what decisions will be made even on a political scale," he says. "We can't anticipate what's going to happen." 
The company has done some things to take away some of the risk. Like setting up an additional or alternative supplier and creating diversification in the revenue stream. For example, Chomps has several channels for picking up sales. Customers can purchase meat sticks from the company's website, other online retailers like Amazon and in-person at places like Walmart. This was especially important during the pandemic, when in-store sales dropped off.
"If you weren't ready for that," he says, "it was really bad for a lot of businesses." 
Best pandemic decision: "Keeping on all of our people," he says without hesitation. 
The company saw a slight pullback in revenue, he says, but for the most part was able to continue selling meat sticks online. And not only did that allow the company to keep the team together, it also expanded the payroll. 
"We actually kept hiring," he says. The company was able to find solid talent thanks to the pandemic, he adds.  
But while layoffs were at the back of the line, that's not to say things didn't get scary. 
At the beginning of the pandemic when toilet paper was a hot commodity, for example, staple foods like Chomps meat sticks were also flying off shelves. With the surge in customers, one of Chomps' retail clients sent out a purchase order for the company to start producing more to sell. Maldonado declined to provide the name for legal reasons, adding the client is still one of Chomps' biggest retail customers to this day. 
Shortly after production picked up, the client pulled the purchase orders. And Chomps was left "scrambling," with all the extra product. 
Almost overnight, the business had to reassess how it was going to sell the extra product and cope with any losses. Maldonado says the company pulled back on its marketing budget and took a look at other areas, noting employees would have been the last to go. "Without our people," he says, "our business doesn't exist."
Outside work: While Maldonado works from home some days, he still can't get enough of his family. 
The proud father, who says there's another "bun in the oven," enjoys days out on the water in the boat with his wife, Stephanie, and two children, Rocklyn, 2, and Maverick, 5. 
Maldonado also has a new side gig. Maverick, named after the character Pete "Maverick" Mitchell played by Tom Cruise in the movie "Top Gun," recently began playing tee ball. Assisting with that, Maldonado says, is "the best thing ever."