In a period of his life filled with rock bottoms, the lowlight for Rich Alvarez might have been the day in 2009 he asked his roommate to help him commit suicide.
A police and corrections officer later convicted of several crimes, including felony mortgage fraud, Alvarez and his roommate holed up in their Ohio apartment. He'd been self-medicating, he says, and suffered from PTSD from more than a decade as a member of the Lakewood, Ohio Police Department, outside Cleveland. His wife left him, and his kids "didn't want anything to do with me. My life had gone off the rails," he says.
But the gunshot he hoped would end his pain only pierced Alvarez's face and jaw.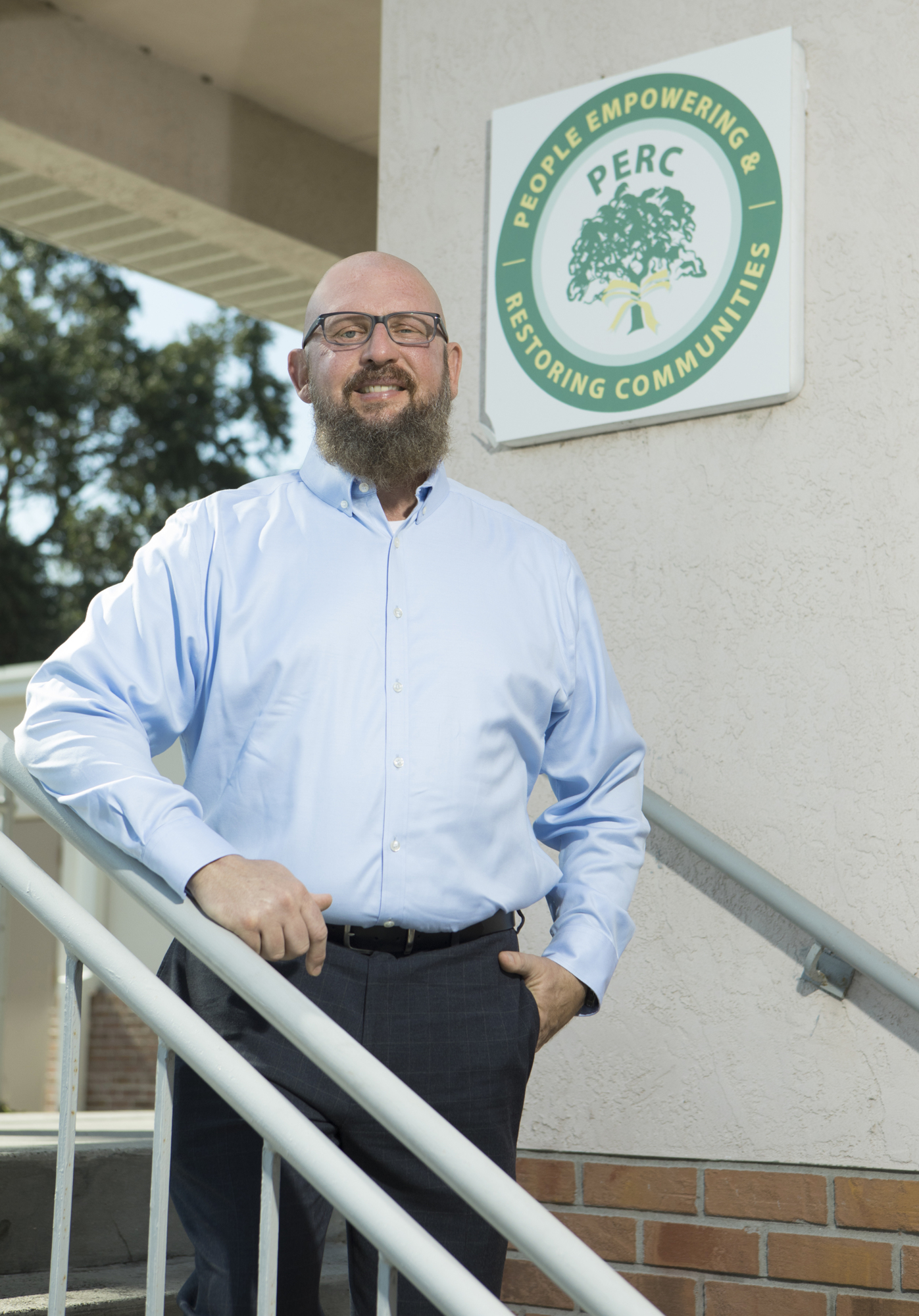 Although doctors predicted he wouldn't be able to swallow or see out of his right eye, Alvarez healed. He began to turn his life around, embarking on a winding entrepreneurial journey that led him to St. Petersburg in 2016. He's since dedicated his life to an unsung but essential cause: helping people coming out of prison connect with employers to obtain well-meaning and, to the extent possible, well-paying jobs. In short, Alvarez, is a life re-entry evangelist.
For Alvarez and the handful of others across the region connecting people desperate for a second chance with employers desperate for able-bodied workers, the timing is spot-on. The labor market remains generationally bonkers: Employers nationwide posted 11.4 million jobs in April, or two openings for every unemployed person. As a remedy, more employers than ever are hiring so-called second-chance employees, say several business and community leaders.
Now with People Empowering Restoring Communities, a nonprofit also known as the Pinellas Ex-offender Re-entry Coalition, Alvarez personifies the confounding second-chance employee dynamic: a ready-made workforce often overlooked because of that box on job applications and in online sorting algorithms: Have you been convicted of a felony?
The irony, as numerous studies point out, is without employment, recidivism rates are high, which impacts society in myriad ways.
"I experienced what these people go through when you have a felony on your background. I never really thought about it as a cop or even as a corrections officer, what (ex-convicts) have to go through to find work," says Alvarez, who served probation in Ohio for his felony mortgage fraud conviction. "But if the goal is to get people to be productive, rehabilitated and tax-paying citizens again, why do we set up all these obstacles in their way?"
At least on the West Coast of Florida, those obstacles might be shrinking, based on anecdotal evidence and more than a dozen interviews with employers and second-chance employees. And opportunities abound on a national scale to take down more.
For example, about 70 million Americans, or roughly one-third of working-age adults, have a criminal record, according to a Society of Human Resource Management report. Jarringly, U.S. prisons and jails release nearly 700,000 men and women into society every year. That's 250,000 more than the population of Florida's second-largest city, Miami. Just as jarring: Prior to COVID-19, the unemployment rate for the formerly incarcerated is 27% — higher, SHRM reports, than the unemployment rate during the Great Depression.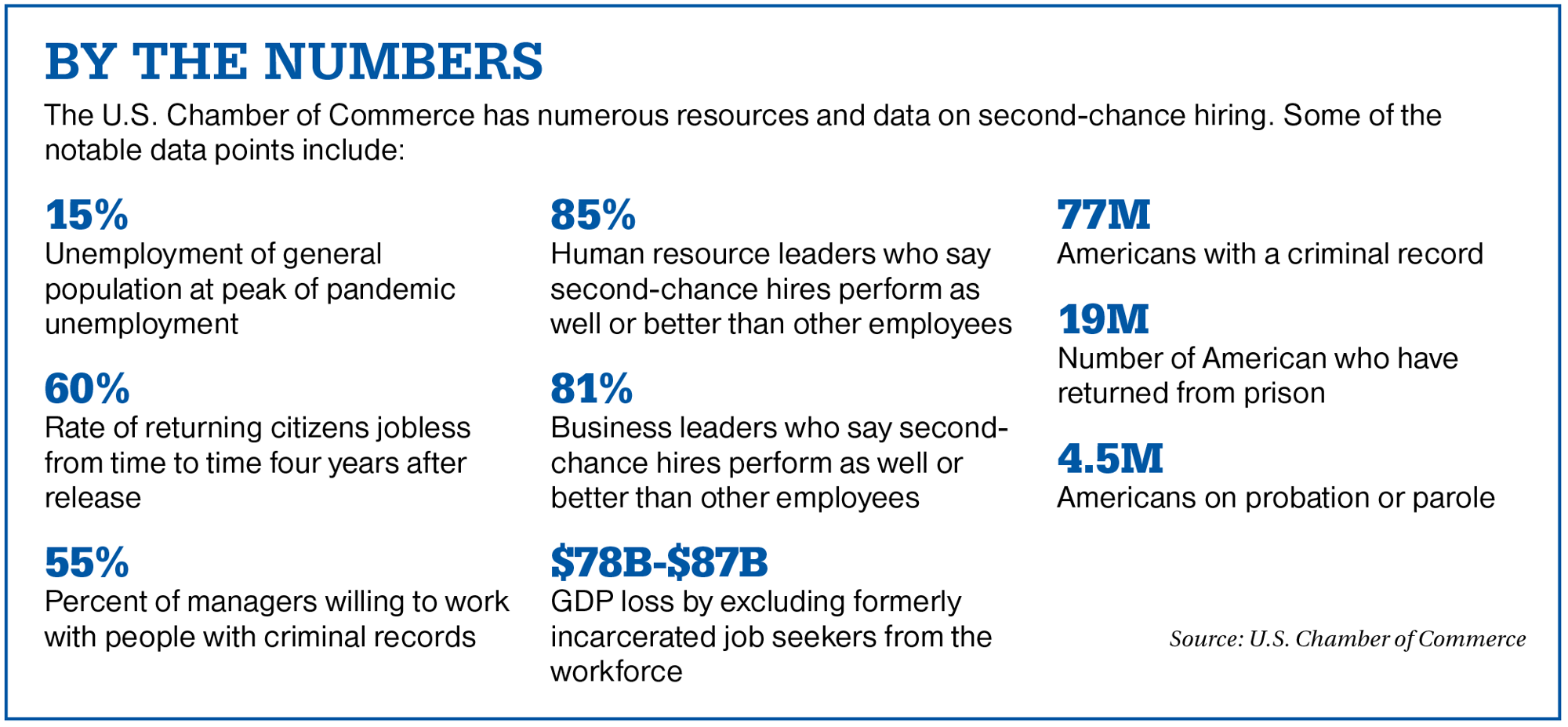 "I'm hoping with this labor shift, employers will shift back to second-chance employees," says Minor, whose nonprofit works with homeless families, adults ages 16 to 24 and adults with a history of incarceration and substance abuse. "There's no good reason for employers to not open the doors. If they don't, there's a big pool of applicants they are missing out on."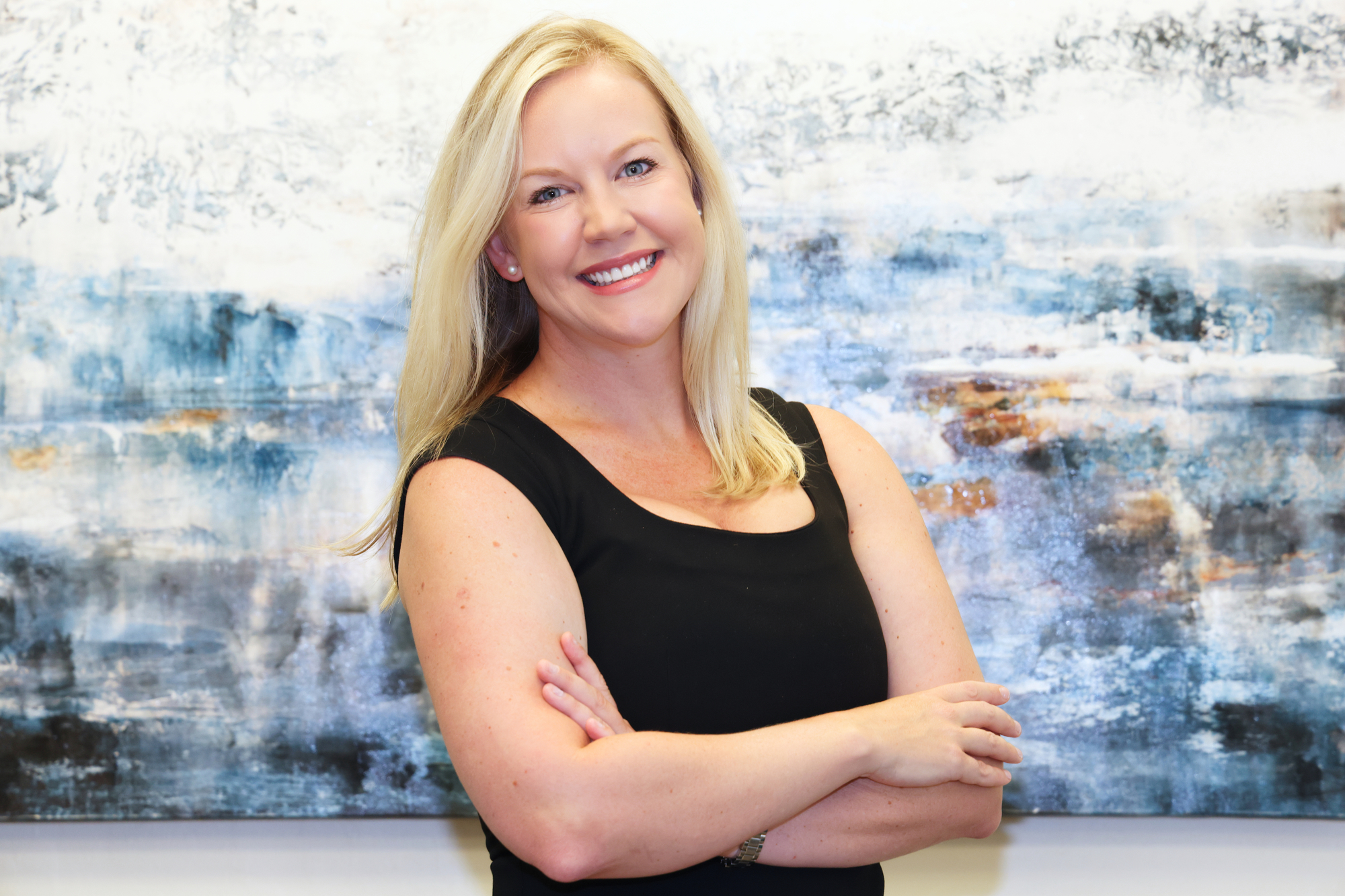 Megan Rose, CEO of Naples-based nonprofit Better Together, which hosts second-chance job fairs in 26 states, sees the same dynamic. Better Together, with a mission to keep families together and children out of foster care, has helped 38,000 jobseekers find work since Rose founded the organization in 2016. "Second-chance employees are an underrated hiring opportunity right now," says Rose, a Business Observer 40 under 40 winner in 2021. "As a society, we need to give people the opportunity to move forward."
Keep going
Rion Schofield, who served six-and-a-half years in prison for second-degree attempted murder, according to a Florida Department of Corrections database, wants to move forward.
Standing by a row of computers at a CareerSource Pinellas County second-chance job fair in late May, Schofield, 31, says the charges stemmed from nearly two decades caught up in drugs and gangs. He also served a year for stolen property charges in 2010. A St. Pete native, Schofield says he had a good childhood but "got into the wrong crowd" when he was 12 or 13 and started doing and dealing drugs.
Schofield, released from prison May 1, has been working with people like Alvarez to find work and in late May he had something lined up with Florida Dream Center, a faith-based nonprofit in St. Pete. Part of Schofield's new job includes helping FDC clients fill out HUD housing forms. He's never held a steady job, he says, but has hung drywall and worked with concrete. "I want to be a light in the community," he says, "and not a dark hole."
Heather Lafeve was at the same job fair, looking for work some six months after serving time for drug charges. The 39-year-old, who has been in prison three times, says she's been addicted to heroin for 27 years. "I never really had any family," Lafeve says, her black face mask dangling from her chin. "I never had anybody who believed in me."
Lafeve, who wants a culinary career spoke with several employers, filled out applications and is awaiting word on being hired.
Lafeve is an example of the complications inherent in second-chance employment. Without work experience, she has limited options, and her past makes it hard to get a job. "When you've been living a life like this for so long, it's really hard to get out of it," Lafeve says at the job fair.. "I've never had a job. Coming to a place like this is really intimidating for me."
Another second-chancer, Greg Alfieri, is a bit further along in his recovery than Schofield and Lefeve. Alfieri, released from the Sarasota County Jail in March, connected with Project 180, a Sarasota nonprofit that seeks to lower recidivism rates by offering reentering citizens a second chance at life. Project 180 includes a residential component, where Alfieri currently lives.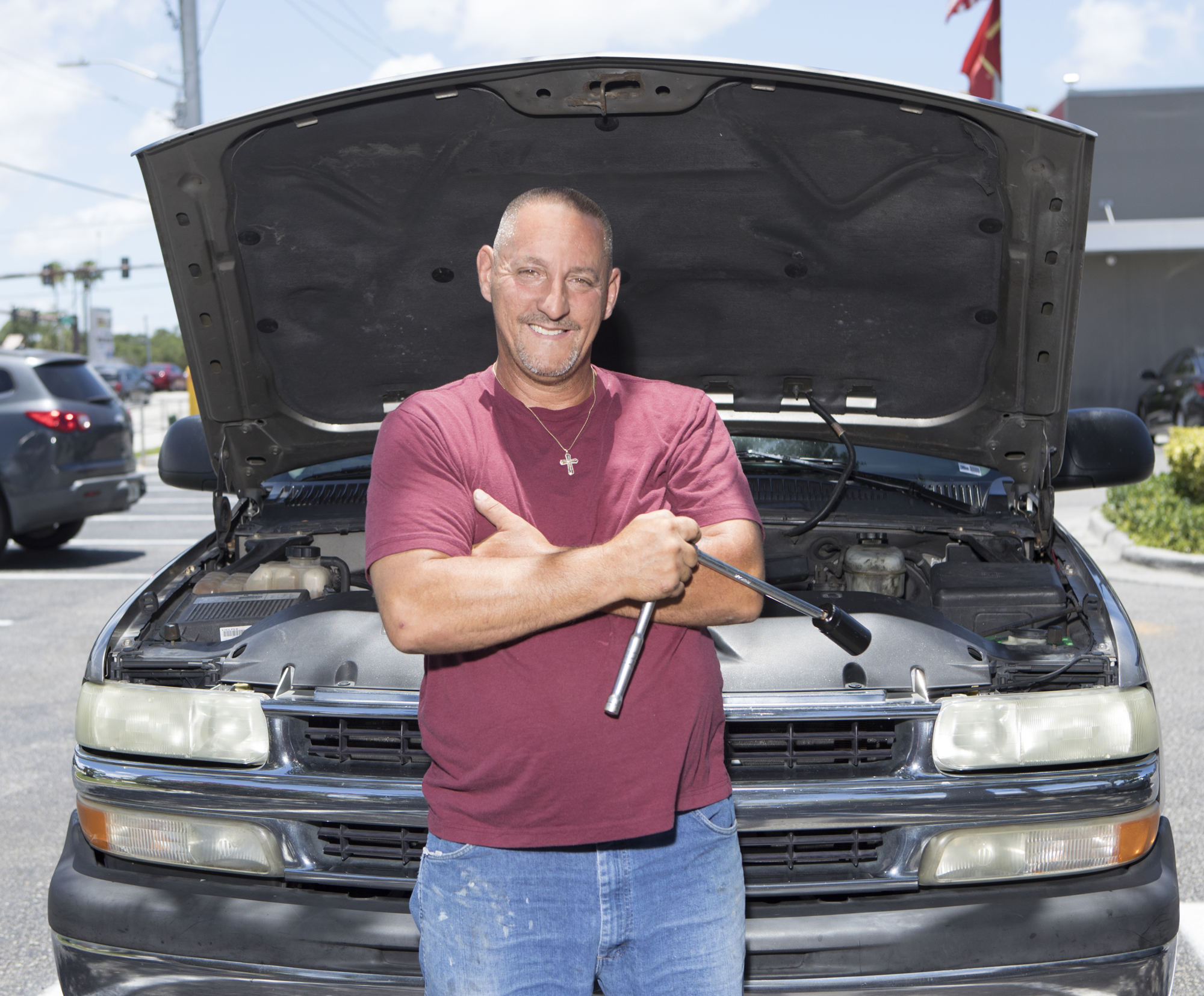 Alfieri's most-recent incarceration was from a probation violation that stemmed from drug-related burglary and stolen property charges. A native of Long Island, New York, Alfieri moved to Florida in 2006 and almost ever since, he says, has been on the wrong side of the law. "I have been in and out of jail for many years," Alfieri says. "I had a real problem with drugs. It robbed me of my family, robbed me of my freedom; it robbed me of my ability to live a productive life."
An auto mechanic who has also framed houses, Alfieri found a job with All Glass & Windows in Sarasota soon after being released from jail. He also does some auto repair work and has a side hustle: He buys old scooters off Facebook marketplace for $100 or $200, fixes them and sells them for sometimes four times as much. A few weeks ago, Alfieri bought his first automobile in years: a 2003 Chevy Tahoe.
Alfieri is grateful for his many second chances, he says. So much so, he knows his turnaround is a daily effort, not a touchdown, spike-the-ball moment. "Things are going really well for me," he says "I'm happy I got certain things back. I'm also working on making amends with family."
'More people'
The other side of stories like Alfieri's comes from employers willing to take a chance on second-chance employees.
One example is Venice-based drinkware firm Tervis. During a recent surge in business, senior company executives, including CEO and President Rogan Donelly and Chief Operating and Financial Officer Hosana Fieber, talked about multiple ideas to quickly expand the payroll. "I wanted to get more creative in getting people, any people, in here willing to work," Fieber says." I needed to get more people in here to get products out the door."
Through programs with Harvest House and others in Sarasota, Tervis has brought on about 10 to 15 people with criminal or questionable histories for operations roles. That's about 5% to 10% of that side of the company's workforce. The employees stack cups, pack boxes and process packages for shipping. "It opened the door for people who really wanted to work and who really needed a job," Fieber says. "They've all done a fantastic job."
Steven Russell, with Creative Architectural Resin Products in Fort Myers, attended his first second-chance job fair last November, hosted by Naples-based Better Together. He was nearing a crisis point in finding good people at his five-employee firm that manufactures and installs architectural decorative trims and accents. Russell met several candidates and told them the same thing: "I'm not going to judge you on what you did, but what you do moving forward."
Russell hired several employees from the job fair. One left soon after due to transportation issues — a big obstacle in second-chance employment — while two remain. One is now the production manager, who became an in-house expert on a complicated piece of machinery and has earned raises of 25%. "He's become like the Jedi knight of this sophisticated machine," Russell says.
While Tervis and CARP are new to second-chance hiring, others, such as Southeastern Energy Consultants, a telemarketing firm that signs up customers for gas and electric services, have been doing it for years.
Amelia Craig, director of administration at Southeastern, which has about 120 employees between offices in Pinellas Park and Holiday, Pasco County, says about 70% of its employees have criminal records. That includes two general managers who started with the company from a prison-work release program. Craig says the owners, who founded the business in 2009, have long believed "you judge people based on what they can do, not on past mistakes."
Like many second-chance employers, Craig says second-chance employees, as a group, outperform any other cohort. "They get turned away from so many others that they do really well when they get treated like humans," Craig says. "A tarnished background doesn't impact their abilities."
Minor, with Harvest House, realizes employers are taking a chance, sometimes a really big one, on hiring second-chance employees. But she says the payoff on both sides far outweighs the risks. "When an employer will sit down and say, 'Yes, you have a past, you made a mistake, but I'm willing to give you a chance, I see the potential in you,' that really gives somebody the confidence they can do it."
(This story was updated to reflect Hosana Fieber's correct title.)