David and Jerri Hoffmann have only been in Southwest Florida since 2015, but the entrepreneurial and philanthropic couple has made an impact that goes much deeper than six years.
Under the entities Osprey Capital and Hoffmann Family of Cos., the couple has 35 businesses in Southwest Florida, with some 2,000 employees. The list includes Hertz Arena, Naples Princess Cruises and The Old Collier Golf Club. This is in addition to having business interests in more than 240 locations across 21 countries. And, for good measure, the Hoffmanns are commercial landlords, with significant property holdings in Avon, Colorado; Winnetka, Illinois; and Naples. In Naples, the affable couple has donated over $1 million dollars in art and sculptures, among other charitable works.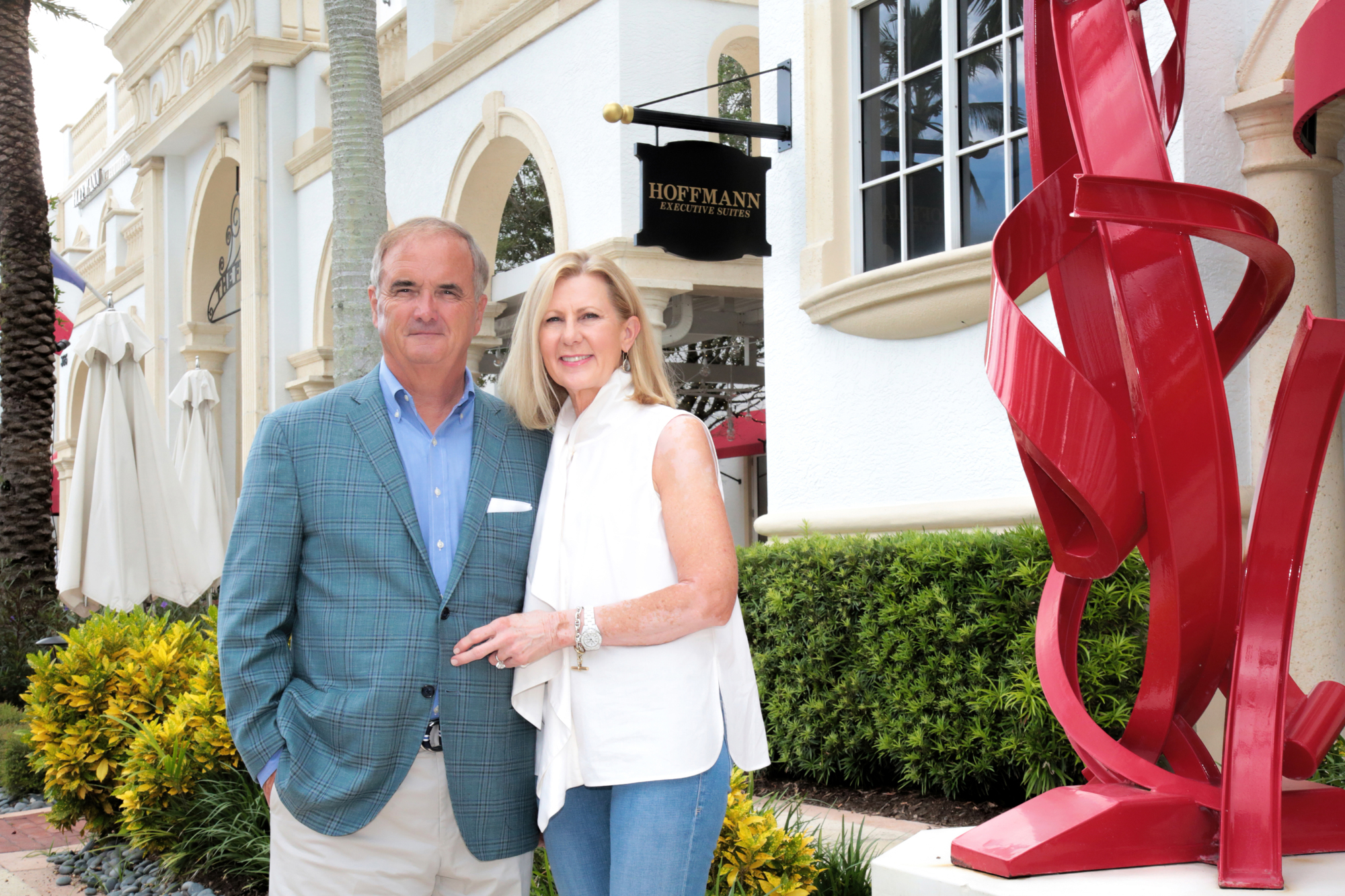 The Hoffmanns were the kickoff speakers at the 2022 NextGen Speaker Series in Naples, held Jan. 21 at the Grey Oaks Country Club. The founding sponsor of the series is Benson Blackburn, a boutique financial services firm founded in 1976. Michael Benson, the firm's chairman and CEO, interviewed the Hoffmanns in a fireside chat style session. Some of the key takeaways include:
• David and Jerri met while in high school in Augusta, Missouri, a small rural town south of St. Louis on the bluffs of the Missouri River; the couple will celebrate 50 years of marriage in 2022. David Hoffmann's dad drove a milk truck, and sometimes the younger Hoffmann joined him for deliveries, getting up at 3:30 a.m. Money was tight in the household: David Hoffmann recalls he didn't have running hot water until he was a sophomore in high school. "My father was a very big mentor to me," Hoffmann says. "He was a very big influence in my life."
• Hoffmann bought a golf course in nearby Washington, Missouri when he was 25 — and money was still tight: he paid $290,000 for the course, from a $310,000 loan.
• He sold his first big-time business success, an executive search firm, and then rebought it when the new corporate owners mishandled it. One lesson learned was the value of having a good team around him. "The assets went up and down the elevator every day night," he says.
• On hiring top people, Hoffmann says "we look for a really good citizens, not just people who can make a buck."
• Hoffmann says his commercial real estate strategy is to buy enough in a market to have a dominant holding position. "We feel like if you have the right ZIP Code, and fix it up right, the tenants and the rest will follow," he says.
'He has a ton of energy. He will just not stop dreaming big.' Jerri Hoffmann 
• While doing due diligence is one of Hoffmann's biggest business lessons learned, the couple also takes something of a nothing-to-lose approach, given their humble beginnings. "We came from nothing and we were very happy when we had nothing," Jerri Hoffmann says. Adds David: "I'm not any happier today than I was back then, so it's not about the money."
• When the company first started buying businesses, the Hoffmans had to search for targets, going to their bankers and attorneys. Now that's reversed. Hoffmann says he hears from some 20 companies a week. The Hoffmann Family of Cos. buys, on average, a business and a building every month. "We have unbelievable deal flow, he says. "There are a lot of people who want to monetize their life's work and we are in a position to help make that happen. There are a lot of opportunities for us."
• On assessing possible acquisitions, the Hoffmans look for companies with Earnings Before Interest, Taxes, Depreciation and Amortization (EBITDA) of $2 million to $12 million. And they mostly seek demonstrated success, not startups. "Jerri coined the phrase 'we take something that's really good and try and make it a little bit better,'" Hoffmann says.
• Hoffmann says the biggest lesson he's learned in business is "to have empathy, empower people on your team and trust their judgment. And encourage them when they make wrong decisions, because everyone will make mistakes."
• Hoffmann says, just like when he was 15, he still gets up early with boundless energy, adding, "I don't require much sleep." Adds Jerri: "He has a ton of energy. He will just not stop dreaming big."
The visionary sponsors for the NextGen Speaker Series include Arthrex; Green Line Benefits; Meristem Family Wealth; Dentons; John R. Wood; PNC Bank; Lurie; Elite Jets; Marsh McLennan; Pure Insurance; and Sunshine Ace Hardware. The media partners are e'Bella and the Business Observer. The academic partner is FGCU.