BARTOW — Tom Wolf Co., a commercial real estate development and management firm based in Winter Haven, has created the first modular, drive-thru-only Jimmy John's restaurant.
Located in Bartow, the steel-frame restaurant is built in the style of a shipping container, and according to a news release, the entire project took just 161 days to complete. Boxman Studios, an architectural and modular manufacturing firm based in Charlotte, North Carolina, constructed the building in its warehouse and then shipped it to Bartow via truck to place on site; it opened for business in late January.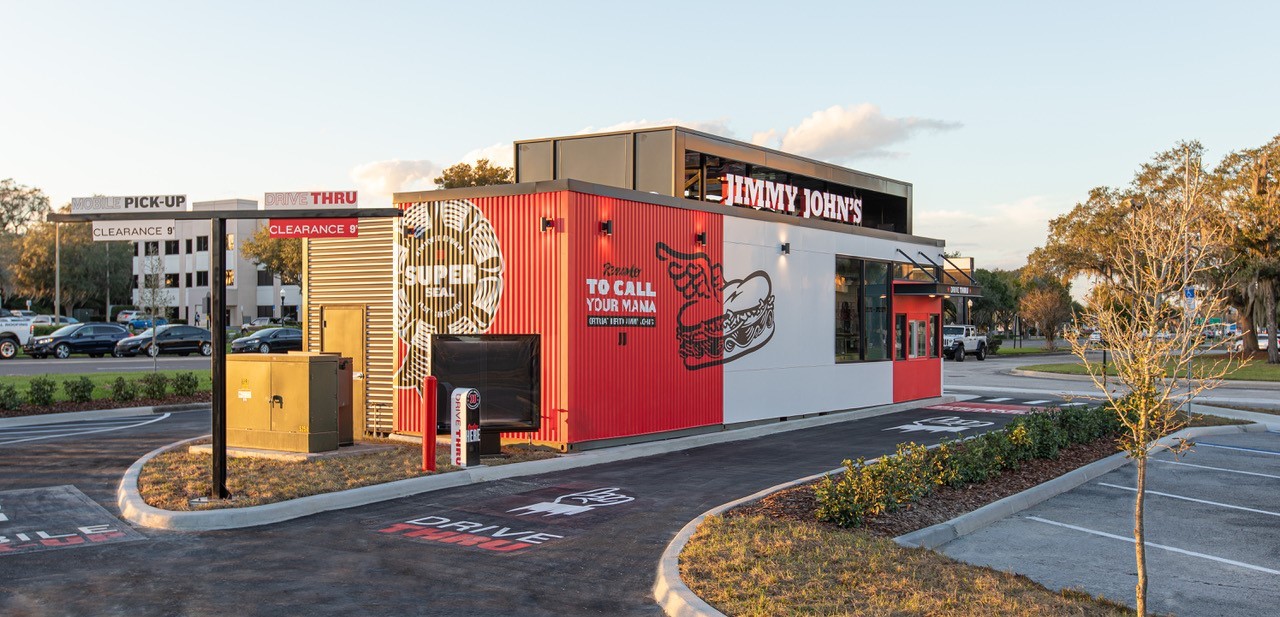 Tom Wolf Co. Owner Jeff Donalson, in the release, says he first pitched the idea in late 2019 to local Jimmy John's franchisees, brothers Doug and Rick Law, who also own two Jimmy John's stores in Lakeland. The idea gained traction in 2020 as the COVID-19 pandemic ravaged ushered in major changes to the restaurant industry, and Inspire Brands, the corporate parent of Jimmy John's, signed off on the design, which features two drive-thru lanes, one of which is dedicated solely to online and mobile order pickups. There are also carryout lockers for customers who prefer a 100% contactless experience.
"Before COVID, I was mainly looking for something that was more efficient to build and faster to develop than a traditional quick-service restaurant," states Donalson, whose firm owns and manages more than 500,000 square feet of commercial real estate in Polk County, in the release. "However, as we went through 2020, the idea of a modular restaurant with minimal customer contact really picked up steam. We now believe this type of store is the future of quick-service retail and restaurants." 
The Bartow Jimmy John's store is also notable because it's one of the first in the nation to feature the restaurant chain's new brand identity elements that were developed by Dayton, Ohio-based ChangeUp.
"Jimmy John's has always been at the forefront of the industry, particularly when it comes to listening to our guests," Inspire Brands Vice President of Design and Architecture Andrew Bello states in the release. "This new drive-thru only model represents our continued commitment to evolve with our guests and serve the best, freshest sandwiches with speed and efficiency."