Disposable, single-use plastic water bottles have been cluttering up the environment for decades. But what if there existed a way to rid the world of these pollutants — and make water taste better, too?
The co-founders of Tampa-based Cirkul think they've hit upon the answer. Founded in 2018, their company specializes in reusable water bottles that feature a unique and innovative flavor cartridge system, allowing the user to tweak the level of, say, mixed berry flavoring in their water. They can turn the dial all the way up for fruity goodness galore, or all the way down for just plain water.
With average use, the cartridges, which retail for $3.75 apiece, can flavor the equivalent of six 20-ounce water bottles. That works out to about 63 cents per bottle, significantly less than what you'd pay at grocery store or convenience mart. And once the cartridges are used up, they're 100% recyclable.
"What we're doing is transforming the way beverages are delivered to customers," says co-founder and CEO Garrett Waggoner, 31. "The notion of single-use bottled beverages is archaic, in our opinion."
The a-ha moment for Waggoner and co-founder Andy Gay, 30, occurred while they were student-athletes at Dartmouth College in the early 2010s. While in the locker room before football practice one day, Waggoner was pouring sports drink powder into a bottle of water but spilled the powder all over the floor.
"I was trying to make the powder go into that small hole but made a big mess," he recalls. "I said to Andy, 'What if we had something we could just pop in and then drink, no mess, no powder, no liquids, no shaking, stirring or any of that stuff?'"
With their Dartmouth degrees in hand — Waggoner graduated in 2013, Gay in '14 — they embarked on what Waggoner calls their "entrepreneurial journey." That voyage has led them to deals with Walmart and Bed, Bath & Beyond that have seen Cirkul products sold in thousands of stores nationwide.
But as consumers increasingly turn away from soda and other sugary drinks and toward sparkling and flavored water, Cirkul faces stiff competition from some of the biggest players in the food and beverage industry who want big pieces of what's become a $13.5 billion pie. How will it maintain a long-term presence on store shelves and not be viewed as a flash-in-the-pan novelty act?
"The major beverage players, they have unlimited capital, people and all those things," Waggoner says. "But the thing we have to rely on is speed of execution, tenacity and work ethic — that's paramount to the culture here and reflected in our success."
From the perspective of retailers and end users who prefer to shop online, Waggoner says, Cirkul offers a huge logistical advantage, reducing shipping weights by as much as 96% and cutting plastic waste by up to 84%.
"We're able to ship very eco-friendly, very efficiently, very quickly," he says. "You typically couldn't ship someone 24 bottled beverages" at the same cost as Cirkul's bottles and cartridges. "It's been awesome to bring these beverages directly to people's doorsteps."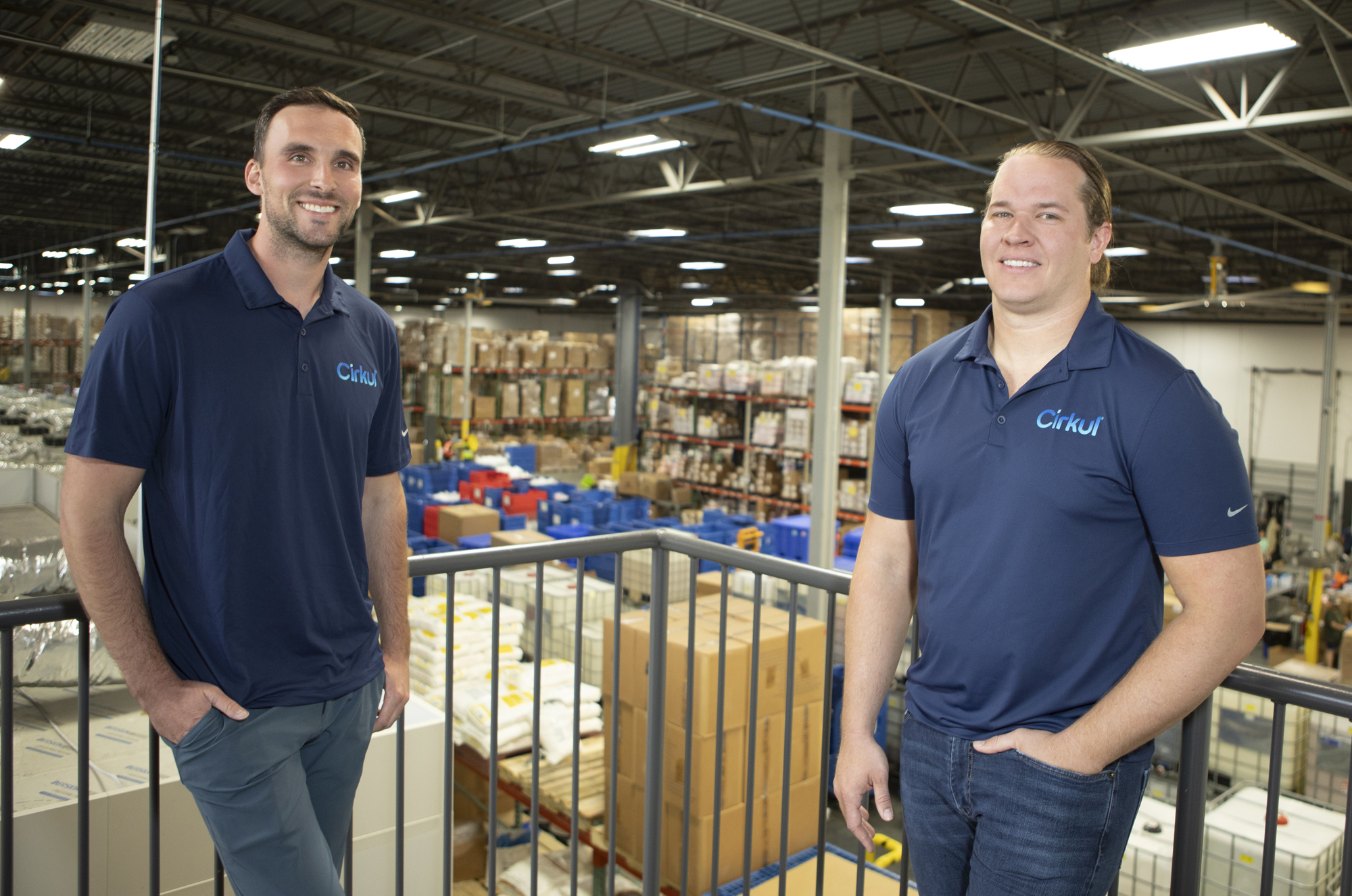 But the product shines brightest in how it embodies key trends that are redefining consumer behavior. "It's more water, less sugar," Waggoner says, "and personalization — the world we're living in, people want things exactly tuned, whether it's their phone screen, their car, their online shopping, they want it tuned exactly to their needs, their personal preferences."
Cirkul's success has not gone unnoticed by investors. The company recently garnered $70 million in a Series C round led by SC Holdings, a New York private equity firm, and its pre-money valuation has reached $1 billion, officially affording it "unicorn" status. It has nearly 600 employees and revenue has grown at a 150% clip, year over year, since 2018 (Waggoner declines to disclose specific revenue figures; he also declined to discuss the company's ownership structure).
"It was an opportunistic fundraise," Waggoner says. "It wasn't something we needed to do. But SC Holdings is a fantastic partner … they broached the conversation with us, and we thought it made a lot of sense, just to make sure we have everything we need to go to market in major way."
Cirkul's latest innovation is what Waggoner calls its flavor lab. "We'll drop a new limited flavor on the third Thursday of each month." The firm's solid financial footing also allows it to manufacture domestically at a space in Tampa. "The cartridges are a 'made in America' product," he says, "which is super exciting."