As his 75th birthday approached this spring, longtime Naples hotelier Phil McCabe faced what he called one of the most difficult decisions of his career: selling the iconic Inn on Fifth in Naples. 
A Vietnam veteran, ex-CIA agent and former Maine businessman, McCabe bought the site where the Inn on Fifth sits for $1 million in the mid-1990s. Back then the site, formerly a bank, was not known for much. A quarter-century later the Inn, based in large part on McCabe's vision — and wallet — is a luxury anchor on Fifth Avenue South, a nationally-known tony retail, dining and office district. 
"As the GM of the hotel for those many years, my days were never boring, my love of the business never failing," McCabe says in an email. "I hate giving up my passion, but regrettably age will not allow me to go on managing the day-to-day operations, a responsibility that is literally seven days a week. A hotel never closes."
The upside to the decision to sell now? McCabe is getting out during a boom time for hospitality property sales, noting the move is "based on a host of other factors besides age, such as the overall market for real estate." In a deal announced April 22 that McCabe says was bidded up over the asking price, Bethesda, Maryland-based national Real Estate Investment Trust Pebblebrook Hotel Trust acquired the Inn on Fifth for $156 million. The sale is expected to close May 11. 
The Inn joins other prominent properties in Naples that have recently been sold: The Naples Grande Beach Resort sold for $248 million earlier this year, and the Naples Beach Hotel & Golf Club sold for $362.3 million last year. Other hotels in the region that have recently been acquired include the Wyndham Grand Clearwater Beach, bought for $170 million; the Postcard Inn on St. Pete Beach, bought for $83 million; and the Hampton Inn & Suites in Bradenton, bought for $26 million.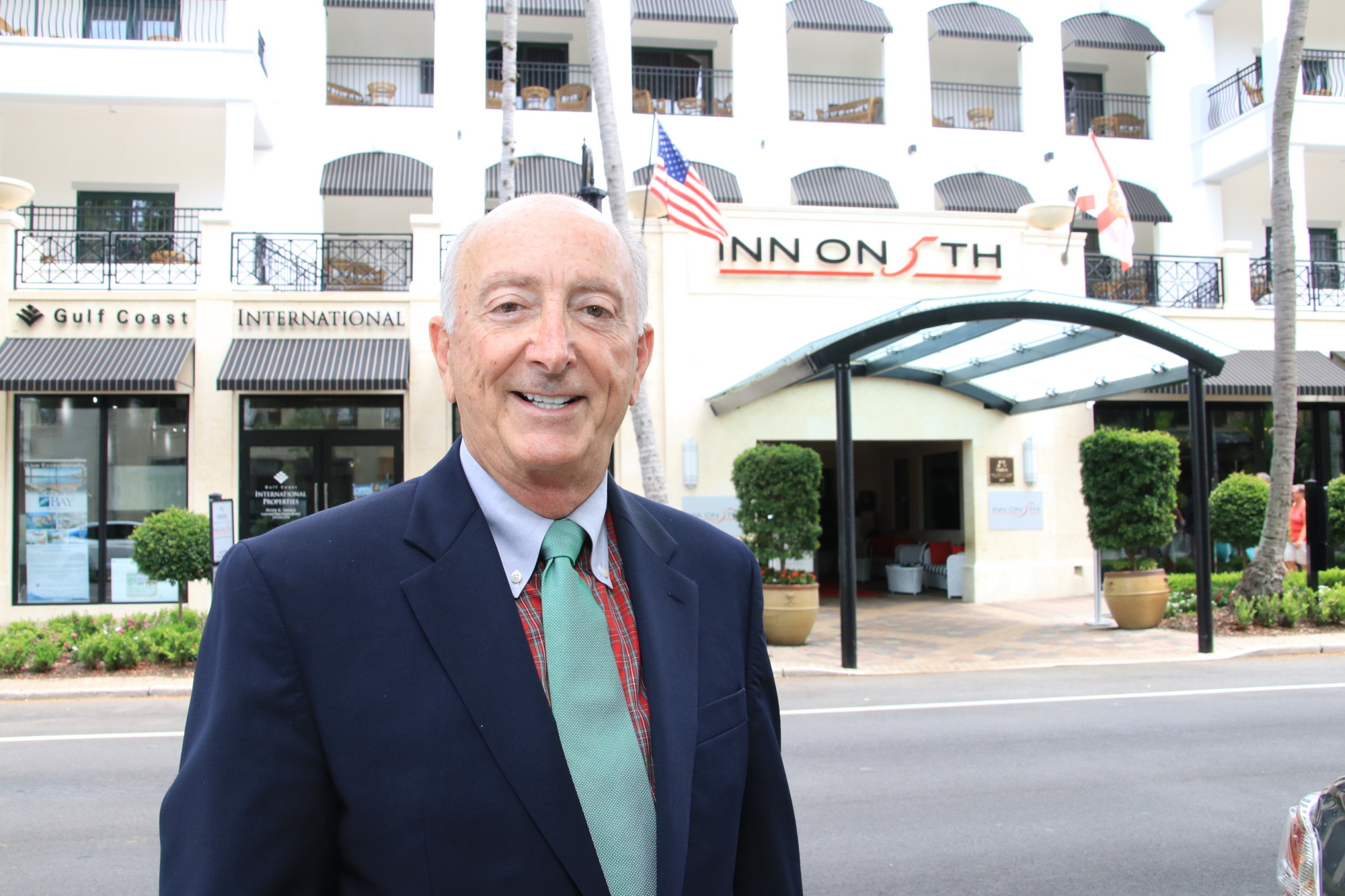 Pebblebrook Chairman, President and CEO Jon Bortz, in a press release announcing the sale, says "The Inn on Fifth exemplifies South Florida's effortless blend of upscale, laid-back luxury and was developed flawlessly and cared for meticulously by the current owner."
Over the years, the Inn has grown in both size and reputation, gaining AAA Four Diamond status in 2013. The prestigious award came after completing a $19.7 million renovation and expansion that brought 32 club level suites to the property. Another $5 million was spent on renovations in 2019. Today, the 199-room hotel is made up of two buildings — the main hotel and the club level. "It has been a wonderful 25 years growing the hotel into a four star, four diamond iconic gem, all with the help of some amazing managers, and staff," McCabe says in the email, sent April 25 in response to general questions from the Business Observer about the sale. 
The main hotel building at the Inn on Fifth has 87 guest rooms and suites, 10,000 square feet of meeting space, a 3,600-square-foot outdoor pool deck, a day spa and a fitness center. The club level building has 32 suites along with a private rooftop and exclusive lounge.
According to a financial disclosure from Pebblebrook, the hotel's revPAR — revenue per available room, a combination of occupancy and average daily rate — for the past 12 months is $431. In comparison, according to Nashville-based hospitality research firm STR, revPAR in the U.S. for the week ending April 16 stood at $91.25
In addition to the hotel, the property also has 21,000 square feet of retail space which is fully occupied by Truluck's Restaurant and Ocean Prime, as well as several retail shops.
Pebblebrook, before the Inn on Fifth joins its portfolio, has 54 hotels and resorts — 13,200 rooms — across 15 markets, including the LaPlaya Beach Resort and Club in Naples, according to its website. It had $733 million in revenue in 2021
Once the transaction is complete, Pebblebrook officials say the Inn on Fifth will be managed by Seattle-based Noble House Hotels & Resorts, which operates 20 hotel properties along with restaurants, marinas and spas.
McCabe, meanwhile, says he will focus on other ventures. The final day, he says in the email, will "be a sad day for me in many respects, but then a life altering, and exciting day in many other respects, to further my career in development of other assets that I own, growing my company together with my two sons, Joseph, and Philip, and to just slow down."