Simon Ladaa walks up each aisle slowly, carefully looking at what's for sale.

So far he's found a fuse box, which sits in the front of his cart. He continues to hunt through the selection of electrical equipment, including light switch covers. There are about a dozen of them. It's not that Ladaa needs a lot right now. He's stocking up because at some point he will. And supplies, these days, aren't always available. Or this cheap.

Also sitting in the cart is an old wood leveler. That may not be the proper term for the contraption, a single metal piece with a blade on the bottom, like an ancient sander. He illustrates how it works by running it up a piece of wood, shaving a slice. It levels the wood, he says. So that's the name he goes with.
He shops here not only for the materials but old pieces, antiques, like the shaver. He's a collector of sorts.
Here is the Habitat for Humanity ReStore on Willis Road in North Fort Myers. And Ladaa is a North Fort Myers handyman whose Wednesday morning shopping trip is just a part of his weekly routine.
He is one of many contractors, subcontractors, handymen and do-it-yourselfers who are increasingly turning to this Re-Store — and many more in the state and across the country — in search of building supplies.
These are the industry people most affected by rising prices and supply chain issues. They, unlike big construction companies and developers, don't have the means to put in massive orders for supplies and are often left scrounging to get what they need to finish projects — and to keep customers happy and get invoices paid.
A thrift store?
The size and scope of building materials for sale at ReStores can be a surprise for the uninitiated. There are doors, windows, cabinets, plumbing supplies, rows of brand-new paint, bathroom fixtures, washers and dryers, tile. The list is exhaustive. 
That is not counting the used furniture and even books.
The items for sale have been donated, sometimes by builders who removed perfectly serviceable items from homes during a remodel or by manufacturers who built too much or developers who ordered too much. In some case, companies give scratch and dent items that buyers refurbish before installing for their customers.
At the North Fort Myers store, a donor who wants to remain anonymous donates vanities. A lot of vanities. In some cases, these are vanities that come with cracked sinks the donor can't sale. At the ReStore, the sink is removed and onto the sales floor it goes.
In all, store manager Brandon Eiland says the store receives two truckloads of supplies each day.
And shortly after they arrive, the shoppers show up.
"I've got a guy by the name of Mr. Wilson who comes here every day at three o'clock. He's here every day," says Eiland, 36. "He's a patient customer and specifically comes in looking whether it's for a project that he's working on or something that he can ship over to Haiti. That's what's his objective. He's one of many."
Building supplies are big business at the Willis Road store. The location did $1.4 million in sales last year and 30% of that came from those products. The store itself is about 30,000 square feet of retail space with about third of it is dedicated to building supplies and materials.
Eiland says that's because his store has gained a reputation as a go-to source in the community. But supply chain issues have helped boost the number of customers. "It's a little bit of both."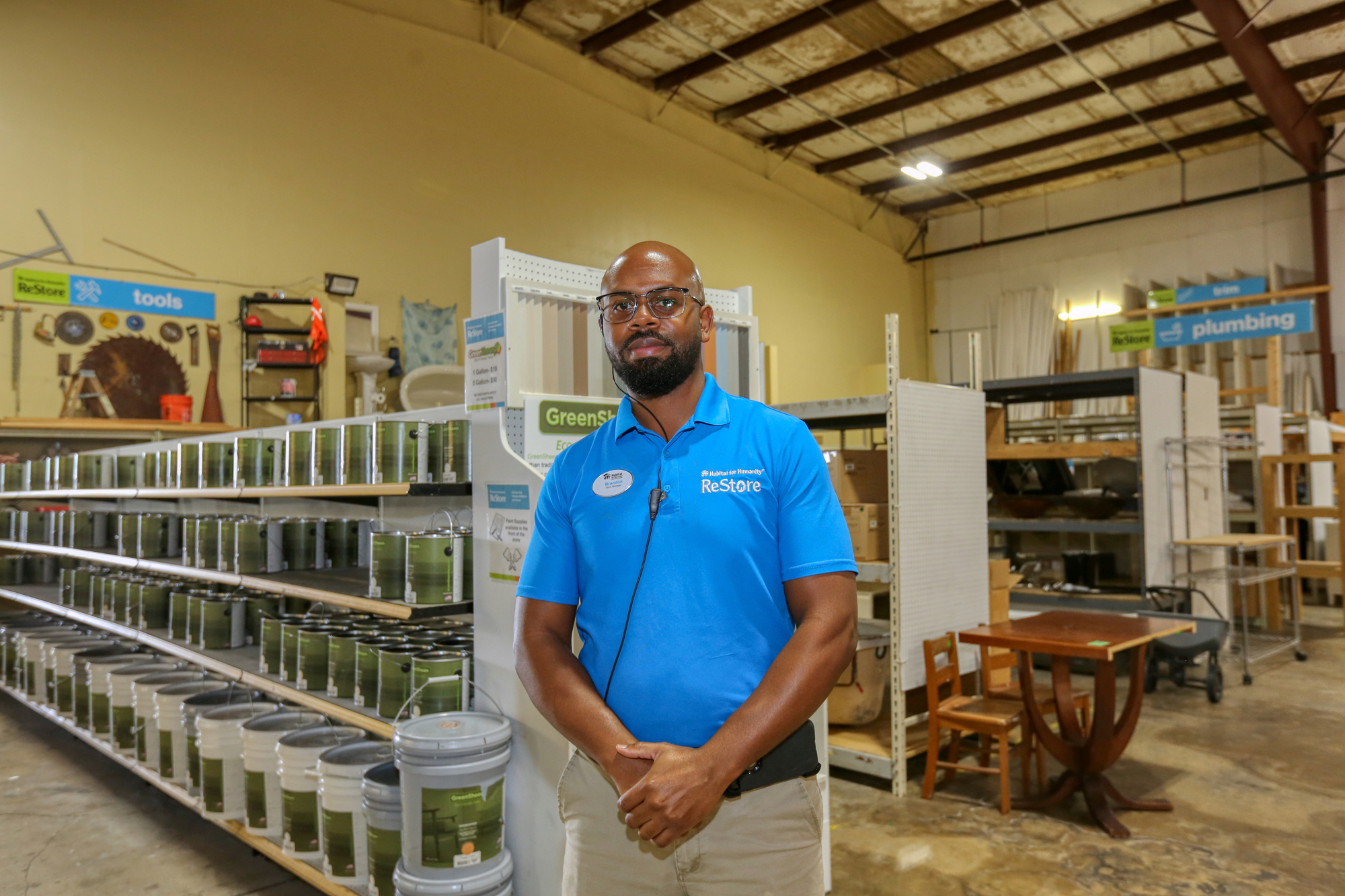 "What we are seeing is more consistency. A lot of it, like I said, are your do-it-yourself customer and also independent contractors," he says.
"And right now, I mean, I wish we had more, because we feel it a little bit too. Some of those big businesses are not over ordering so they don't donate as frequently as they used to. But we still have a decent amount of inventory."
The purpose of the ReStores, though, is not about making sure contractors, subcontractors and handymen have a place to shop while there are shortages everywhere or when they're getting priced out by the big guys. That's a bonus. The true purpose of the stores is to support the mission of Habitat for Humanity.
The mission
Habitat for Humanity's first ReStore opened in 1991 in Winnipeg.
According to a biography of the stores on Habitat's website, the store was started by five volunteers who wanted to make sure new and used home and building materials weren't simply being tossed away. They figured out that by selling those items, they could help fund the construction of homes.
It worked. 
 'A lot of it, like I said, are your do-it-yourself customer and also independent contractors. And right now, I mean, I wish we had more, because we feel it a little bit too.' Brandon Eiland ReStore manager.
Customers began to come "from all over" to find deals on material and in the process raise money.
Today, there are more than 1,000 ReStore locations across six countries. Each, according to the website, "contributing to Habitat's vision of a world where everyone has a decent place to live." Between 2011 and 2021 the ReStores were able to raise over $1 billion.
Locally, each store is operated independently by local, regional affiliates of Habitat for Humanity, each set up to accept donations, prepare items for the sales floor and to provide money for the construction of homes.
Each local organization has its ties with local business to source donations. And even with relationships, sometimes affiliates just get lucky. CBS Sports donated all the lumber it used to build risers and stages for its Super Bowl LV programing in 2021 to Hillsborough County's ReStores.
The four ReStores in Lee and Hendry counties, including the store in North Fort Myers, are among the top in revenue generation in the state with $3.9 million in Fiscal 2021. The stores, the first of which opened in 1993, generated nearly 20% of the revenue for Habitat for Humanity of Lee and Hendry counties last year.
That was enough money to fully pay for nine of the 55 homes built by the affiliate last year. The goal is to build 60 by the end of this fiscal year in June, though it's not yet known how many of those will be funded by the ReStores.
For Eiland, who began working for Habitat for Humanity in 2015 and took over as manager of the Willis Road store in 2019, as much as he likes the work, likes the customers, likes being the manager of a big retail operation, it's what the revenue the store generates that matters most.
"And that's why, in part, I'm here," he says. "You know, it impacts the community in so many different ways. Our vision is a world where everyone has a decent place to live. So, we are trying to create a path where everyone has that opportunity."
While, obviously, not everyone can get help for a new home Habitat offers financial counseling to help find ways to afford homes.  
"That's what all the revenue does," Eiland say. "It helps to support that vision."
The shopper
As Ladda shops on this particular Wednesday morning, he's looking to stock up on items he'll need to run his business.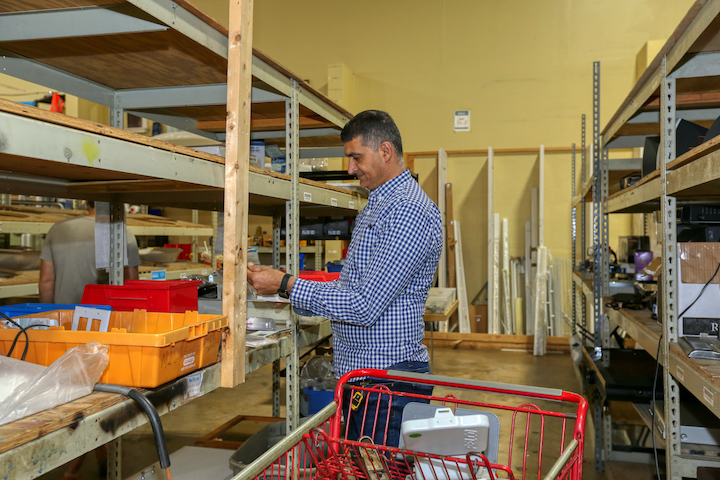 Part of the trip is to try to anticipate what his customers will need, finding the most common things that they may request. He's also looking for his own supplies—  electronic equipment, nails and screws, those types of thing. These days, and with these prices, the more you have the better off you are, he says.
Ladda says the biggest surprise he's found on his weekly shopping trip to the ReStore is the prices. Not too long ago he found a roll of screen that would normally cost him $70 to $80 for $5.
"It's not just the supply chain. It's a treasure hunt. It's a guessing game," Ladda says. "You go to Home Depot you know what you want, OK. Here you go and then it's 'Oh, this is nice for this much price. I'll take it.'"