Breakfast-brunch-lunch concept First Watch is hungry for a piece of the sizzling hot IPO market.
The company, founded in 1983 and based in east Manatee County, aims to raise at least $100 million with an initial public offering, according to public filings. The IPO, for which the proceeds will be used to repay some $294 million in debt, could happen in the next month or so. The stock will be traded on the Nasdaq exchange under the symbol FWRG, for First Watch Restaurant Group. Boston-based private equity firm Advent International is the company's majority owner.
A First Watch IPO would come during a frenzied period for new public offerings. Through Sept. 10, 279 IPOs were filed in 2021, raising some $96 billion, according to Greenwich, Connecticut investment bank Renaissance Capital, which tracks IPOs. It expects another 100 so IPOs by the end of 2020, which would be the most since there were 397 IPOs in 2000, before the dot-com bubble burst. The current IPO surge includes other restaurant firms, too. Oregon-based drive-thru coffee chain Dutch Bros. expects to raise $400 million with an IPO in September, for example, and donut chain Krispy Kreme raised $500 million with a July offering.
A First Watch IPO would also be a major milestone for the Sarasota-Manatee business community. It's been 15 years since a large homegrown company in the region went public. Venice-based premium window and door manufacturer PGT Innovations went public in June 2006, while Sarasota-based Helios Technologies, then Sun Hydraulics, went public in 1997. The largest publicly traded company in the region, Lakewood Ranch-based Roper Technologies, was founded in 1981 and moved to town in 2007 —well after it surpassed the billion-dollar sales mark.
First Watch moved into a glistening new headquarters over the summer, a 39,000-square-foot two-story complex at 8725 Pendery Place in University Park. (The street is named for the company's chairman emeritus and former CEO, Kenneth Pendery.)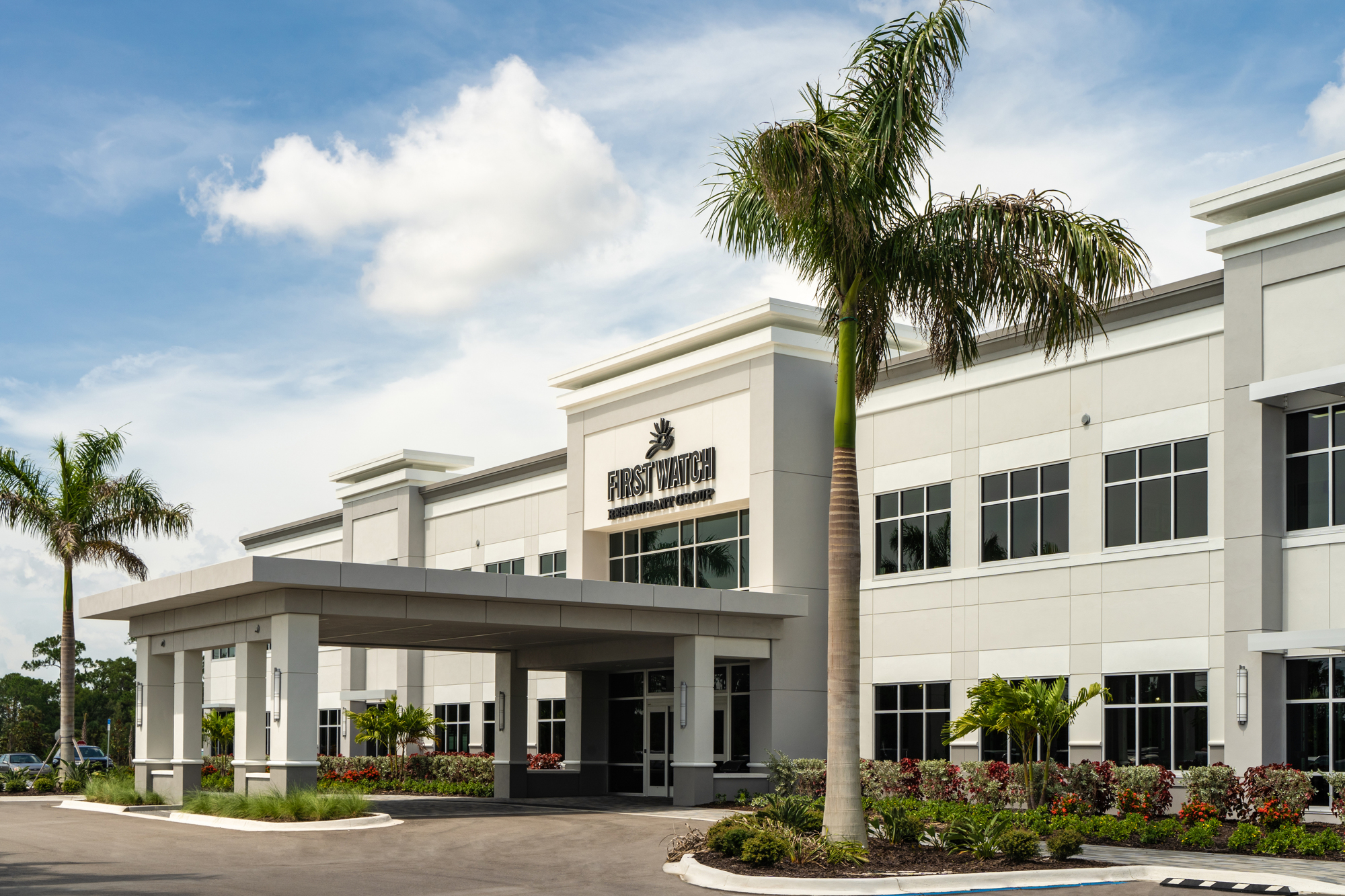 "It's safe to say that we would not be the successful high-growth company we are today without having planted roots here and building our company behind the great people in this region, and we look forward to continuing to call Bradenton home for many, many more years to come," First Watch President and CEO Chris Tomasso said in a statement announcing the new headquarters, home to some 100 First Watch employees. It has about 9,000 employees companywide.
First Watch officials, under a regulatory quiet period, weren't available to comment on the IPO. But the company's Sept. 7 S-1 filing with the SEC reveal some key financial highlights, including:
• It's doubled its restaurant count since 2014, and now has 423 locations spread through 28 states. Annual revenue doubled from 2015 through 2019, to $436.37 million and it had $490 million in revenue in the 12-month period that ended June 30.   
• It posted same-restaurant sales growth of 16.3% in the 2021 second quarter relative to the quarter that ended June 30, 2019. In-store traffic increased 1% in the same time frame.
• It generated $1.6 million in average unit volume per location, even only being open 7.5 hours a day. That's nearly the same average volume per location for Denny's, which is open 24 hours, according to food and beverage data company Winsight.
• It reported $35.2 million in adjusted EBITDA, or earnings before interest, taxes, depreciation and amortization, in the second quarter —which was 12.5% of revenue. That's a reversal of the $11.8 million loss in the second quarter of 2020.
• Its gross per person average check is up 19.5% from the end of 2018 through the 2021 second quarter, from $12.29 to $14.69.  
• It delivered 28 consecutive quarters of positive same-restaurant sales growth, from 2013 through the end of 2019. The streak ended only in the first quarter of 2020, when the pandemic hit.  
• It opened 42 restaurants in 2020 and 18 in the first half of 2021, a faster expansion rate than previous years. The new locations in 2021 are averaging $2 million in sales per store, up about 25% from existing stores. "Our pipeline for the full fiscal year of 2021 remains robust," the company adds in the filing, with 32 more projected locations.
Beyond the data, First Watch, in the SEC filing, boast of two intangibles: its high customer service rankings and its industry-leading employee satisfaction scores and retention rates. Both of those stem from its You First motto, which covers employees and customers. "Our single-shift restaurant hours, by design, result in "No Night Shifts Ever,'" the company states in the filing. "This helps make us an employer of choice in the foodservice industry, which we believe allows us to attract superior talent, retain employees longer and create a unifying organizational culture."