In just six years, Rut Patel has gone from barely speaking English and working at a fast-food restaurant to being the founder and CEO of Voyager Industries Inc., a Lakeland-based tech company that specializes in using drones to make engineering inspections safer and more efficient.
Patel and his parents immigrated to the United States from India in 2015 — the culmination, he says, of an 18-year wait for visa approval. They settled in Lakeland because of a family connection — Patel's uncle — in the area.
"We literally dropped everything and moved here in three months" after their visas were greenlighted, he says. "We knew it would take a long time, that one day in the future we would get to go to America if everything works out."
Patel, now 26, was 19 at the time and had attended engineering school while in India — with little success. "I failed every single subject," he says.
With no marketable skills to speak of, he landed a job at a Lakeland-area Dairy Queen and enrolled in English as a second language courses at Polk State College, but he says he mastered the language faster at work than school: "I learned English by speaking and listening rather than reading and writing. I was so excited to talk to people. My English got better and better every day."
Two years of working at Dairy Queen gave Patel all the language skills he needed, plus $10,000 in savings he used to buy his first drone and launch Voyager Industries. Today, the company has three full-time employees, has landed contracts in 25 states and is on track to finish the year with nearly $500,000 in gross revenue.
All of the above begs the question: How did he do it? How did Patel, with no formal training, so quickly start and scale a business in what couldn't be a more niche, highly specialized industry? And, more broadly speaking, how are drones reshaping the way business is done, even amid rapidly evolving rules and regulations that limit their use?
AIRBORNE IDEAS
Matt Mercier, a partner at CBIZ Insurance Services Inc. in Sarasota, is an early drone adopter who can attest to how much of an impact the technology can have on a business. As national director of the firm's community association division, a big part of Mercier's job entails doing property inspections and gathering data used by insurance underwriters to make decisions about whether to insure a residential building or other community governed by a homeowners association.
To do that, Mercier has taken to the sky, flying a drone that cost about $2,000 around condo towers and over subdivisions, getting an up-close and personal look at a property's condition. His drone can shoot 4K video and even operate in thermal-imaging mode, allowing it to detect infrastructure issues that don't appear to the naked eye.
"When we first started doing it," he says, "it blew people away. Now, if we don't send something over, they ask for it."
'With all the great technology we have, I would like to see some manufacturer, some drone company, step forward and become the leader in drones for this country.' Matt Mercier, CBIZ, Sarasota
Most of the underwriters Mercier works with are based out of state, so his drone imagery has become an invaluable — and money-saving — service. The insurers don't have to send staff to Florida, and the drone, flying as high as 400 feet, can give them a sense of the entire neighborhood, not just the individual property to be insured. Also, the drone can do in a couple of hours what might take a human days to accomplish.
"I did a tower next to the Capitol building in Tallahassee," Mercier says. "That's a good example of showing the underwriter the surrounding area. You have the Supreme Court, you have the Capitol … if any type of terror event's going to happen, it'll probably happen near one of those buildings. The underwriters need to know that, and that's why they love seeing this data."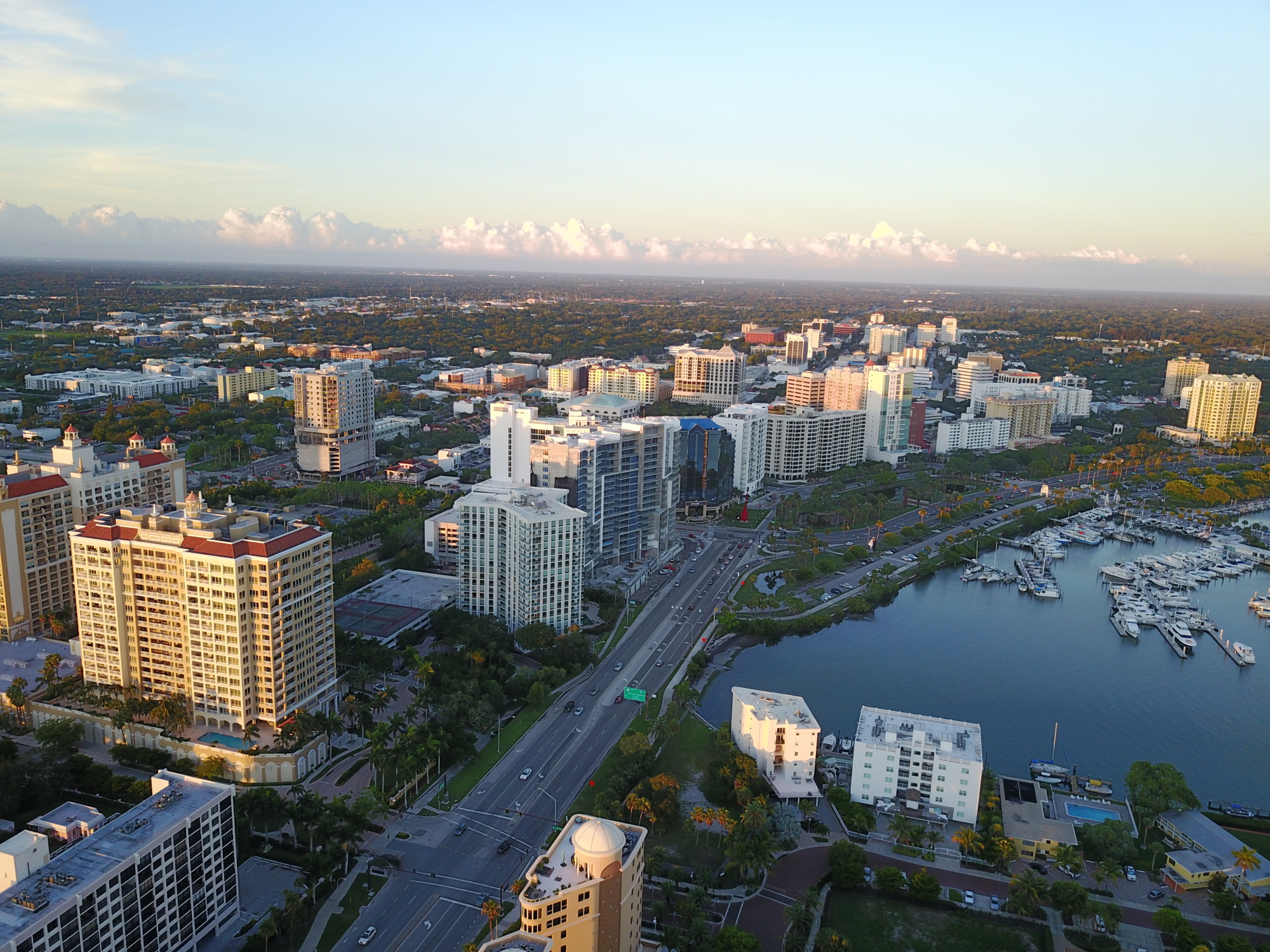 Like Mercier, Patel found a path to success in B2B drone services. At first, Patel used his drone, which he built himself, to do aerial photography. But he soon believed he needed to go in a different direction. Drone-based photography, he says, is a crowded field with limited earning potential.
"I had no vision, no idea where the technology was going, but I knew photography was not going to take me there," Patel says. "I had always wanted to be an engineer, but I wasn't smart enough. But I'm smart enough to figure some things out on my own, so I started talking to engineers and researching what they need. I quickly realized they were looking for someone to provide solutions, whether for cost savings, reducing inspection times, potentially saving lives … whatever their problem, I researched it."
Patel's first big contract involved inspecting 300 cell towers in Pennsylvania and Ohio. He says he was able to inspect 30 towers per day using the drone, whereas normally it would take a human worker an entire day to check out just one tower. From there, more work rolled in, including an eight-month, six-figure job in California that required Voyager to inspect 13,000 assets susceptible to starting wildfires. Using the drone, he was able to examine power poles and lines with such detail he could determine whether a single cotter pin was missing.
"I could see the impact that it was making," Patel says. "We prevented 11 fires by the time the work was done. It could have taken them years to figure it out and they still would not have had the data we got using drones."
That's when Patel knew he was onto something. He began hiring engineers to keep up with projects that ran the gamut from power-line and roof inspections to "health analyses" of farmland. But, in learning a key entrepreneurial lesson to focus on a niche, he found it was better to specialize in three key areas — energy, agriculture and infrastructure — rather than accept any and all proposals that came in, because there will never be a shortage of work related to necessities such as electricity, food and transportation.
"The other stuff we dropped because that's not where we want to go," Patel says. "We want to go with the big three sectors."
BRACE FOR TURBULENCE
Like any rapidly evolving industry, commercial use of drones has encountered some resistance and obstacles. Privacy and national-security questions are common because DGI, the world's dominant manufacturer of drones, is based in China, and it's feared sensors built into its drones not only collect data, but also transmit it to Chinese interests. Some clients, Mercier says, are going so far as to require U.S.-made drones for their projects.
"With all the great technology we have," he adds, "I would like to see some manufacturer, some drone company, step forward and become the leader in drones for this country. As someone who uses a drone, I am concerned that I don't really know what other good options are out there, apart from DGI."
One alternative would be to take the DIY approach, as Patel did. He built his drone, which cost about $30,000, from scratch. Its onboard computer uses artificial intelligence technology to perform fully autonomous flights that require no user control.
"You just put in a flight plan, shake it, throw it in the air and it takes off," he says. "It will collect all the data and then land."
Today, Federal Aviation Administration regulations impose strict limits on drone use. The aircraft are allowed to fly no higher than 400 feet. The limit can be raised in certain instances, such as the inspection of an office tower, but requires a waiver from the FAA. Also, even though Patel's drone, for example, has a range of 20 miles, the FAA says drones aren't allowed to travel farther than the pilot's line of sight. They also have a speed limit of 100 miles per hour.
None of the above, however, has stopped Patel from innovating. With a long-term vision for his company, he wants to be as far ahead of the technological curve as possible, so he's developing a drone that has a top speed of 250 miles per hour, as well as one that uses solar power to keep it aloft for up to 14 hours.
"The biggest problem we have with the drones is that they don't fly for more than 30 minutes," Patel says. "So we want to create a big, 15-foot wide, fixed-wing drone that flies using solar power and can continuously collect data over an extended period of time, like for a traffic study. We're years ahead, but the rules will catch up."
Another problem is uninformed, unlicensed users — "cowboys," as Mercier calls them. "You get real estate agents who show up to condo properties and launch their drones, and they're not licensed, not insured. And in some cases they're in airspace where they shouldn't be launching. I have an app that I log into to get airspace authorization. I'm doing everything correctly; however, a lot of folks don't, and that's my biggest concern."