Are you or your business a Medicare provider of goods or services to Medicare beneficiaries? Medicare providers are a broad class, including persons, facilities, and agencies, such as home health agencies, hospitals, nursing homes, doctors, DME suppliers, and other companies. If you fall into one of these categories, then you need to be aware of new Centers for Medicare and Medicare Services (CMS) rules with farreaching consequences that could seriously affect your practice and your business.
Specifically, CMS recently implemented new rules, giving it powerful enforcement authority to terminate Medicare providers' enrollment, thus ending their ability to bill Medicare. Such a revocation of your billing privileges could result in not only loss of revenue but also decreased patient satisfaction, which could be catastrophic to your practice or business.
Take, for example, the situation of Dr. Beth, whose medical license was temporarily suspended by the Board of Medicine. Dr. Beth did not realize she needed to report this temporary suspension to CMS. As a result, Dr. Beth's Medicare enrollment was revoked. Because of the revocation, her hospital privileges were suspended and her employer placed her on permanent leave, based on their employment agreement.
What are the penalties?
Under the new rule, penalties can include Medicare privileges suspension, permanent revocation, or a reenrollment bar. The reenrollment bar is the time frame that providers must wait before they are able to reenroll as a Medicare provider. If a provider, supplier, owner, or managing employee has their Medicare billing privileges revoked, they are barred from participating in Medicare until the end of the reenrollment bar, which can last up to 10 years (for first-time offenders) or 20 years (for secondtime offenders). A 20-year bar might as well be a lifetime bar for a provider. Even if you can get the revocation lifted, this can be disastrous if most of your clientele are Medicare beneficiaries who will find another provider while you are working it out.
Providers: Be informed and protect yourself today.
The bases for revocation are broad, and CMS estimates it will revoke 2,600 providers and ban 400 entities per year, resulting in $4.16 billion in savings. There are at least 20 reasons for revocation, and you should be aware of each reason and ensure you and your staff do not violate them. The reasons range from very serious conduct to smaller issues that may not seem to be offenses. The sweeping reasons include felonies, provider conduct, false or misleading information, misuse of a billing number, abuse of billing privileges, failure to report, improper prescribing, patient harm, and billing from noncompliant locations.
You can be sanctioned by CMS for your affiliations.
Historically, CMS required disclosure of sanctions and violations. It now takes a more preemptive stance. CMS will now block providers who have (or who have had) affiliations with violators from achieving certification. Providers will now have to report to CMS any current or prior affiliations with parties who have (or who have had) such things as uncollected debt, payment suspension, or revocation of billing privileges.
Affiliations can pose an undue threat as CMS looks to providers' affiliates and their disclosable risks. This comes in the form of a deep dive into the relationships of providers with others, even vendors. If someone the provider does business with has a disclosable event, it is the provider's responsibility to disclose the affiliate's event. This allows CMS to review the company a physician keeps and to determine whether the physician provides an undue risk to Medicare for waste, fraud, or abuse.
Say, for example, Sunshine Nursing Home (the Medicare provider) contracts with DME supplier, Genesis. Genesis submits claims that were not false but not compliant with Medicare billing, resulting in Genesis' Medicare privileges being revoked. Sunshine Nursing Home fails to notify Medicare of the affiliation with Genesis, so CMS revokes Sunshine's Medicare privileges. Now Sunshine Nursing Home must provide notice to residents to self-pay or vacate.
The reach of CMS is long and wide.
It's not just whom you do business with today — CMS can penalize you for former affiliations as well. If CMS believes the affiliation poses an undue risk, CMS may deny or revoke the enrollment of a provider in which one of the provider's owners or managing employees had an earlier ownership interest or other affiliation with a sanctioned entity. For example, Dr. Joe runs a practice with three other doctors, including Dr. Amy. Unbeknownst to Dr. Joe, Dr. Amy has an uncollected debt and 10 years ago billed for services from an uncompliant location. CMS revokes enrollment of Dr. Joe.
If you have adverse action, if you failed to report and receive a notice, or if you are worried an affiliate may implicate your Medicare privileges, contact us today and we will provide step-by-step guidance to remedy your situation.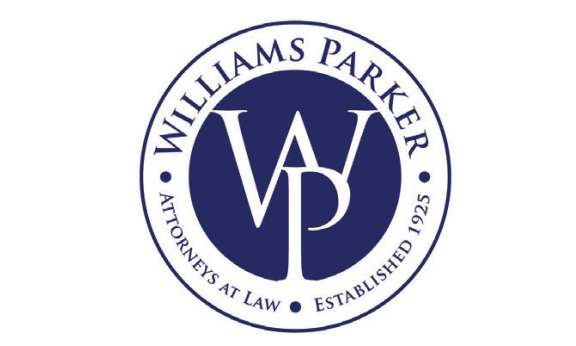 www.WilliamsParker.com | (941) 366-4800
For over 90 years, Williams Parker has represented healthcare providers. Dr. Steven D. Brownlee is a health law attorney with Williams Parker. He focuses on assisting healthcare and senior living providers with their operational and regulatory matters, including professional licensing, compliance planning, Medicare/Medicaid issues and appeals, DEA issues, and provider contracting. Prior to practicing law, Steven practiced medicine and medical management consulting, giving him a deep understanding of the industry.