For some, the move to Florida is a natural one. The stars align and it just happens. 
That's the story behind Boston startup KnaQ. The decision to move to Sarasota was an easy one after KnaQ CEO Stephen Catanzano's son chose to go to school at University of Florida in Gainesville. The family also had friends already living in Sarasota. 
Additionally, Catanzano, who relocated to the area in January, says with the technology scene growing in the Tampa Bay area, he and his team had everything they needed here. KnaQ is a social marketplace featuring 24 categories where anyone can find services and help — a refined and elevated version of YouTube, in one sense, with content and services provided by local KnaQ experts.
And those KnaQ categories run wide and deep. Karissa Leist, a recent KnaQ hire and resident TikTok star — she has one million followers on the social media platform — explained it like this in an interview with the East County Observer, sister paper of the Business Observer. "So you just caught a big fish," she says. "You need to clean it properly. You could go to KnaQ to find someone who was offering a video on how to do that. We connect people with certain skills to those who are seeking them."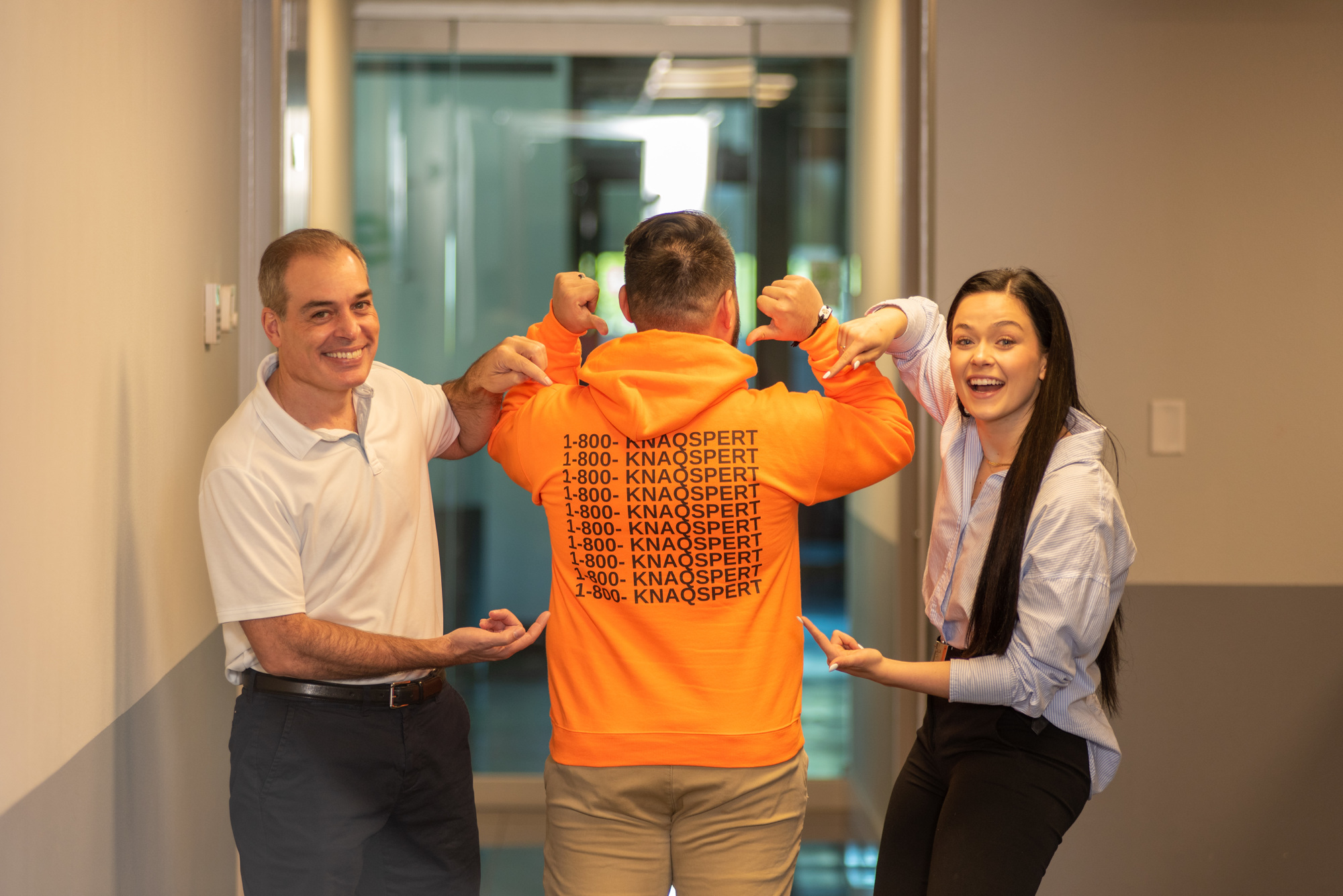 The KnaQ marketplace and business model is based on three programs developed for small businesses and individuals looking for additional income streams. Those programs are knowledge sharing in the form of teaching, coaching or consulting; skill sharing in that customers hire experts based on their time and skills; and connections designed to present small businesses and individuals more opportunities. 
The company is in the pre-launching phase, doing critical analysis of social media insights. "We're really excited about launching," Catanzano says. "It's going to fill a big need." 
Catanzano has filled other needs in his tech-based entrepreneurial career. One example? He co-founded Digital Broadband Communications, which delivered high-speed DSL to homes and businesses in the Boston area. The company grew from two to 300 employees, according to a statement, and was backed by several venture capital firms. Catanzano went on to start several other firms, including one in artificial intelligence, prior to Knaq.  
Knaq recently started beta testing. In the meantime, the focus has been on building up the company's social media pages following and keeping up with press coverage. Just from that Catanzano says there's "pent-up demand" for the marketplace. 
For social media, Knaq believes it scored a big win with Leist. The social media maven grew up partially in Lakewood Ranch and is studying psychology at Southeastern University in Lakeland, expecting to graduate in May, according to the East County Observer. Catanzano found Leist on Indeed — he had been searching for someone to fill the role. After a few meetings to discuss her background and how it fit with what the company was trying to accomplish, Catanzano made his decision. Leist joined the team in August. "It was just a fit," he says. 
For Leist, married to Brazilian-born race car driver Matheus Leist, the feeling was mutual. "I love startup culture," she says.
Leist will now lead the social media campaigns alongside Kristina Sparacino, Knaq's director of marketing. Leist comes to her role with some chops for building a following. In July 2020, she began building her personal account based on teaching psychology and life hacks through the use of short videos. But instead of just randomly posting, Leist studied the algorithm, which determines what content is shown based on a user's likes, shares and interactions, to determine how to expand her reach. 
With her TikTok followers and another 72,000 followers on Instagram, you could say Leist has a knack for these kinds of things. And the Knaq opportunity can only enhance her career. "It was an opportunity to both learn from the team and also work on my portfolio," she says. 
The Knaq team also hopes Leist can serve as a defacto translator for understanding social media. With Leist onboard, Catanzano is excited to get the KnaQ story out to the community so individuals and small businesses can begin to build their income. "The future," he says, "looks extremely bright."