When the pandemic kept us all closer to home during 2020, many people headed out into their yards to exercise their green thumbs.
"So many people were looking for things they could do at home, and gardening was absolutely one of the things that took off," says Scott Allshouse, president and CEO of Lakewood Ranch-based Sarasota Green Group. "(The pandemic) has been a bit of a blessing for us in this industry."
Sarasota Green Group is the privately held company behind consumer brand Earth's Ally, which offers nontoxic, organic and bee-safe products for home gardeners, including weed killers and insect- and disease-control sprays. The startup has been steadily growing over its three years in existence, and now, with a major brick-and-mortar big-box chain victory, company officials believe it's poised for the next stage.
Earth's Ally products were already sold online through retailers like Amazon and HomeDepot.com, as well as at some independent garden centers. Then, starting this spring, more than 500 Lowe's stores nationwide, plus Lowes.com, began to carry Earth's Ally gardening sprays. The products have been performing so well that Lowe's recently committed to put Earth's Ally in all of its locations — about 1,700 stores — next spring.
"That's a huge deal," says Allshouse, 54. "It takes us to the next level of our company. It's really going to put us on the map."
To prepare for that new frontier, the company has already begun talking to its partners, from the folks who supply the bottles, caps and sprayers to its Indiana manufacturing facility. The goal: avoid coming up short on supply when the pressure is on. "We're working with those partners to make sure we have plenty of capacity and lead time, and we're ordering all those parts so we have everything that Lowe's needs next spring," says Allshouse.
It's a good time to be a supplier of safe, nontoxic gardening products. Not only are there lots of new or reinvigorated gardeners, but there's also a growing desire among consumers for products that aren't harmful to kids, pets or the environment. "I think as the new generation of gardeners is coming into the gardening space, they're just more aware," says Allshouse. "They're more aware of the ingredients in the food they're buying; they're more in tune with the ingredients in the cleaning products they use in their homes. Gardening is just an extension of how they think about everything that surrounds them."
Earth's Ally products are made with ingredients like rosemary oil, sea salt, peppermint oil and vinegar. "They're ingredients you can read and understand," he says. "In many cases they're already in your home and kitchen, so you're not afraid to have these around your family or your pets."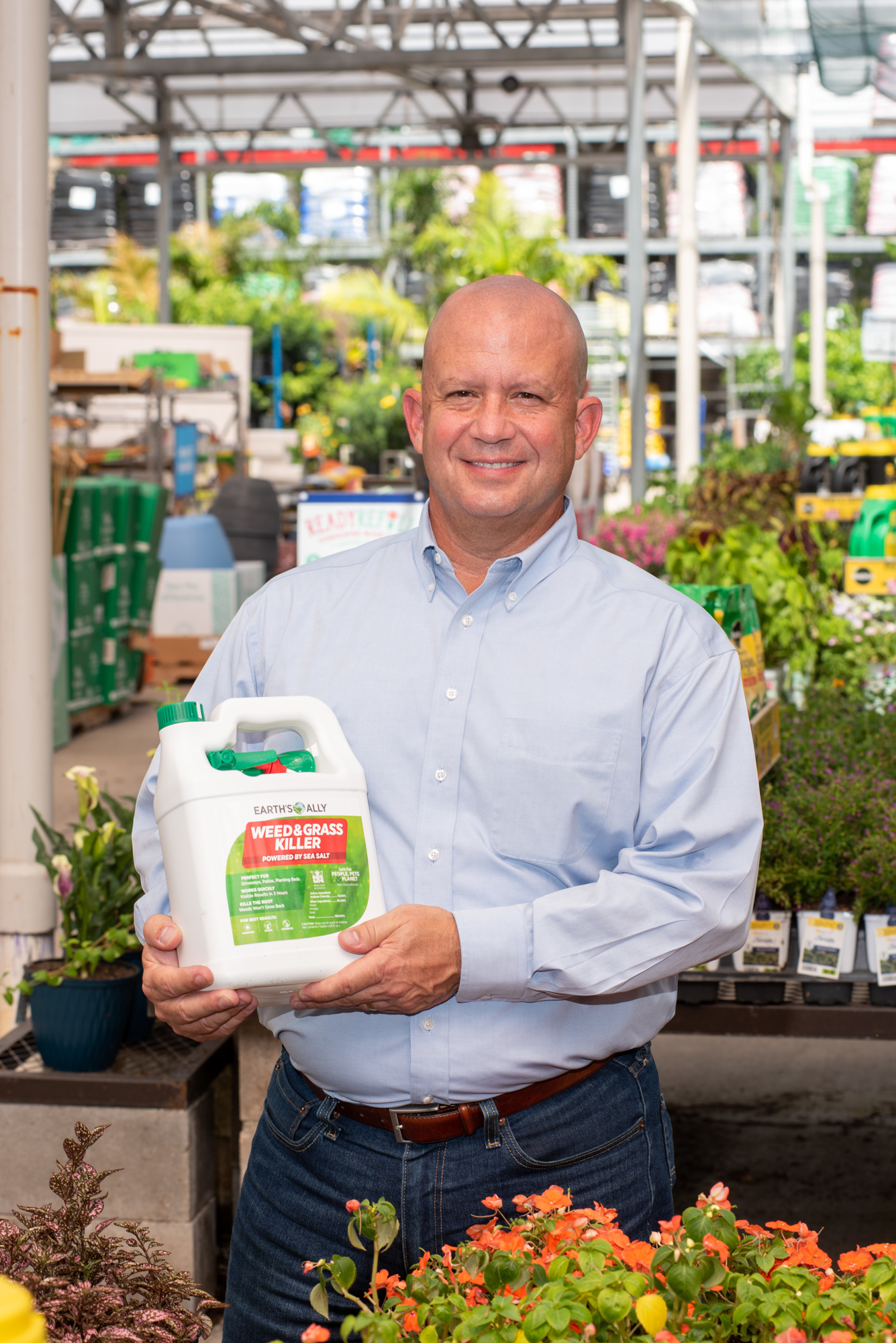 In the early days of the company, it used to take more effort to convince consumers the products were as effective as they were safe. Independent testing and the right combinations and concentrations of ingredients have helped. "I think people are definitely understanding that they don't have to use really harsh and dangerous chemicals to get the kinds of results they're looking for," says Allshouse.
Earth's Ally, meanwhile, has begun to expand beyond the retail consumer market. Its products are also being embraced by landscapers and the City of Bradenton, which is using them to treat beach access areas, parks, outdoor areas at schools and some pet parks. Earth's Ally has also been recommended by Non-Toxic Neighborhoods, a nonprofit that works to protect children from harmful synthetic pesticides. Allshouse expects that relationship will help introduce the company to more local governments and school districts.
The company hopes to continue to grow its reach. "We want to make our products readily available to gardeners everywhere they want to buy them, whether that's online or at Lowe's or at a small, independent garden center," says Allshouse. "We want our products available in all those spaces, so we're going to keep working hard to get our products into more of those outlets."
Getting a foot in the door can sometimes be a challenge. But Allshouse draws on both his confidence in the Earth's Ally brand and his past experience at big-name companies like Pillsbury, Campbell Soup and Heinz, as well as his most recent stint leading Miami-based fruit snacks company Buddy Fruits. Allshouse was CEO at Buddy Fruits, and held management jobs at some of the other brands, including a regional vice president post at Campbell Soup.
"I started seeing the power of transparency with labels and ingredients and of offering a better-for-you kind of product," he says. "All of the things I had done around managing a business and growing a brand have all translated pretty easily."
Look for more Earth's Ally products to join the company's lineup in the future. Among the possibilities? Fertilizer and products for tending to houseplants. "We have only started scratching the surface with what we're offering," says Allshouse. "There are so many different directions we can go with this brand."